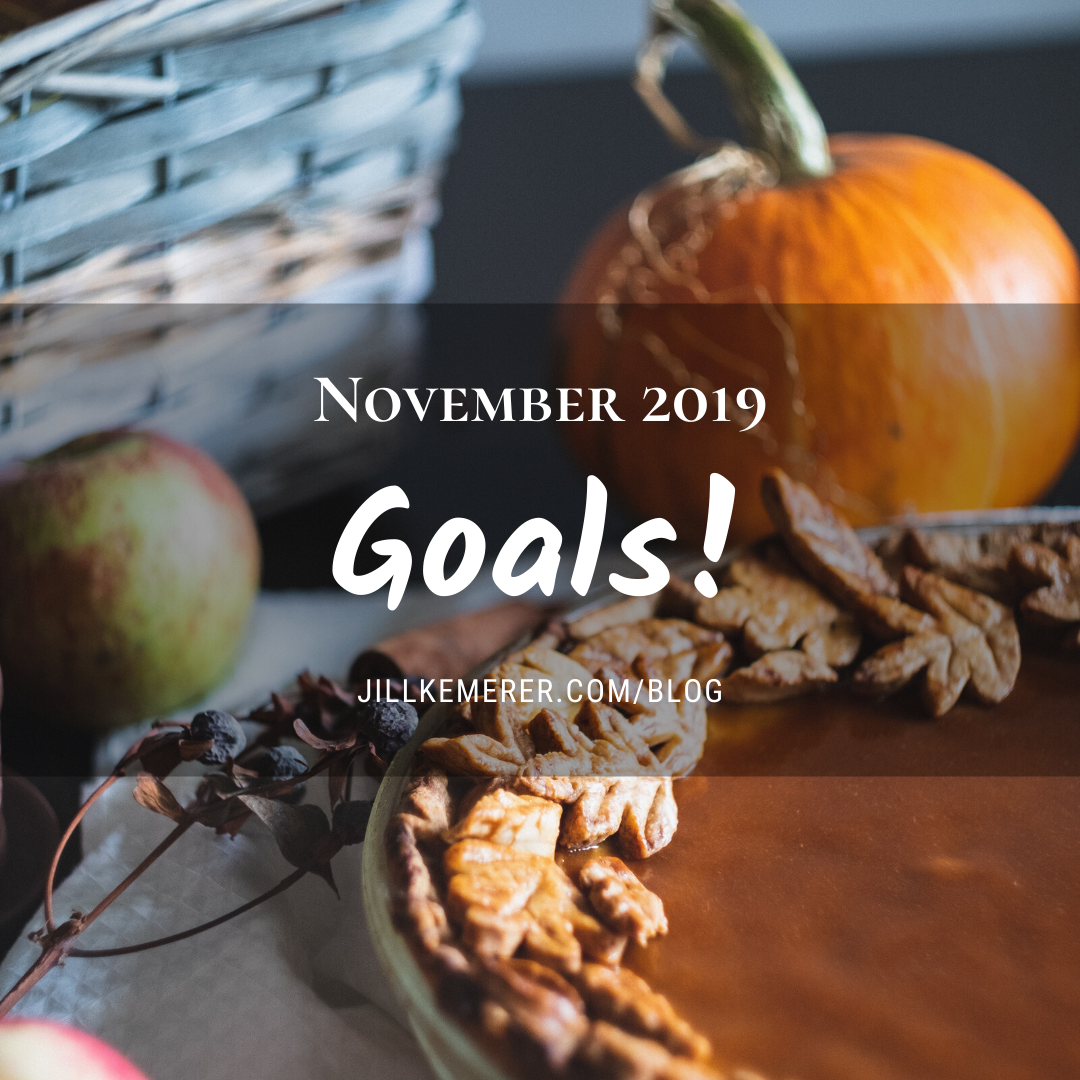 November is here! Only two months left of 2019–and I am ready to crush them. October was good. I pushed myself to finish the draft of my current project. Whenever I felt like stopping early, I'd think of Thanksgiving and Christmas and how much I want to enjoy the holidays. It motivated me!
Sometimes having a reason to finish early makes all the difference.
Let's take a look at my October goals and how I did. Then I'll share my November goals. Please leave YOUR goals in the comments!
Jill's October 2019 Goals: How Did I Do?
WRITING:
Draft 50 pages of a new story. Check.
Continue drafting current project. Double check–I finished the draft!
Set up promo for December release, Her Cowboy Till Christmas. Check.
Promote Western Christmas Wishes, in stores October 15! Check. This was easy. I love having a new book in stores.
HEALTH: (Long-term goal – Lose 10 pounds)
Track calories 6 days/week with MyFitnessPal. Check, but my weight fluctuated all month.
Exercise 5 days/week. Check. I'm enjoying this routine. I do five different workouts each week.
Eat more high protein and high fiber foods. Half Check. Three weeks into the month I got really frustrated and decided to ignore the fiber. I've been a much nicer person ever since. 🙂
OTHER:
Check out a local park I've never been to. No check, but I did go to two other parks to see the fall colors!
Read the Jody Hedlund novel I ordered. No check. The book didn't come in. 🙁 I've reordered it.
Watch Halloween Baking Championship (because it makes me happy!). Check!
Jill's November 2019 Goals:
WRITING:
Revise/polish proposal and send to agent.
Promote Her Cowboy Till Christmas, releasing November 19!
Content edit the draft I wrote in October.
HEALTH:
Exercise 5 days/week.
Log calories using MyFitnessPal.
Eat more produce!
OTHER:
Make a Christmas list.
Start buying presents.
Read one novel.
Check out the newly remodeled Main Library in downtown Toledo.
November is a shorter month for me since we celebrate Thanksgiving with family over a long weekend. I will be following VERY detailed weekly plans all month.
I'm cheering you on! Let's make the most of this month!
What are your November goals? Leave a comment!
Stop back next month to see how I did and what I plan to do next. Have a fabulous day!