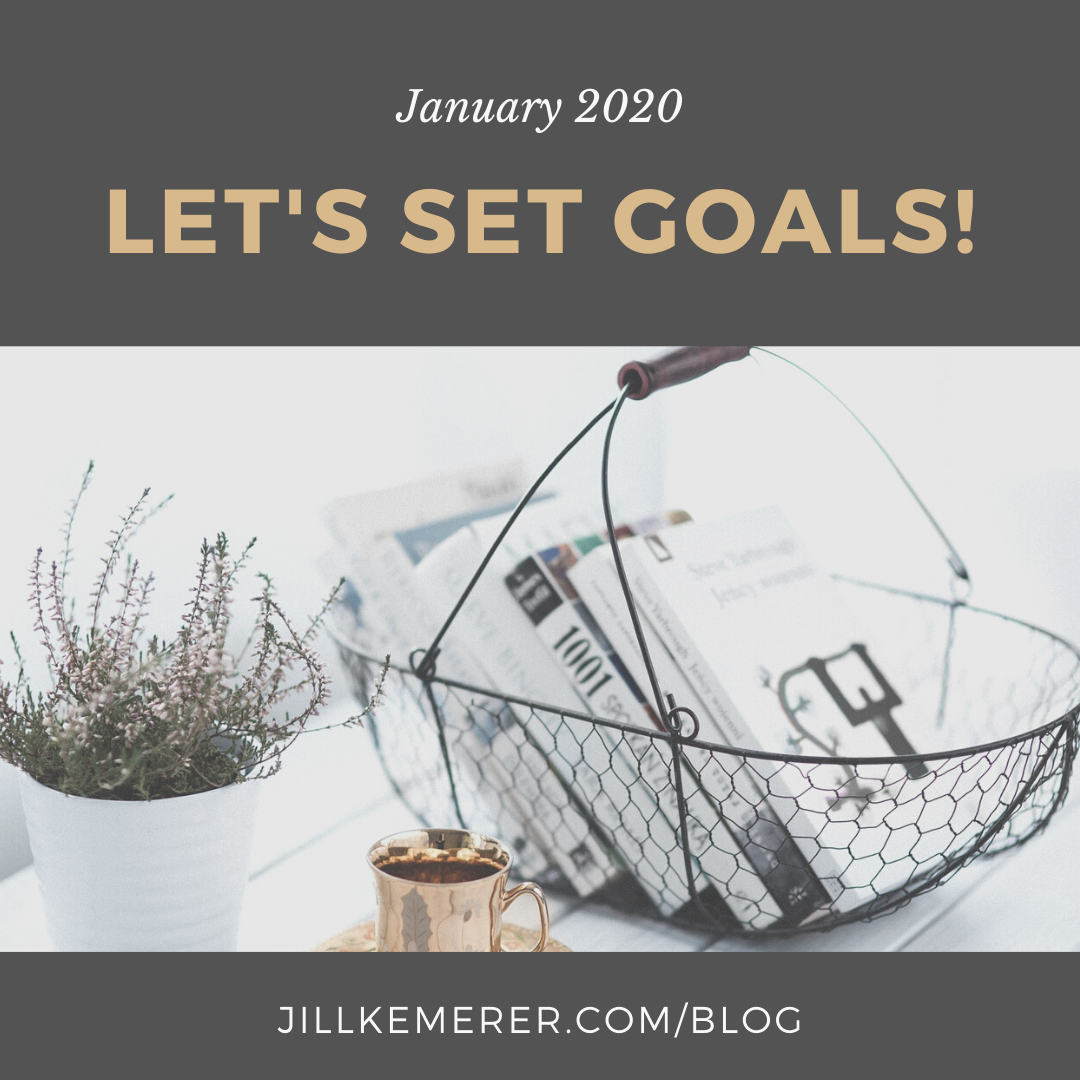 I'm big on setting goals. By listing them and breaking them down into manageable chunks, I accomplish more than I could imagine. My process is to set monthly goals, then at the beginning of each week, I create daily goals that will work within my current schedule.
It's really satisfying to check off my list each day. Last year I took the extra step of reviewing my week. I like to do this in a small journal on Sundays. The added bonus? It's now a little time-capsule I can refer back to when I moan that I'm getting nothing done!
So now that the new month, new year, and new decade have arrived, are you feeling confident? Ambitious? I am! Let's go back to December and see how I did.
How Did I Do? Jill's December 2019 Goals:
WRITING:
Polish the third book in the Wyoming Sweethearts series and send it to my editor. CHECK
Revise/polish proposal and send to agent. NO CHECK
HEALTH:
Exercise 5 days/week. CHECK
Log calories using MyFitnessPal. CHECK
Attempt to implement homemade chia pudding as a snack. CHECK. (It's kind of gross, though.)
OTHER:
Christmas shopping!! CHECK
Check out Christmas lights somewhere. The Toledo Zoo has an amazing display, but the crowds and traffic make me iffy! NO CHECK. I couldn't handle the crowds this year!
Watch Hallmark Christmas movies and read the Christmas novels I bought! CHECK
I also took TWO WHOLE WEEKS OFF from work and social media! It was fantastic! The first week was all things Christmas and extended family. The second week was relaxing and cleaning out the scary closets in our house.
Jill's January 2020 Goals:
WRITING:
Expand the plot, write the long synopsis, and draft the sample chapters of the fourth book in the Wyoming Sweethearts series.
Revise/polish proposal and send to agent.
Continue gathering ideas for new series.
All the first of the year business tasks.
HEALTH:
Exercise 5 days/week.
Log calories using MyFitnessPal.
OTHER:
Prepare presentation for speaking engagement at the end of January.
Read fiction for a minimum of 20 minutes every weekday. (I read tons of nonfiction and want to get more novels in!)
I love the new year! I hope you have a healthy, successful beginning to 2020! Please leave your goals in the comments!