Welcome to the website of Publishers Weekly bestselling author Jill Kemerer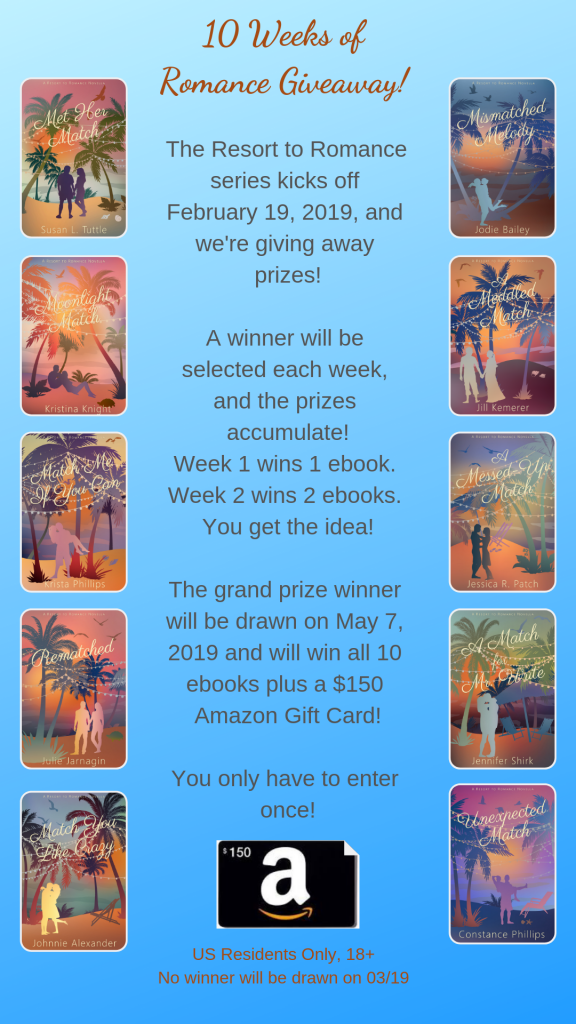 The RESORT TO ROMANCE series authors are hosting a mega-giveaway! Each week there's a new winner, and the prizes accumulate! Week one winner receives one Resort to Romance novella. Week two winner receives two Resort to Romance novellas. You get the picture! The grand prize winner wins all ten books AND a $150 Amazon gift card!
US Residents only, 18+, no winner selected on 03/19/19, grand prize winner drawn 05/07/19.
10 Weeks of Romance Giveaway Winner List (winners are notified via email–list is updated weekly):
Week 1 – S. Godfrey
Week 2 – F. Creech
Week 3 – D. Griffin
Week 4 – B. Laude
Week 5 – R. Abrams
Week 6 – C. Kane
Week 7 – M. Stalnaker
Week 8 – S.  Klein
Week 9 – J. Horn
Biblical Inspiration
Galatians 5:22-23 (ESV)
"But the fruit of the Spirit is love, joy, peace, patience, kindness, goodness, faithfulness, gentleness, self-control; against such things there is no law."
May 8, 2019
April was a doozy! Wow, it was busy. And cold. And rainy. But who cares?…