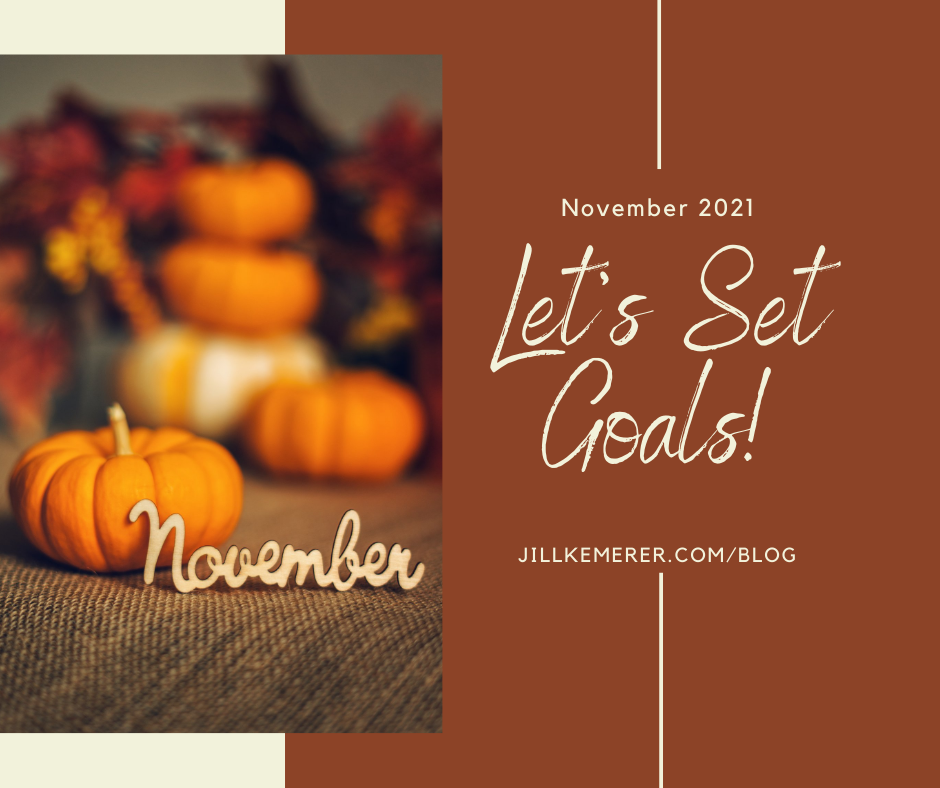 My writer productivity skyrockets when I set monthly goals. At the beginning of each week I break them down into daily tasks that will work within my current schedule. Do you know how great it is to finish projects? Of course you do! For me, setting monthly goals makes it all possible.
Every month I share how I did the previous month as well as my new goals. Let's get to it!
How Did I Do? October Goals
Writing
Finish prep for all the marketing/promotion for my October 26 release, The Prodigal's Holiday Hope. CHECK!
Plot Wyoming Ranchers Book 5 and write synopsis. CHECK!
Prep for speaking engagement mid-October. CHECK!
Start revising Wyoming Ranchers Book 4. CHECK!
Health
Exercise 5 days/week. CHECK! The 12-week exercise program is going well. Very hard, though.
Continue eating more unprocessed food. NO CHECK. I love Halloween candy.
Drink minimum of 72 ounces of water every day. CHECK!
Other
Get back into my 20 minute fiction reading every weekday. Kind of CHECK. I read a few novels and a biography, but I set aside more than one novel because I just couldn't get into them. It might have been my mental state. Who knows?
Sneak in a walk outside when it's nice weather. CHECK. I only got a few walks in, but they were just what I needed!
Jill's November Goals
Writing
Final edits for Wyoming Ranchers Book 3, Guarding His Secret.
Finish revising Wyoming Ranchers Book 4 and submit.
Start prepping promotion plans for Wyoming Ranchers Book 2, A Cowboy to Rely On
Start drafting Wyoming Ranchers Book 5
Health
Exercise 5 days/week (I'm on Phase 3 of the 12-week workout, and it is brutal. Brutal.)
Eat 2 fruits/day and at least 1 raw veggie/day
Drink minimum of 72 ounces of water every day
Other
Read 20 minutes of fiction every weekday
Decorate for Christmas!!
My writing is going well. I've had a few hiccups lately–migraines, colds amid looming deadlines–but the Lord has given me the strength to keep making progress. I've had to skip 3 workouts in the past 8 weeks, which isn't too bad. And I'm actually on track to finish my Bible-in-a-year reading plan early! I'll take the small wins every day!
*I'm sorry if you're getting a weird menu in the upper left corner. My website theme just updated and there's a glitch. Hoping it will be resolved soon!*
What were your October goals? How did you do? What would you like to accomplish in November?
In case you hadn't heard: My new series, Wyoming Ranchers, kicked off last week with the release of THE PRODIGAL'S HOLIDAY HOPE!! It's in stores now, or you can order it online. Simply click on the link above!