Today Barbara M. Britton is  graciously answering questions about her writing life. Barbara writes for Pelican Book Group, and her new book, Providence: Hannah's Journey, is available now. Don't worry, I have all the links and book info below!
Let's get to it.
THE INSIDE SCOOP WITH BARBARA M. BRITTON
1. How did you know you wanted to be a writer?
I didn't. I took creative writing classes in high school, but I don't remember any teacher mentioning writing as a career choice. Three decades later, after writing curriculum for elementary school chapel, I had the prompting to write. I asked the Lord to "hit me with some creativity" to write my curriculum and I just kept writing. It has taken me nine years to birth a book into the world as I had a lot to learn about the craft of writing and the business of publishing. Now, I can't imagine doing anything else.
2. What is unique about your process?
I'm so old school. I write on a notepad and then hunt-and-peck my way on the computer to craft a manuscript. I also like to draw maps of the cities and areas where my books are set and tape them to a wall in my office. I tape perfume advertisements above my computer when I see a model that resembles one of my characters. My office walls are an eclectic smattering of pictures.
3. What inspired your book?
I taught chapel lessons about young people in the Bible who did brave things, and one of those brave characters was the servant girl in the story of Naaman in II Kings 5. I started thinking about how she got captured and I wondered if she ever received her freedom. Alas, Hannah's story was born.
4. What's the best writing advice you've ever received?
I received the best writing advice from the very first publishing course I attended. I was told to join a professional writing organization and get involved. Also, I was advised to go to writing conferences. I don't know what I would do without the friends I have made in my writing groups. They are my biggest supporters, brainstormers, and marketing team. I am a member of RWA, WisRWA, SCBWI and ACFW.
***
Barbara, I love that you asked the Lord to hit you with creativity! He certainly answered! And you write on pen and paper–I'm very impressed. My hand cramps easily, so the laptop is my best friend. Your book sounds amazing. I enjoy Biblical fiction. Congratulations!!
***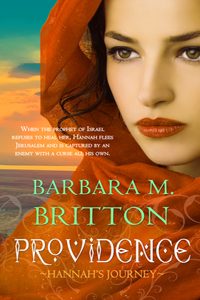 Providence: Hannah's Journey ~
As the sole daughter of the chief priest, Hannah is publicly shamed when the prophet of Israel refuses to heal her.
Determined to restore her family's honor, Hannah escapes Jerusalem in hopes of finding the prophet and convincing him to heal her deformities. Gilead, a young Hebrew guard sympathetic to her plight, willingly accompanies her. On their way, they are captured by a band of raiders.
Hannah is forced to serve in the household of the commander of the Aramean army, an officer who is in need of healing himself. Meanwhile Gilead is being used as sword practice for the Aramean soldiers.
Hannah must act fast to save Gilead and herself. But survival means coaxing the prophet of Israel to heal and enemy commander.
Purchase Providence: Hannah's Journey: Pelican Group * Amazon * Barnes & Noble
***
About Barbara ~
Barbara M. Britton was born and raised in the San Francisco Bay Area, but currently lives in Wisconsin and loves the snow—when it accumulates under three inches. She writes Christian Fiction for teens and adults. Barb has a nutrition degree from Baylor University but loves to dip healthy strawberries in chocolate. Barb kicks off her Tribes of Israel series in October with the release of "Providence: Hannah's Journey." Barb is a member of the American Christian Fiction Writers, the Society of Children's Book Writers and Illustrators, Romance Writers of America and Wisconsin Romance Writers of America.
***
Have you read any Biblical fiction? What is your favorite book?
Have a terrific day!