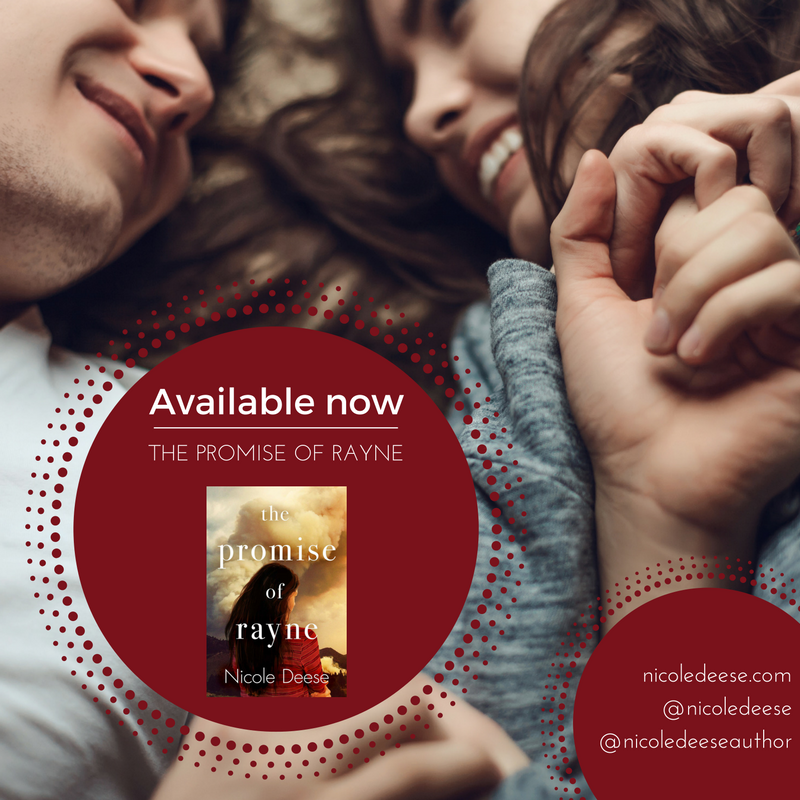 Today Nicole Deese is graciously answering questions about her writing life. Nicole writes sweet romance novels, and I had the pleasure of meeting her at the ACFW conference this summer. Her new release, The Promise of Rayne, just released! Don't worry–I have all the links and info below.
Let's get to it!
THE INSIDE SCOOP WITH NICOLE DEESE #WW
1. How did you know you wanted to be a writer?
I've always had a love for story and a HUGE love for the written word. About five years ago, after a super intense reading binge, I literally closed my latest read (which was the fantastic Shatter Me by Tahereh Mafi), set it on the arm of the sofa and said to my husband, "I want to do this. I'm going to do this." And just shy of a year later I independently published my debut novel, All For Anna. I'm extremely blessed to do what I love.
2. What is unique about your process?
One of the unique parts of my process is the feedback I rely on from my writing partners. Upon finishing a chapter in my first draft, I send it off to my two faithful pals for an overall content check, and then again for a more thorough critique on the second (or third) draft. I can hardly remember when I used to write "alone"… and honestly, I'd never go back. I love living in community.
3. What inspired your book?
About a year ago I was meditating on the love your enemies passage in Luke 6. And while I sat pondering one morning, overlooking our property in north Idaho, the beginnings of The Promise of Rayne started to spark. Just a few weeks later those little sparks ignited into a raging fire of conflict, characters, and a story that seemed to grab ahold of my heart until I'd written those last two words: The End.
4. What's the best writing advice you've ever received?
If you make your readers worry… they'll keep turning pages.
*
I'm getting all goosebumpy over here, Nicole! I love that you told your husband you were doing it, and you did. I remember the day I realized I could "try" to write a novel. So exciting! I agree with you on the writing community–how does anyone do it alone? I rely on my writing friends for moral support and writing support. We need each other. And by the way…the advice  you shared is really good advice! Thank you so much for being my guest!
*
THE PROMISE OF RAYNE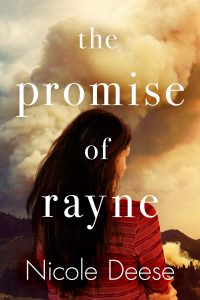 Rayne Shelby has spent her entire life trying to earn the approval of her high-powered family, with the hope of one day managing her late grandfather's prestigious Idaho lodge. But when she makes a mistake that puts her future in jeopardy, she faces an impossible choice: defy her family or deny her dream. The only way to fix the mess she's created is to enlist the help of her neighbor, Levi, the apprentice of her family's greatest enemy. And if Rayne gets caught crossing the divided property lines, the consequences will be irreparable.
Levi Harding has never forgotten the August night he shared with Rayne when they were teens—or the way she later rejected him. Despite his warring instincts, he can't ignore her plea for help or the spark that's ignited between them. But now, as wildfires bear down on their town and family secrets are revealed, their newfound alliance might just go up in smoke.
Purchase THE PROMISE OF RAYNE HERE!
*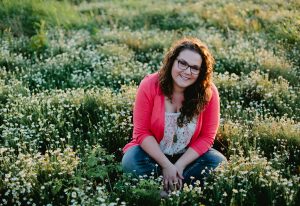 Nicole Deese is a full-time lover of humorous, heartfelt, and hope-filled fiction. She is the author of seven published novels including the Love in Lenox novels, A Cliché Christmas and A Season to Love, and her newest standalone release, The Promise of Rayne. When she's not writing sweet romances, she can usually be found reading near a window while sipping a LaCroix. She lives in small-town Idaho with her handsome hubby and two sons.
*
What's the best book you've read so far this year?
FREE Christmas novella!! Chapters one and two of A Cradle for Christmas are now live on Harlequin.com! Click HERE, and select "Love Inspired" to read them!
There's still time to enter my November giveaway full of Christmas goodies! Go to my HOME page (linked) and scroll down for the entry options.
I'm giving away two copies of Yuletide Redemption on Goodreads. The entry form is in the sidebar of my blog!
Have a terrific day!