The Inside Scoop with Janice Boekhoff
Today Janice Boekhoff is graciously answering questions about her writing life. Janice writes for Wild Blue Press, and her debut novel, Crevice, is available now! Don't worry, I have all the links and book info below!
Let's get to it.
THE INSIDE SCOOP WITH JANICE BOEKHOFF
1. How did you know you wanted to be a writer?
When I was a pre-teen, I discovered Stephen King novels. I read his books late into the night, maybe not the best parenting decision by my parents since it gave me vivid nightmares, but it fostered a love of reading. And soon thereafter came a secret desire to craft engrossing stories, to be a novelist. But I was too afraid to try. I wrote a short story in high school that received an average grade, so I was convinced I didn't have any talent (easily defeated, I know). I put that dream aside and pursued others, including becoming a geologist and a mom.
But as I approached 40, I realized I had one dream yet to be fulfilled. Since I had nothing to lose if I failed, I started writing and fell in love with it. Having a little world at your mercy is somewhat addictive (maybe I have a few control issues). Even so, I still didn't tell anyone I was writing. What if they thought it was terrible?
After a couple of years of nursing my obsession, I realized it would be more fun if other people joined me in the little worlds I had created. I slowly started to let people read my stuff. Those first pages were pretty awful. I had a lot to learn, but I had taken my first step down the long road to publication.
2. What is unique about your process?
I'm a seat-of-the-pants writer, which means I write whatever comes to me at the time, and yet I'm envious of plotters. I have tried and tried to plot more, with some success, but I can't fully plot out a novel. I get stuck somewhere in the middle, unsure of how to get to the end. So, I plot as much as I can and then start writing, knowing I'll figure out the middle as I go. My first drafts are the stuff of writer's nightmares. Seriously, when I attack them with my red pen, the whole page is bleeding. Good thing I like to edit because I'm forced to rewrite and rewrite and rewrite …
3. What inspired your book?
For Crevice, it was the historical thread that captured my interest first. I've always loved a good treasure hunting story (Indiana Jones, anyone?). A couple of years ago, I saw a television program on the Lost Dutchman Gold Mine. Very little is known about the Dutchman (Jacob Waltz) so my writer's brain wanted to create a story for him, including reasons why the mine had never been found. I wrote everything on the Dutchman's life first, before even deciding whom my main characters would be. By the time I was done, I loved the Dutchman, but I knew I wanted this to be more than a historical novel. The Dutchman's story needed to intersect with a modern day mining geologist, and thus the character of Elery was born.
Bonus behind the scenes info: The original name for Elery was Every (from a bible verse James 1:17, Every good and perfect gift is from above …) until my critique partner pointed out that it meant I couldn't use the actual word every, like ever, in the novel. Oops.
4. What's the best writing advice you've ever received?
The best writing advice I ever received came in my first rejection letter from an agent. He said I was overwriting. I was grateful for the feedback because many agents send out merely a form letter, but I was confused. I knew I wasn't a flowery writer. My prose didn't describe things in detail or use long poetic phrases. Later, a writer friend helped me understand what he meant. My scenes were telling the reader what happened, showing them what happened, and then telling them again to make sure they got it. For me the greatest advice has been to resist over explaining—trust the reader!
***
Janice, I read my first Stephen King novel when I was twelve. It terrified me so much, I threw it on our back porch before I went to bed!! I think it's so cool you always had the itch to write but pursued a degree in science and became a mom. My journey was similar. I became an electrical engineer and a mom before I started writing seriously. It's funny how God works, isn't it? Congratulations on your incredible debut novel–it's an emotional page turner, that's for sure!!
***
Crevice ~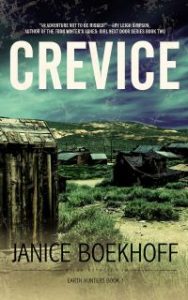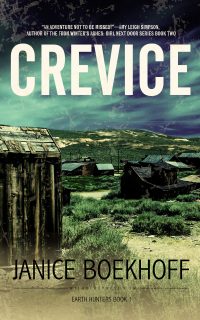 Desperate to save her family's struggling gold mine, Elery Hearst orders her crew to dig a new tunnel in a last-ditch effort to intersect the original gold vein. Rather than saving her legacy, however, the tunnel collapses, killing one of her men. Initial reports blame the tragedy on faulty equipment—an old machine Elery should have replaced.
Before she can come to terms with the guilt and regret consuming her, Elery's brother disappears in search of the Lost Dutchman, a legendary mine of vast riches, and what he believes to be the solution to his family's grave financial situation. To find her brother, Elery must now ask for help from the one man she'd rather avoid—Lucan Milner, the twin brother of the miner who died in the collapse.
Still struggling with the loss of his only brother, rescue tracker Lucan Milner reluctantly agrees to help with the search. But when Elery insists on coming along, her presence forces his emotions to the surface. How can God expect him to forgive her?
Then, Lucan's tracking dog is injured, bringing the search to a halt. Lucan and Elery realize the only way to find her brother is to find the Lost Dutchman Mine. And Lucan holds the secret that can help—journal pages written by the Dutchman himself.
But sharing them with Elery not only rips open his grief-stricken heart, it puts both of them in the path of a killer. In these deserted mountains, they aren't the only ones desperate to find the lost mine.
 ***
About Janice ~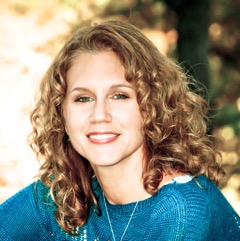 Janice Boekhoff is a former Research Geologist who pours her love of science and the outdoors into her suspense novels. Janice is a three-time finalist in the ACFW Genesis Contest. She writes from Iowa (not to be mistaken for Idaho), where she lives with her amazing husband and three feisty sports-addicted kids. Learn more about Janice at her website!
***
Do you ever read scary novels?
Have a wonderful day!