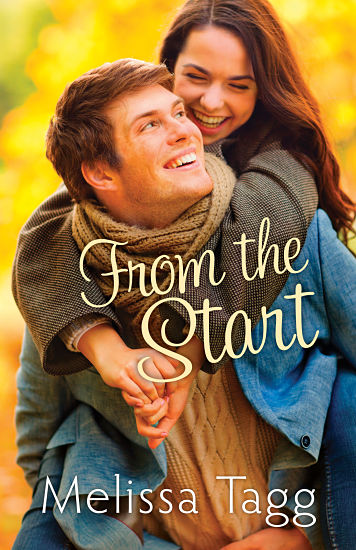 Inspiration for from a hero: Colton Greene in From the Start
by Melissa Tagg
So when Jill and I decided to do a little blog swap and talk about the inspiration for our heroes, it sounded like a fab idea. Yeah, I thought, I can talk about Colton Greene…the main guy in my new book, From the Start.
Then I sat down to write the post. And gulped.
Because I have no idea where Colton came from.
For one thing, the guy's a football player. A former NFL quarterback. And I…am not a football girl. The most fun I've ever had watching football was during this Super Bowl party when I was a teenager. I spent the whole game boasting to these guys about how awesome I was at ping-pong. Seriously, I was so busy flirting bragging, I probably saw all of three minutes of the actual game.
And then after the game, I lost at ping-pong. Big-time. Score one for humble pie.
Too, Colton has been through tragedy—the likes of which I honestly can't imagine. (Except I guess I can because I imagined this story into being. But still.)
Plus, he doesn't really look like any famous actor in my head. Although when it came time to give my publisher cover ideas, I might've thought, hmm, this might be a great excuse to Google Chris Hemsworth…but really, it wasn't until I saw my actual cover that I had a solid picture of him in my brain.
All that said, I don't know if I can pinpoint any one thing that inspired Colton.
BUT.
I may not know what originally inspired him, but I do know what it is about him I can most relate to. And that's this: Deep down, Colton knows there's more. He's had dreams stripped away, his vision of the future is murky at best. At the start of the story, he's fumbling to find his place and catch any hope for the future.
But as his story continues, he starts to sense there's more…that the boundaries he's drawn around his life are too small. His turf is bigger than he realized before.
And I get that. I get that whisper in my spirit. "Melissa, there's more." That feeling that my journey has only just begun and it may not end up looking anything like what I'd planned…and that God's imagination is world's larger than mine.
I'm not sure I know what inspired Colton, but I know how he ended up inspiring me. :)
***
Melissa, you make me giggle (not about the God part–that was inspiring)! I never liked football much until high school, and it wasn't until I was almost thirty that I actually enjoyed watching it on television. I'm a big University of Michigan fan, and I'm a Detroit Lions fan, but it's hard being a Lions fan. I'm guessing you could beat my buns at ping-pong. You still got it, girl! Congratulations on your new book! I can't wait to read it!!
***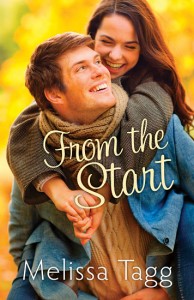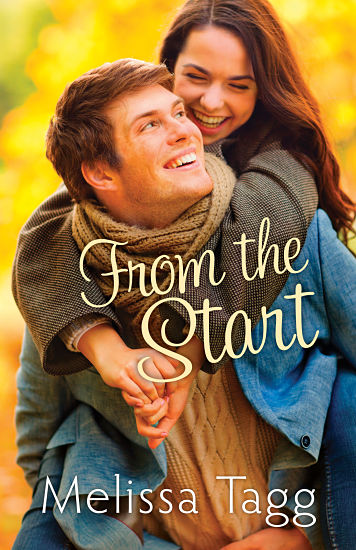 From the Start ~
Kate Walker used to believe in true love and happily ever after. While her own love life may have left her brokenhearted, it hasn't kept her from churning out made-for-TV romance movie screenplays…until a major career slump and a longing to do something meaningful send her running back to her hometown of Maple Valley.
Permanently sidelined by an injury, former NFL quarterback Colton Greene is temporarily hiding out in a friend's hometown to avoid the media and the reminders of all he's lost. Maple Valley seems like the perfect place to learn how to adjust to normal life. The only trouble is he's never really done normal before.
While Kate plays things safe and Colton is all about big risks and grand gestures, they both get what it's like to desperately need direction in life. An unexpected project gives them both a chance to jumpstart their new lives, but old wounds and new dreams are hard to ignore. Starting over wasn't part of the plan, but it just might be the best thing that's ever happened to them.
***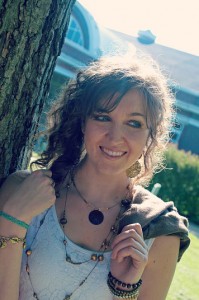 About Melissa Tagg ~
Melissa Tagg is a former reporter, current nonprofit grant writer and total girl. She writes romantic comedy for Bethany House, and is also the marketing/events coordinator for My Book Therapy, a craft and coaching community for writers. When she's not writing, she can be found hanging out with the coolest family ever, watching old movies, and daydreaming about her next book. Her newest book, From the Start, is out now! Get a preview with her free enovella, Three Little Words. She blogs regularly and loves connecting with readers at  http://www.melissatagg.com and on Facebook, Twitter and Instagram.
***
Do you enjoy football? If yes, what team do you root for? If no, what's your favorite sport?
Pop on over to Melissa's blog today to find out my inspiration for Reed Hamilton in Small-Town Bachelor!
Have a terrific day!