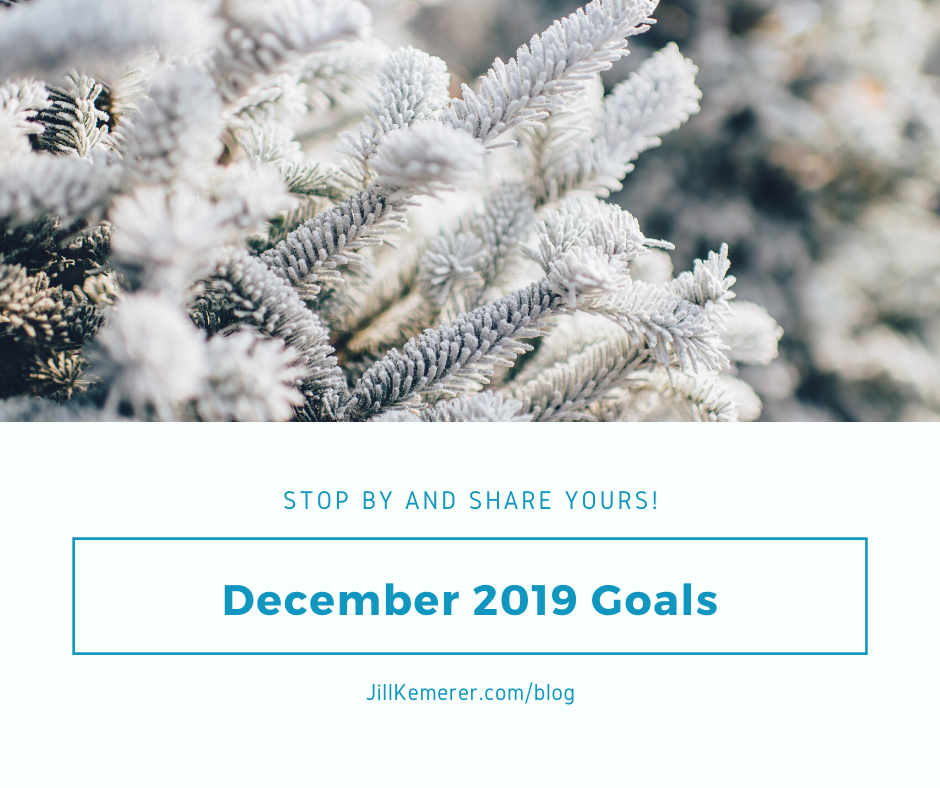 I haven't counted down the days until Christmas yet (and I don't want to!), but I know they're dwindling. Am I ready for the holidays? Of course not!
We had a really nice Thanksgiving. Delicious food. Good times with family. Even some Black Friday shopping. Not bad! But the party is over, and I want to finish this month, year, AND decade strong. Let's look at how I did with last month's goals, and then I'll share my December goals!
Jill's November 2019 Goals: How Did I Do?
WRITING:
Revise/polish proposal and send to agent. NO CHECK. Not even close!
Promote Her Cowboy Till Christmas, releasing November 19! CHECK. YES! YAY!
Content edit the draft I wrote in October. Check!
HEALTH:
Exercise 5 days/week. Check! I've found that creating a simple graph to X off each day helps a lot.
Log calories using MyFitnessPal. Check! For whatever reason, tracking my food works.
Eat more produce! Check!
OTHER:
Make a Christmas list. NO CHECK.
Start buying presents. NO Check. This stresses me out!
Read one novel. Check! YES!
Check out the newly remodeled Main Library in downtown Toledo. Check! Loved it!!
Jill's December 2019 Goals:
WRITING:
Polish the third book in the Wyoming Sweethearts series and send it to my editor.
Revise/polish proposal and send to agent.
HEALTH:
Exercise 5 days/week.
Log calories using MyFitnessPal.
Attempt to implement homemade chia pudding as a snack.
OTHER:
Christmas shopping!!
Check out Christmas lights somewhere. The Toledo Zoo has an amazing display, but the crowds and traffic make me iffy!
Watch Hallmark Christmas movies and read the Christmas novels I bought!
Looking ahead to 2020…
Two of my local writer friends and I are getting together soon to discuss our goals for the next year. I'm excited about this. By setting several hours aside and meeting at a casual restaurant, we're making goal-planning a priority. All too often, I'm guilty of putting off formal planning until the last minute. When I devote a chunk of time to plan in advance, I get more done throughout the year.
Also, it's great to discuss my goals with I trust. They'll tell me if I'm being ridiculously overambitious or not ambitious enough. And they often have ideas I never considered. It's a win all around.
Next week's blog will be early–Sunday, December 8, because I'm part of a HUGE Christmas giveaway! You don't want to miss it!
***
How did you do with your goals? Want to set new ones? Leave a comment!