My wonderful husband bought me The Pioneer Woman Cooks: Dinnertime for Christmas. Have I mentioned how much I love that man? Yes, this was #1 on my Christmas list, because I just love Ree Drummond's Food Network show, The Pioneer Woman.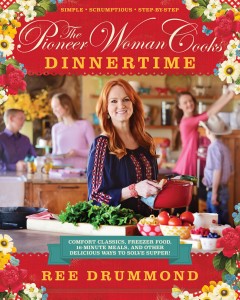 Her cookbooks are much more than recipe collections. They're full of stunning pictures, step-by-step instructions with photos and personal tidbits. Plus, her food is scrumptious!
My husband went through the book at my request to let me know which recipes looked good. I laughed when he finished. He basically told me to start at page one and work my way through. I'm on board with that!
This January I've tried six recipes, and they've all been hits. Monday I decided to attempt a Chinese dish. The only problem? I didn't have over half the ingredients on the list. Some of them sounded quite foreign. This fact alone is a big enough pet peeve of mine that I considered skipping the recipe. However, I powered ahead and scoured the grocery store for:
Rice vinegar
Sesame oil
Fresh ginger
Sherry
Oyster sauce
I had no problem finding most of the items, but the last one–the oyster sauce–was nowhere to be found. Tired, I headed home and put everything away, but about an hour before I was set to start cooking, I decided to go back to the grocery store for another look.
Nope. No oyster sauce. They were all out.
Naturally, I Googled a suitable replacement. I decided to substitute the oyster sauce with hoisin sauce, but I halved it after reading that the flavor can be overpowering.
The dish, Cashew Chicken, was a big hit! I would link the recipe, but it isn't listed on her website. I'll definitely be making it again. And this time, I'll already have most of the ingredients. Score!
What pet peeve keeps you from doing something?
Have a terrific weekend!!