Creating a Production Plan: Writer Wednesday
On Saturday I was blessed to speak at Maumee Valley Romance Authors, Inc. My presentation was on how to create a production plan. I came up with these steps through trial and error last year. Since implementing my plan, I've blown away my personal deadlines, and for the first time I'm successfully working on multiple projects at once. Why? Having a production plan cleared the mental clutter. Every day I wake up excited because I believe I can achieve my goals for this year, and I know exactly what those goals are.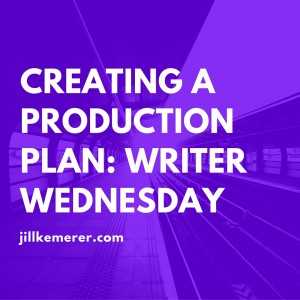 What is a production plan?
A production plan is a twelve-month schedule a writer creates for upcoming writing projects. It lists the steps for each project and when the writer anticipates completing them.
Do you need a production plan?
Do you look back at the end of the year and wonder what you accomplished?
Do you have a list of things you'd like to write but have no idea when you'll get them done?
Are you struggling to work on multiple projects at various stages of completion?
Do you have a nagging sense there is no way you can fit everything into your schedule?
Do you want to increase your productivity? Write more books in a year? Publish more books?
Where to start:
List all of the books, novellas, short stories or other projects you're interested in pursuing.
Analyze the list according to brand/time/market.
– Does this project complement my brand?
– How much time will it take for me to complete this project?
– What is the market outlook for this project?
What projects make the most sense to pursue in the upcoming year based on the above analysis?
Ordering Your Steps:
Do you have any contracted writing projects? These are your #1 priority and everything else must be scheduled around them.
Are you self-publishing any projects?
– How many books, novellas, or short stories are you releasing this year?
– Are any of these completed?
– How long does it take you to plot, write, revise, polish, have a book edited, and prepare each project for publication?
– What are the timeframes for your cover designer, editor or any other publishing contractor?
– How much time do you need to market your projects?
Are you querying agents or editors with any of the books? If yes, do you have a deadline (Ex: you're pitching at a conference in July)?
Estimating Time Frames:
Based on the above information, list the projects you will tackle this year.
Under the project name, jot what needs to be done (write, revise, have critiqued/edited, etc…) and how long you think each step will take.
Go over the list with a critical eye. Based on your time estimates, can you realistically pursue each project? Or, on the flip side, can you add a project?
Decide the order of importance for each book. Which will you work on first? When do you want to have it completed? Is this a reasonable timeframe? Will you work on other projects simultaneously (drafting one, preparing another for publication)?
The Production Plan Rough Draft:
Take twelve blank pieces of paper or sticky notes. Label them January, February, March and so on.
Review your Time Frame list from above.
Let's say Project A is your most important project at this moment. You've written a rough draft, but it needs to be revised, critiqued, and edited. You will be pitching this book in July at the RWA conference. Project B is a novella you've decided to self-publish. It is just an idea in your mind at this point. Since it's a Halloween theme, you want to release it by September 31. Project C is the second book in Project A's series. You want to write the first three chapters by the end of the year just in case an agent or editor requests Project A and wants more.
Starting with Project A (use your title), list what needs to be done on the pieces of paper in the months you anticipate working on them. Keep your calendar in front of you with any important dates (vacation, out of town wedding) to avoid overcommitting.
Ex:      January:        Project A: Revise and send to critique partner
            February:
            March:            Project A: Edit based on critique
            April:               Project A: Polish
            May:                Project A: Write synopsis, revise and polish
Repeat step 3 with your remaining projects.
Some months will have multiple projects on them. Review these and be honest with yourself. Are your expectations too high? It's okay to drop one of your projects off the list or to plan on completing only part of it. That's what this exercise is for.
Combine the papers and type up a 12-month plan.
January:        Project A: Revise and send to critique partner
Project B: Brainstorm story direction
Project B: Plot, write blurb/synopsis, etc…
February:       Project B: Begin drafting the story
March:            Project A: Edit based on critique
Project B: Finish drafting story
Project B: Hire editor (who you know has two month lead time)
And so forth…
Print this form out and keep it near your workspace so you can refer to it every workday. It will keep you focused on what's most important to you for that month.
Step-by-step guide to creating a production plan – Click to Tweet
Do you create a twelve-month plan for your writing? If twelve months seems overwhelming, try a six-month plan. And feel free to play around with the concept. What worked for me might not work for you, but it might trigger another idea that will work for you!
Have a terrific day!