And Then There Was One…Truffle
I've had a two pack of white peppermint Lindor truffles on my desk all week. These little delights are so delicious, you can't help but close your eyes and black out a teeny bit while eating them. So smooth. So creamy. So full of calories and sugar. Bummer.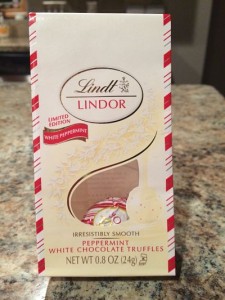 Yeah, I'm in healthy mode. Not all-or-nothing  mode. Nope. I don't do restrictive diets. I just know that a truffle a day keeps the doctor away–wait, that can't be right. A truffle a day makes my skinny jeans go away? Sounds more realistic.
So  the candy. It stares at me. But I wink at it. And I save it for the day I really, really need it. Like on Wednesday, when 2pm rolled around and I felt that my entire body would explode if I didn't have an ice cold can of Coke right that minute. And when I cracked that can open, I eyed the truffles. I thought, why not? The package itself says, "Irresistibly Smooth." I can attest to that fact.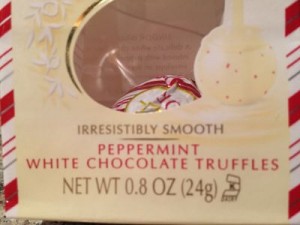 I didn't feel guilty about eating the truffle and drinking the Coke, but it did force me to rethink my afternoon snack. Usually I have a very healthy smoothie (2 fruits, 1 vegetable–my recipe is HERE), but at just under 300 calories, I couldn't afford the truffle and the Coke and the smoothie. So I skipped the smoothie.
Hey, it's all about moderation. The rest of the week I made good choices. And I'm pretty excited I still have another truffle! Maybe it will be a Wednesday thing…okay, now I'm getting crazy. 🙂
Are you on a health kick? How is it going for you?
Have a fabulous weekend!!