Goofy First Draft Stuff #WW
Writing a first draft for me is up and down. It involves wasted minutes (okay, hours) staring at the screen and having no idea what comes next. Then it's manic typing when something so delicious happens I can't get it on the page fast enough. Since first drafts are all over the place for me, I thought I'd share some goofy stuff I do to survive them.
Give secondary characters silly temporary names instead of taking the time to come up with a usable one. For instance, a few weeks ago I named a real estate agent Dexter Leatherface. Don't ask why. I have no reason.
Binge on sugary candy. Right now there's a box of little Gobstoppers on my desk. I also love hard candies and Bottlecaps. Chocolate is my first love, but I have to watch the calories!
Mangle Silly-Putty when I have no idea what to write next. Years ago my sweet friend and fellow author, Liz Johnson, sent me a care package with a plastic egg of Silly-Putty in it, and I've been having fun with it ever since.
Mentally berate myself. How could I have only written 257 words in one hour? Seriously, Jill? What's your prob?
Blink several times when I've written far more than I thought. Can the word count be correct? Did I miscalculate? I'm always amazed when words pour onto the paper.
Sit there. And sit there. And sit some more until I get something on the page!
The big thing I MUST do when writing a first draft? Keep my buns in the chair! If I get up for any "good" reason like laundry, dishes, fixing the hole in my shirt that's been there for months, organizing my pantry, going to the library to get research books (which aren't for research in any way, shape or form–they are distractions!!), I might as well throw my goals out the window and light them on fire. The book will NEVER get done.
Now you know my weird habits. I'd love to hear if you do anything goofy while you're writing a first draft!
How do you get yourself to stick with a project when it doesn't always go as planned?
Have a terrific day!
Only one more month and REUNITED WITH THE BULL RIDER (Wyoming Cowboys 2) will be in stores! Eeeeekkk!!!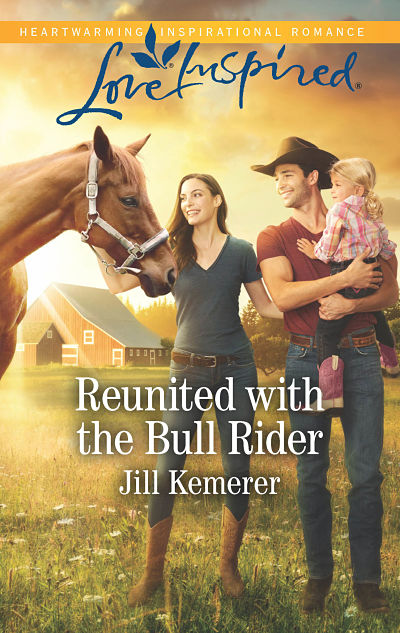 Goodbye rodeo, hello hometown. But is this Wyoming Cowboy ready to face his past?
Amy Deerson wanted to mentor a child. Her plan did not include former bull rider Nash Bolton—the little girl's brother and guardian. It's been a decade since Nash left town without a word, breaking Amy's young heart. Now they must put their painful past aside to help fragile, traumatized Ruby. If only getting over their first love were that simple.