I'm Embarrassed To Admit This But…
I try to live a healthy lifestyle. I want to eat clean and be fit, really I do! However, I fall far short of my health goals far too often.
I'm embarrassed to admit this but…there are days I don't eat a single vegetable or fruit.
I know!! It's ridiculous. Sure, there is probably a tomato lurking in the spaghetti sauce, but as far as an honest-to-goodness serving of veggies or fruit? Nope.
Here's the problem. When I have a few days with woefully inadequate produce intake, I get pudgy. Then I let a few days lapse where I don't exercise. Before you know it, I'm 3-5 pounds heavier. And MAD at myself! UGH! Who wants that?
I'm not a picky eater. I love most fruits, and I love most vegetables. So why am I not eating more of them?
I took ten minutes last week to figure this out. And I came to the conclusion it doesn't matter WHY I skip them; it matters that I STOP skipping them. But how? After enjoying a few mini-chocolate bars for inspiration (ironic, isn't it?), I hit on a solution that I knew would work.
I love smoothies. I usually throw a few servings of fruit in the blender with some yogurt and protein powder. What if I skipped the yogurt and substituted a cup of leafy greens? This would guarantee I'd ingest 3 servings of daily produce. Yes!
I tried it. Couldn't taste the kale (thankfully! I'm not a fan of kale, but it's good for me, and I'm trying to sneak more in). The smoothie contained two servings of fruit and one serving of leafy greens. Bingo!
Another problem popped into my mind. Sure, I made the smoothie and enjoyed it, but would I really rinse and chop kale and strawberries on a regular basis? Like, every day? I'm a creature of habit. I don't want to think about my afternoon snack–I just want to eat it. The smoothie is a perfect solution.
Each week I purchase a big bunch of kale, bananas, strawberries (or other fruit like blueberries or apples). I cut them up, measure them out into one-cup servings and separate the ingredients into baggies. Each afternoon, I grab a baggie of kale, a baggie of strawberries (or I cut up an apple) and a banana, add 1/2 cup of low fat milk, 1/2 cup of ice and a scoop of vanilla protein power (this can be omitted), and I blend until smooth.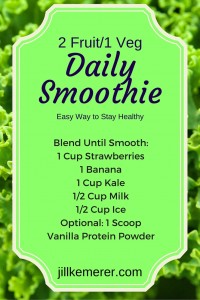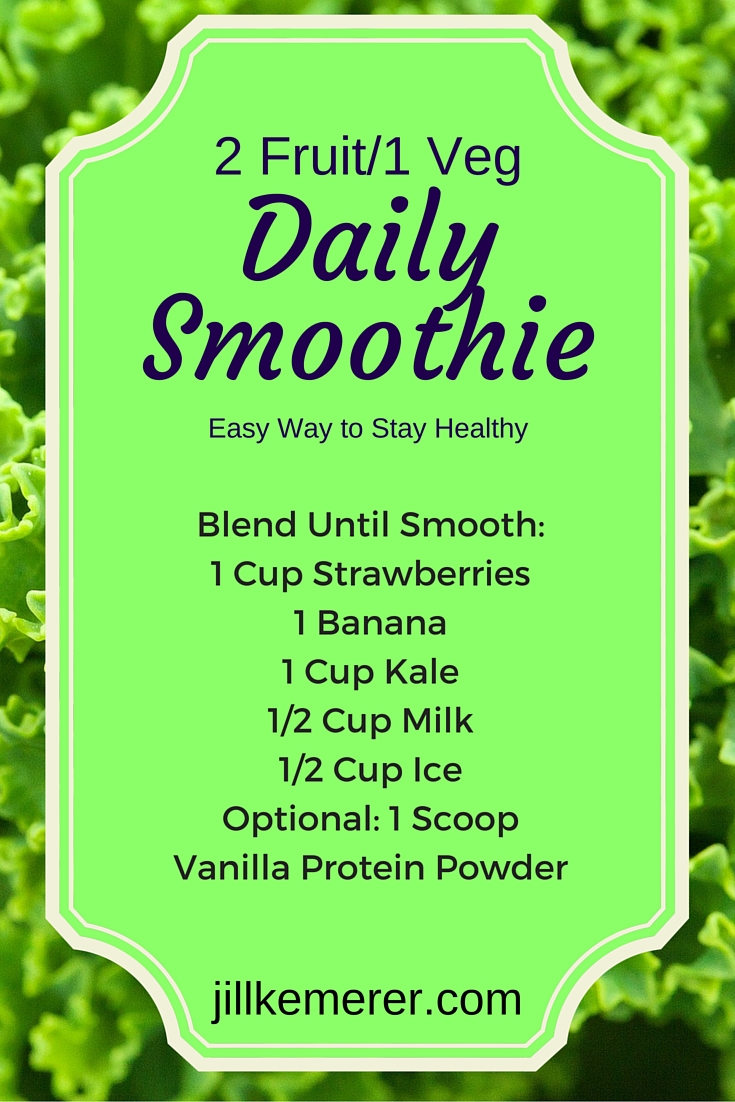 Knowing I'm eating three servings of fresh fruits and vegetables every day gives me peace of mind. In fact, this one change prompts me to be healthier all around. I don't know why, but it does!
What helps you stay healthy? I'd love your tips!
Have a great day!