Back to School Supplies! Writer Wednesday
My kids go back to school in a few days.  We have two freshmen–high school and college! Yes, I've hit "mom" mode where my brain spins with one part practicality (notebooks, parking pass, pens), one part relief (I get the whole house to myself to write again), one part dread (the alarm clock and I WILL battle), and several parts irrational fears (will they have friends, find their classes? And will they please stop growing up???).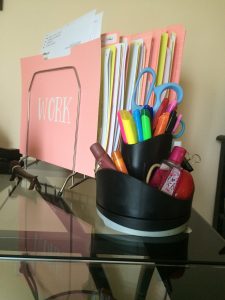 The one bright spot in this for me (besides being proud that they are maturing into lovely adults and all that jazz) is the back-to-school supplies! I love them! I dragged/forced my son to a superstore to shop last week, and my soul lit like the Rockefeller Center at Christmas when I saw fifteen cent notebooks, cheap index cards, thirty-packs of pens, highlighters, binders–yippee!!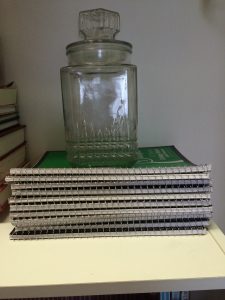 Did my kids need eighty dollars worth of papers and pens? No. Did I? Yes. It's all stacked and ready to go in my office closet. I go through a LOT of index cards, cheap notebooks and pens during the year!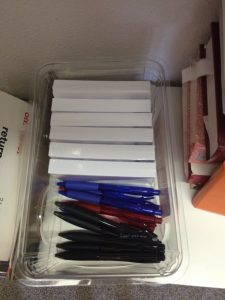 If you're a writer, I highly recommend plunking down some cash to stockpile office supplies in August. I'd much rather spend fifteen cents on a notebook now than a dollar for the same one in three months. Ditto with pens! Full disclosure: my family tends to steal my pens. Every writing tool I own then disappears into the ether. I don't even know what that means, but it happens. For real.
Do you buy school supplies for yourself? What is always on your "buy" list?
Have a terrific day!