Welcome to my monthly series called 3 Scoops of Life. I love ice cream, and 3 scoops seems like a dream cone to me. No, we're not eating ice cream (although we can!). I'm simply highlighting three good things in my life each month.
One is writing/work related.
One is personal.
One is an encouragement.
The first scoop–writing–is a no-brainer this month.
I found out my new release, Depending on the Cowboy, hit #22 on the Publishers Weekly bestseller list for mass market fiction! What a dream come true! Yay!! Thank you to everyone who bought the book!
Let's move on to scoop two–personal.
In this month's goals post (linked), I mentioned the 2023 #CoffeeQuest419. Here's what I said:
The Coffee Quest 419 is a Toledo challenge for coffee lovers. Visit twenty of the twenty-one listed coffee shops by February 28, make a purchase, get your card stamped, and if you meet the challenge, you get a T-shirt. I've already accepted that this quest is way too much for me. I could hit ten, maybe fifteen, of the coffee shops, but twenty? Not happening. So in January, I decided to make my own quest to try a minimum of eight, hopefully ten.

February 2023 Goals ~ Jill Kemerer
I was wrong. It turns out I CAN try to hit twenty shops. It's taken a lot of planning and batching coffee shops in groups to stop at more than one when I'm out, but I've already collected fifteen stamps on my card!! Two of the remaining coffee shops are about thirty minutes away. I will get to them. I WANT THAT COFFEE QUEST SHIRT!!
It's like getting a marathon T-shirt, but there's no running involved, and I get to drink a lot of coffee. What's not to love about that?
Finally, scoop three–encouragement.
Routines are great until they feel…well, routine. Sometimes we have to step out of our comfort zone to get back the zip of life. Winter does that to me. It's nice to be inside and cozy, but after a while, I start to lose it.
The coffee challenge has been stressful at times. I've had to drive downtown and park in parking garages and figure out where some of these shops are. One day I really didn't enjoy the quest. The weather wasn't great, and one of the shops was closed. But it's still been worth doing. It's gotten me out of my routine, out of my comfort zone, and it's helping me deal with the blah feeling I tend to get this time of year.
So if you're starting to feel a little too "routine-ish" (that's a word I just made up), try something new. Get out of the house for an hour. Try a new coffee shop or just mix it up!
What good things are happening with you? I'd love to hear them!
Depending on the Cowboy is in stores through the month of February, so if you haven't picked up your copy yet, there's still time! And you can always order online–purchase links are on the webpage, linked above.
---
Celebrate Lit's We Love Our Readers Giveaway!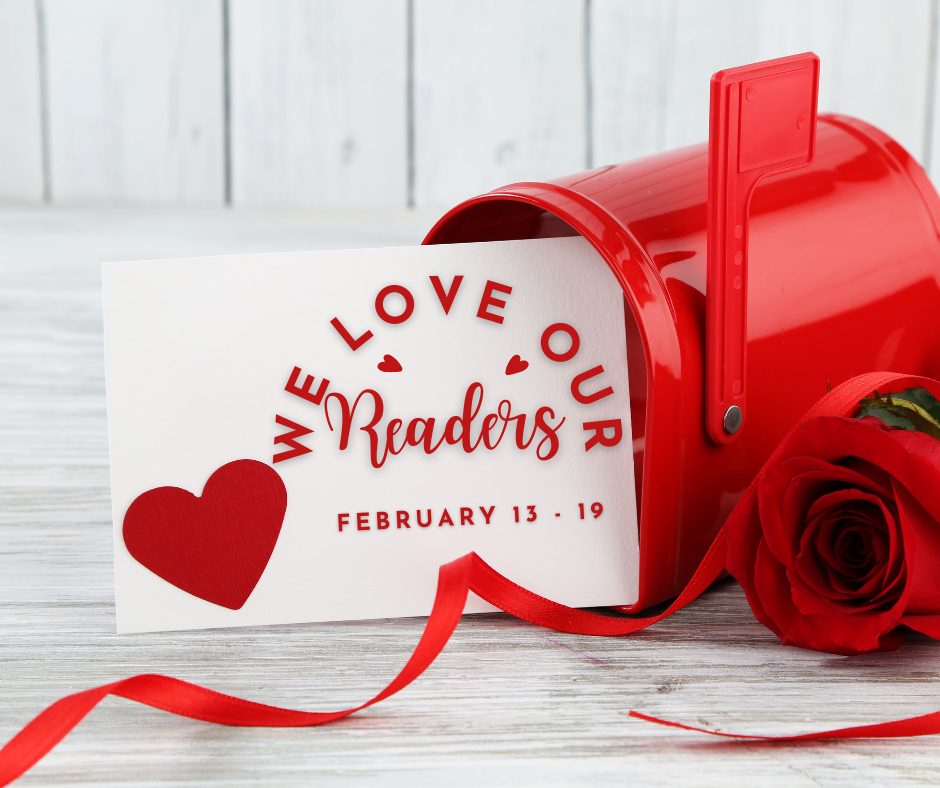 Also, February is the month we celebrate love. As an author, I am so thankful for all your love and support! I wanted to show you how much I love all my readers by partnering up with Celebrate Lit Publicity for their We Love Our Readers Multi-Author Giveaway.
Here is your chance to win 45 books or a $500 Amazon card to buy a ton of books for yourself in Celebrate Lit's We Love Our Readers Giveaway.
Click here to enter: https://promosimple.com/ps/23a85/2023-we-love-our-readers
The event and giveaway is going on now through February 19.