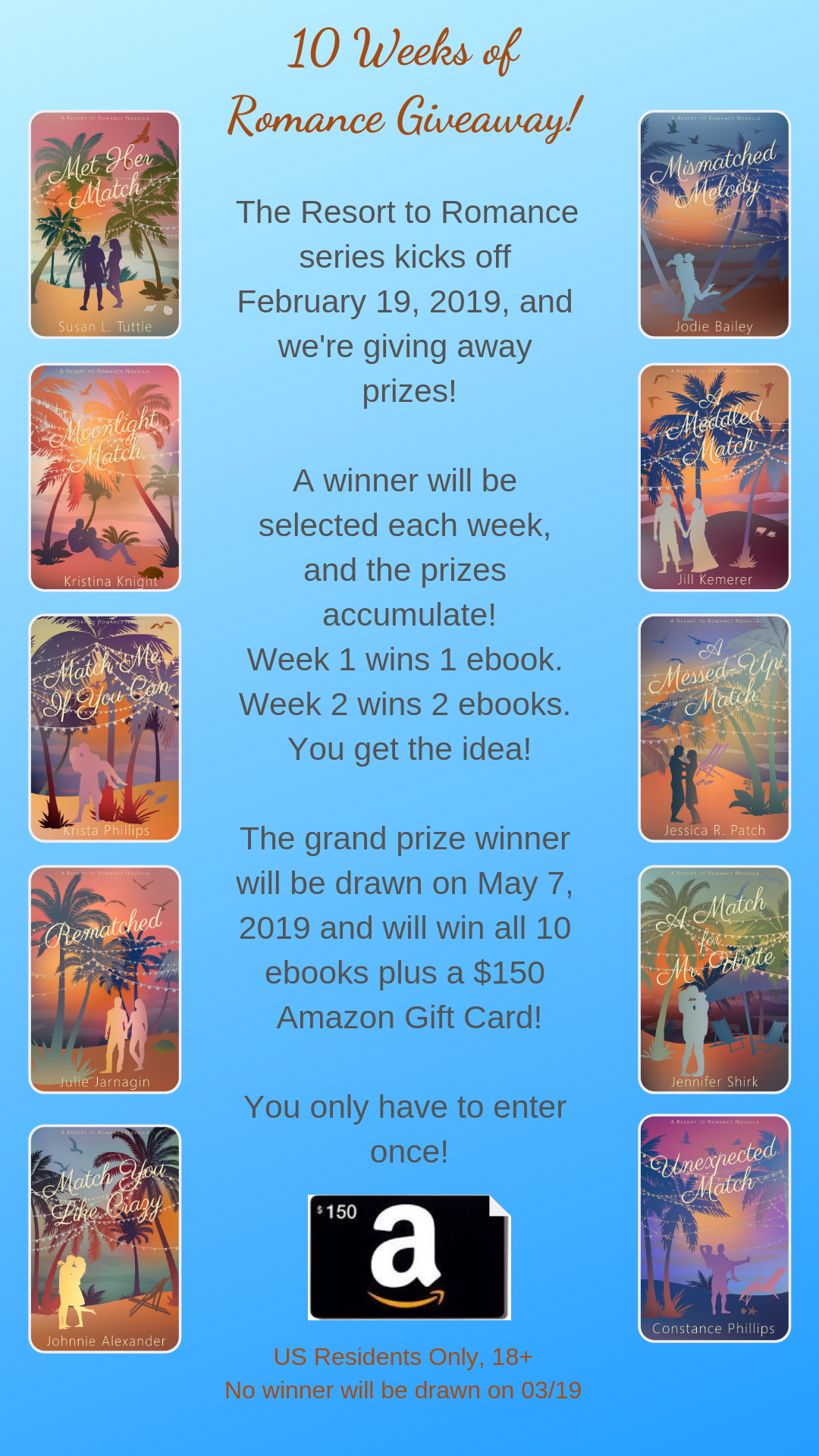 It's here! Today the RESORT TO ROMANCE SERIES launches, and I'm so excited!
About a year ago, Jessica R. Patch and I were joking around on the Voxer app, and we started throwing out silly ideas for a multi-author series. We weren't planning on creating one–we were just having fun.
Somehow a private island got tossed in. Then a couple of eccentric spinster sisters. Then Matchmaking Week with couples paired by experts. And rules–no sex, no cells, no switcharoos! We were rolling on the floor in laughter. It was one of those days when we really wished we lived near each other! Alas, Jessica lives in Mississippi, and I'm in Ohio…
By the end of the day, we'd decided we were putting this series together because it was too fun NOT to do it!
And here we are…release day. Woohoo!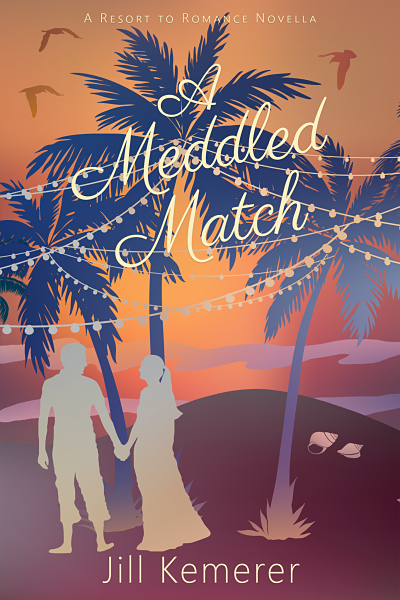 My novella, A MEDDLED MATCH, kicks things off.
Gavin Sterling wants no part of Matchmaking Week, but his eccentric great aunts insist he fill in for a no-show or he won't have a chance at inheriting their island resort. Surprisingly, his match intrigues him. Mollie is blunt, sassy, and best of all, has no idea he's the son of a billionaire.
Mollie Macomb needs a relaxing vacation without the dating drama. A relationship with Gavin would never work in the real world, anyhow. He's a gorgeous businessman. She's a quirky failure. But even the unlikeliest couple can find love during Matchmaking Week…
A Meddled Match is a SWEET romance. Basically, it's clean and wholesome without the faith thread.
Purchase A MEDDLED MATCH for only $0.99!
Each week, another book releases! Jessica's book, A MESSED-UP MATCH, will be available Tuesday, February 26, 2019. You can pre-order all ten books now for $0.99 each! Don't wait, though, because a week after the book releases, the price goes up to $2.99.
Here's the Resort to Romance series premise:
Get ready for ten weeks of romance in the Bahamas with a new series brought to you by some of the best authors in the inspirational and sweet romance genres…
Ten delightful – and standalone – novellas linked by one matchmaking week. You'll want to devour each one!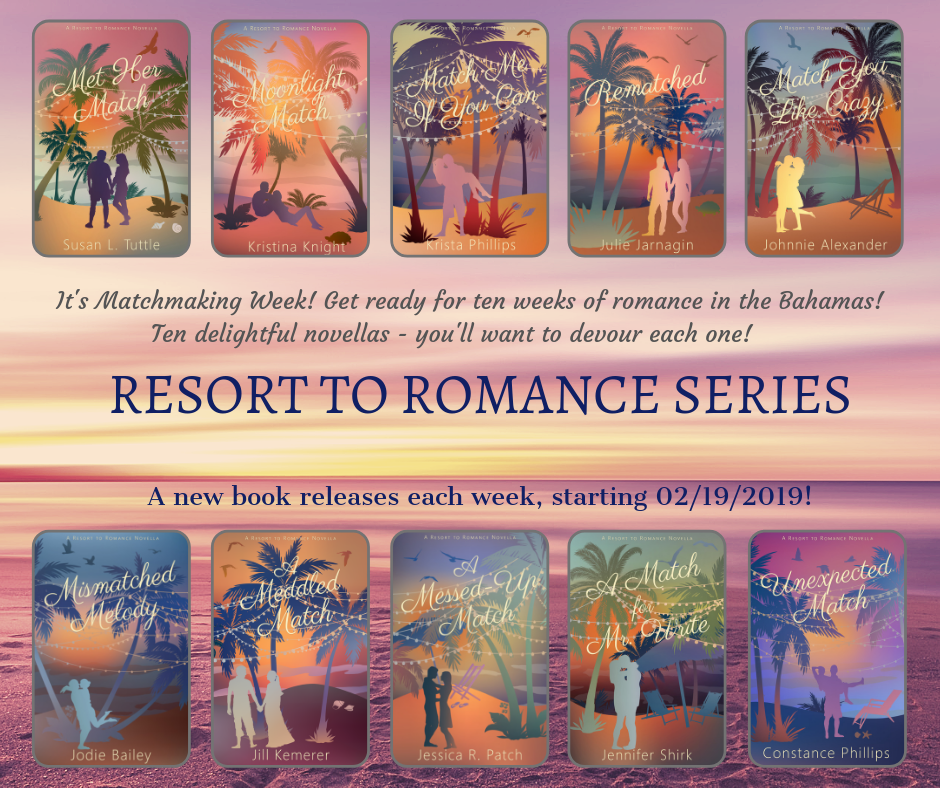 It's Matchmaking Week at an all-inclusive resort on a private island in the Bahamas. Each guest has been expertly paired and is here to enjoy one full week with their match. While there's no money-back guarantee on the paid trip, the participants are guaranteed to find love!
For links to the entire series, go to the RESORT TO ROMANCE SERIES page!
Mega-Giveaway!!
To celebrate this series, all ten authors have joined forces to host the 10 Weeks of Romance giveaway! The sweepstakes begins today. A winner will be selected every Tuesday, starting February 26, 2019, with the exception of 03/19, and the grand prize winner will be selected May 7, 2019!
Here's how it works: Register at the rafflecopter below. The great thing about this giveaway is the books build with every author's new release! That means your entries roll over each week all the way up the grand prize–all ten books PLUS a $150 Amazon Gift Card!!
This week's prize is: A Meddled Match by Jill Kemerer!
Enter the 10 Weeks of Romance Giveaway below!
Due to complicated international laws, this sweepstakes is only open to US residents, eighteen and older. See complete rules in the giveaway form.
a Rafflecopter giveaway
Be sure to stop by Jessica R. Patch's blog next Tuesday to see what book is being added to the giveaway!
Also, Faithfully Bookish is hosting me today! Stop by for more inside scoop on the series!
If you could go on a vacation right now, where would you go?
Have a great day!