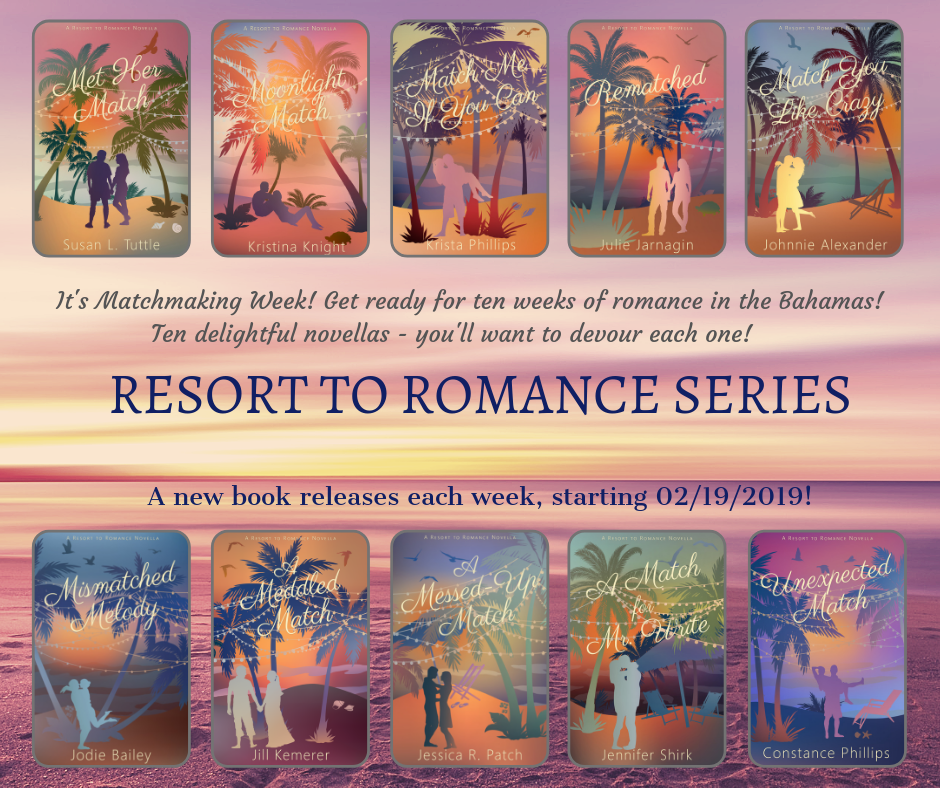 It's less than a week away, and I couldn't be any more excited! The first novella in the ten-book series releases February 19, 2019–and guess what? It's my novella!
RESORT TO ROMANCE SERIES
A Meddled Match kicks off the RESORT TO ROMANCE SERIES. I'm sure you have lots of questions. Let me help you out!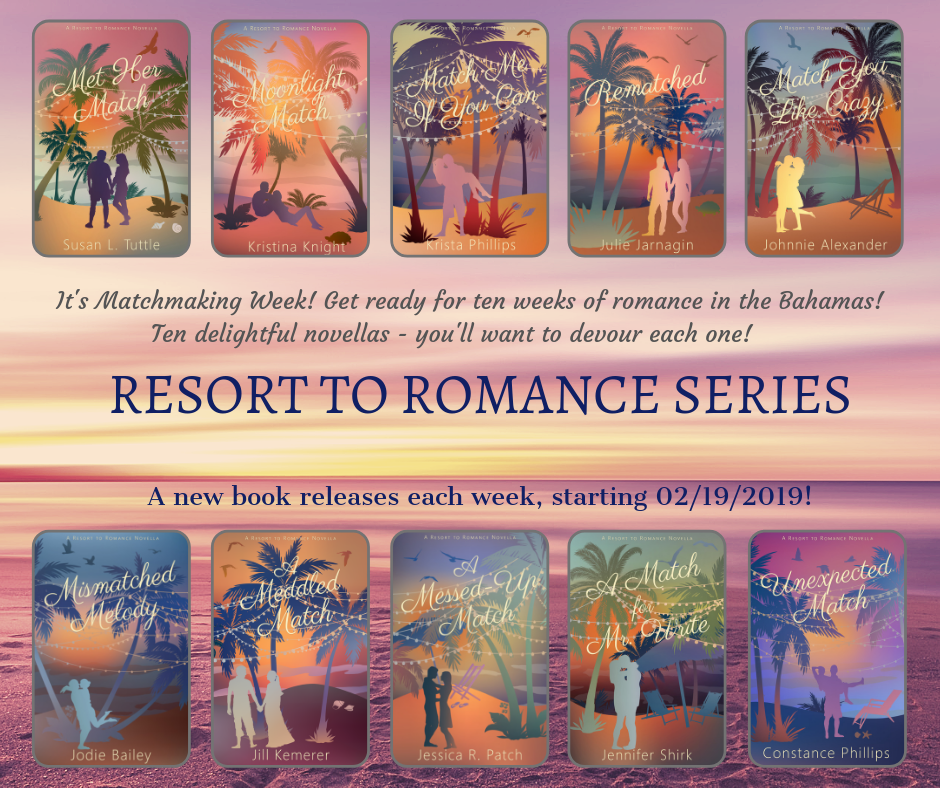 What is the Resort to Romance Series?
It's Matchmaking Week at an all-inclusive resort on a private island in the Bahamas. Each guest has been expertly paired and is here to enjoy one full week with their match. While there's no money-back guarantee on the paid trip, the participants are guaranteed to find love!
Get ready for ten weeks of romance in the Bahamas with a new series brought to you by some of the best authors in the inspirational and sweet romance genres…
Ten delightful – and standalone – novellas linked by one matchmaking week. You'll want to devour each one!
What is A Meddled Match about?
A Meddled Match is a sweet romance (no sex or cussing–it is clean and wholesome), not an inspirational (faith-based) romance like my Love Inspired novels.
Here's the back-cover copy.
Gavin Sterling wants no part of Matchmaking Week, but his eccentric great aunts insist he fill in for a no-show or he won't have a chance at inheriting their island resort. Surprisingly, his match intrigues him. Mollie is blunt, sassy, and best of all, has no idea he's the son of a billionaire.
Mollie Macomb needs a relaxing vacation without the dating drama. A relationship with Gavin would never work in the real world, anyhow. He's a gorgeous businessman. She's a quirky failure. But even the unlikeliest couple can find love during Matchmaking Week…
Where Do I Find the Series?
Each book is available for Kindle on Amazon. They are all at the bargain price of $0.99! But the price won't last. One week after each book releases, the price goes up to $2.99, so pre-order them now!
Links to all ten books can be found at the Resort to Romance Series page!
Will I like it?
I hope so! Here are what some early reviewers have to say about A Meddled Match.
"One paragraph into this novella and I was all in! Loved every minute. Jill Kemerer has a hit with this one! If the rest of this series of novellas set in a matchmaking resort is anything like the first two, that will be wonderful…" ~ Susan (Goodreads)
"Oh my goodness!! What a fun read. I found myself laughing out loud and wishing I was on that Joy Island watching this all happen. I loved the cast of characters, the story line and the sweet and clean romance. This novella can be read in one sitting. " ~ Dana (Goodreads)
"These two are a riot to watch and made me laugh at their antics! The witty banter alone endured me to Gavin & Molly. They fight the attraction between them at every turn, but everything conspires against them to prove that real love can be found anywhere! Ginny & Goldie are the eccentric aunts that are over-the-top hilarious; deep down they care a great deal for Gavin and only want to see him happy. I haven't laughed so much at a story for a long time!" ~ Trixi (Goodreads)

Any questions? I'd love to answer them! Come back next week because we're celebrating release week with an EPIC giveaway!!
Oh, and early Happy Valentine's Day!