Organizing the Writing Life: Digital Files
Organizing digital files. You might be asking what's the big deal? You always find the files you need…eventually.
But what about last month when a blogger asked to interview you and needed the blurb and cover of your latest book? It took a few minutes, but you found them. Then you got another email requesting the covers of all the covers in the series. That's when things got dicey.
You didn't time it, but if you had, it would have taken twelve minutes to scroll through all the files where you thought the covers might be.
Having a digital filing system–an easy method to find any file you might need–not just relating to your books, but to your business, too, saves you time and frustration.
Last week we discussed how to organize the business side of the writing life. If you didn't get a chance to read it, you can here, "Organizing the Writing Life: Business." This week I'm sharing my tips on organizing your digital files.
Organizing Digital Files
I keep my system simple and uncluttered. I keep every file relating to a book in that book's folder. This is the key to easy access for me. If I need to find anything relating to a particular book, I simply find its folder, and click through the coordinating sub-folders until I locate the file I need. It's a HUGE time saver.
I have separate folders for business files, digital receipts, website backups, short stories, agent updates, workshops I prepare, and, of course, plenty of family stuff.
How in the world can we wrangle thousands of files into an easily accessible order?
By organizing a system with broad categories and creating a hierarchy with subsequent tiers, you'll be able to find any document quickly.
Before you start creating folders and moving files, it's important to create an outline of how your hierarchy will look.
Brainstorm the categories of files you access the most. This is your top-tier of folders.
Looking at your list, are there any tandem categories you can combine? For instance, maybe you have Contracts, Business Receipts, and Royalties. All of these could be lumped under the category of Business. The top-tier folders should be few and recognizable.
Once you have your top-tier, determine their importance. Which ones do you access most often?
Tip: You can determine the order the folders appear by simply adding a number (1, 2, 3 or letter A, B, C…) in front of the file name.
Now it's time to create folders for your list. If you use a PC, click on File Explorer. If you use a Mac, click on Finder. Since most digital folder systems automatically list alphabetically, I number mine so they show up in the order I want.
Books
Business
Website
Agent
Short Stories
Articles
Speaking
Writers Group
Home
Once you have your top-tier folders set up, you can determine the categories within each of them. Let's look at Books.
Think about the types of books you write. Do you write more than one genre? Do you write novellas? Do you self-publish? Do you have a publisher? Are you a hybrid author?
Basically, you want to figure out the most meaningful way to access your files. I have mine separated according to length, genre and/or publisher. For whatever reason, I find my list easy to understand. Do what works for you!
Love Inspired
Trade Length Contemporaries
Nonfiction
Novellas
Trade Length Romantic Suspense
Old Harlequins
Back to the Books folder…once you have determined how to further break down books by genre, length, publisher, or whatever method you choose, it's time to make the folders.
If you write books in a series, create a folder for each series under its appropriate category. For instance, in the Love Inspired folder, I have Lake Endwell, Wyoming Cowboys, Wyoming Sweethearts, and Novellas. If you don't write in a series, you can create a folder for the individual books in this category. Use the title to name the folder, and if the title changes at some point, simply rename the folder. It's easy!
Each of my individual book folders has these folders:
AFS
Covers
Drafts
Ebooks
Promo
Titles
You could also have a folder for Editor, Copyedits, Business, you get the idea. I leave the file of the draft I'm working on below these folders. All I have to do is scroll down and it's right there.
Repeat this process for each of your top-tier categories. For example, in 2. Business I have folders for my business plans, forms, licenses, contracts, receipts, logos, royalty statements, and more. In 3. Website, I have folders for backups, themes. You get the idea.
Below is a screenshot of a basic outline for my folders. As you can see, this is a partial outline. I didn't break down each category down here, but I wanted you to get an idea of how this works. Every item in this outline has a corresponding folder in my File Explorer. In each folder are individual files.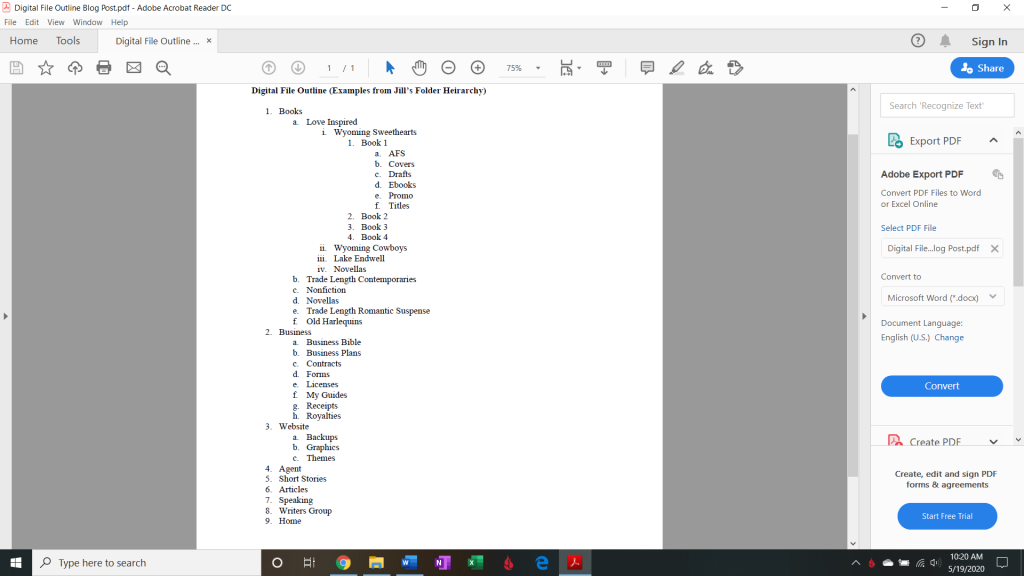 If you set up a system and find it's not working, you can easily change it. Simply "Rename" folders to an easily identifiable name, and move files to the folders they best fit.
We all have different ways of processing things. Find what works best for you!

Do you have a digital filing system? Is it working for you? Do you need to tweak it? I'd love to hear!
Have a great Memorial Weekend!