Organizing the Writing Life: Business
It's been over a decade since I submitted my first proposal to an editor who'd requested it. Back then I wrote in our living room, where I had a small folding chair and a tiny table for a desk. I didn't care! I was so excited to finally be taking the plunge and sending out my work.
Over the years, everything got more complicated. Between digital drafts, contracts, author copies of my books, income/expense reports and all the other million and one items I need to be able to access easily, there was no way a tiny table was going to cut it. I had to come up with a system.
Thankfully, I adore systems!
I figured out how to organize my writing life, and this week I'm sharing the business aspect of it including the following.
Organizing emails
Filing system for receipts
Income/Expense report
Author copies of books
Royalty Statements/Contracts
Business Bible (for family in case of emergency)
Organizing Emails
Oh, boy. I get a lot of spam, a lot of junk mail, a LOT of "big sales" from retailers. There are two people whose emails I CANNOT miss.
My agent's. And my editor's.
So I went into the settings of my email account and created filters for their email addresses. Then I created folders within the email account where their emails are automatically stored. This alone has saved me so much anxiety. I never erase their emails, and I can find anything they've sent me by clicking on their individual folders.
If you're not sure how to create filters and folders, simply do an online search with "organize emails" for the email service you use.
Filing System for Receipts
Full disclosure: You might not need a system for receipts. If you have a business credit or debit card and use it exclusively for your expenses, your monthly statements can serve as your receipts.
If you use bookkeeping software like Mint, you probably don't need a system, either.
But if you keep track manually, you can go all digital by scanning any physical receipts and dropping them into a digital folder. Or you can print digital receipts and file them with your other paper ones. It's up to you.
I do the latter. When I purchase something online, I print each receipt and file them in a folder on my desk. I separate them into categories such as Postage, Office Supplies, etc…
Why do I prefer the print version? Simple. Taxes. At the end of the year, I slip all my receipts into an envelope and keep them with my tax return. If I ever get audited, everything is right there.
Income/Expense Report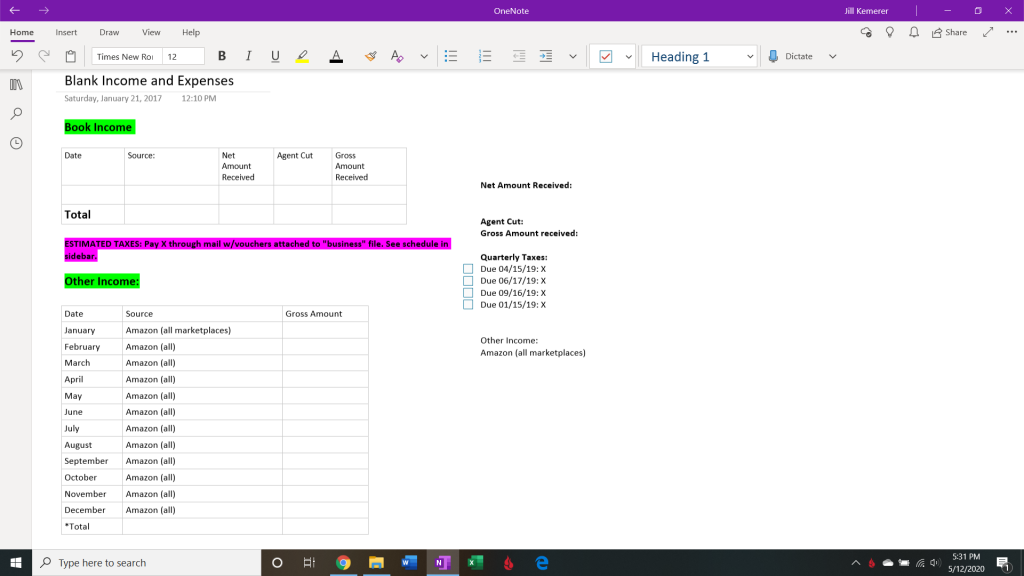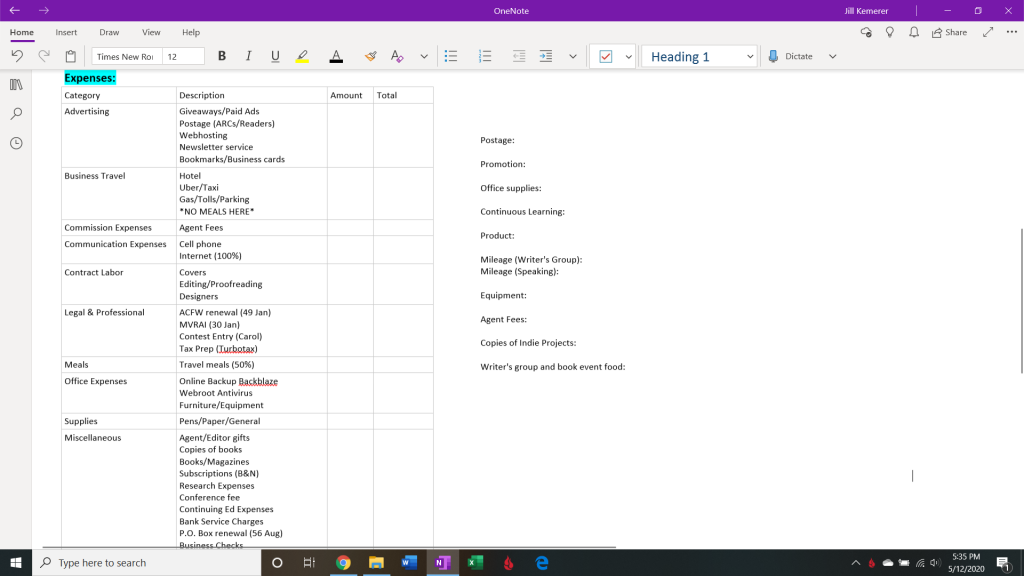 Above you'll see screenshots of the OneNote tables I created to keep track of my income and expenses. Whenever I get paid, I add the totals to the income portion. And once a week, I file receipts and add expenses into their categories. It works for me!
Author Copies of Books
I get paperback copies and digital copies of all my traditionally published books. I give away many copies to reviewers, my street team, and in giveaways, but I always have extras.
For the paperback copies, I purchase clear bins and store them on a shelf in my office closet.
If I know I'm going to be attending an event where I'm responsible for selling my books, I'll purchase copies in advance. Whatever I don't sell, I keep in boxes on my shelf with signs that say "Books For Sale" along with the titles. This helps me keep my author copies separate from my purchased copies.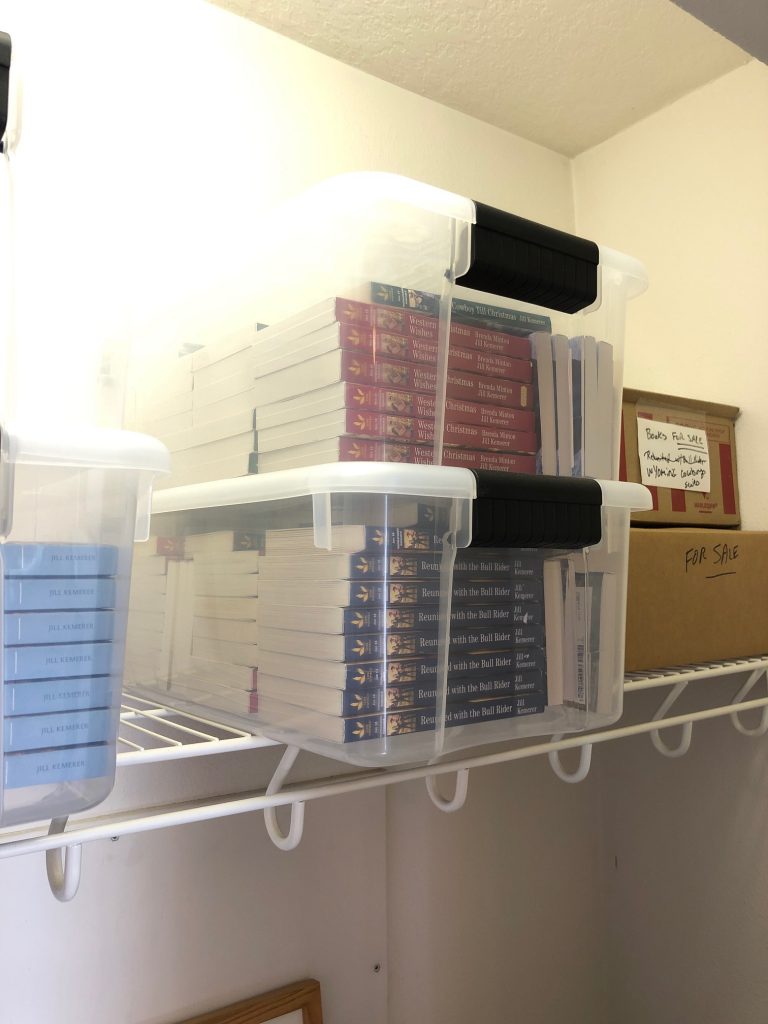 For digital books, I store them with all the other files for the book on my computer, but I create a new "Folder" named "Ebooks." It makes it easy to hunt down a MOBI file or EPUB file for any of my books.
Royalty Statements/Contracts
For the longest time, I had no system (the horror!) to deal with royalty statements or contracts. But I figured out an easy way to store them.
I keep digital and print versions of all contracts and royalty statements. You do not need to do both. I just like the easy reference!
Whenever I get a new contract, I print it and store it in a manila folder in my office. I also copy the digital file into my Business folder under Digital Contracts. See below.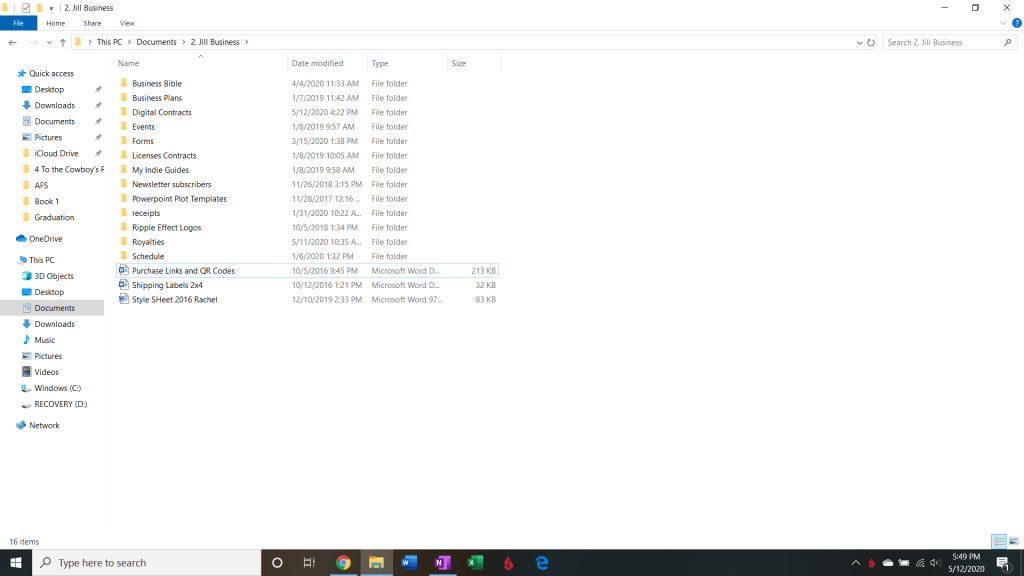 Royalty statements are a little trickier. As soon as I download them, I "rename" them by adding a 3-digit number to the beginning. The first royalty statement I received was 001 *name of file*. All I have to do is check what the previous statement's number was and add a one. This makes it simple to go back and find an old statement.
I also print the statement and write the number on the top page. I then punch holes into each page and store it in a binder with the other statements. I always keep the most recent statement in front. I add more binders as they get full.
Business Bible
I'm a one-man band. I have no employees, nor do I have a personal assistant. Recently, I created a Business Bible. If anything happens to me, my husband would have no idea how to access any of my accounts–in fact, he wouldn't know what accounts I even have.
With that in mind, I typed up a guide with the basics.
Accounts and Log-In Info

Website Hosting
Newsletter Service
Social Media
Amazon & KDP
Banking

Important Contacts
Publisher/Self-Published Books Info
Federal and State Business Info
Links to social media profiles
Current Contract
If you earn income through your writing, consider creating your own Business Bible in case anything happens to you. It will make life easier for your family.
Why get organized? It saves time and clears your head for more important things–like writing! Check out "The Mental Relief of Getting Organized" if you're not convinced.
Join me next week when I'll share how I organize my writing life in regards to my books!
What have you found most helpful when organizing the business side of writing? I'd love to hear!