The second book in Liz Johnson's Prince Edward Island Dreams series is here!! Where Two Hearts Meet features Caden Holt and Adam Jacobs. If you read the first book in this series, The Red Door Inn, you'll remember Caden as the baker of delicious cinnamon rolls. She's now working for the Red Door Inn as a chef, and a mysterious guest arrives. I won't give any spoilers, but I will say this–the romance progresses like a batch of the cinnamon rolls Caden whips up, rising, baking, and filling the room with a sweet aroma! I LOVED this book! I loved it so much, I'm giving away a paperback copy to one winner! Easy entry options are below (US residents, 18+)!
WHERE TWO HEARTS MEET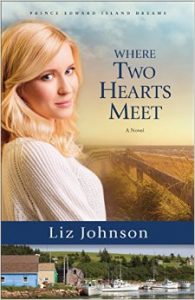 In her kitchen at the Red Door Inn, executive chef Caden Holt is calm, collected, and competent. But when her boss asks her to show off their beautiful island to impress a visiting travel writer and save the inn, Caden is forced to face a world much bigger than her kitchen–and a man who makes her wish she was beautiful.
Journalist Adam Jacobs is on a forced sabbatical on Prince Edward Island. He's also on assignment to uncover a story. Instead he's falling in love with the island's red shores and Caden's sweets.
When Caden discovers Adam isn't who she thought he was, she realizes that the article he's writing could do more than ruin the inn's chances for survival–it might also break her heart.
***
Purchase Where Two Hearts Meet HERE!
Enter to win a copy!
Want to know more about Liz Johnson  and her books? Visit her website,
Liz Johnson Books
!!
I would love to visit PEI! Where would you love to visit?
Have a wonderful day!!