Bite-Size Sessions for Lower Priority Projects
This month I'm sharing tips based on my experience with setting and meeting goals. I'll be the first to admit I'm self-motivated and disciplined. However, I have blind spots about habits that don't always work well for me.
Three years ago, I got serious about reworking my schedule to address those habits. You can read about it in "Get More Done with a Plan." The schedule worked really well until the pandemic hit.
Then…things fell apart.
I slipped into my old habits. Yeah, I still met my deadlines, but I was no longer making time for the lower-priority projects. When I don't make time for them, they NEVER get done. Because there's always another high-priority project to jump the line.
I've accepted the fact this is a personality thing for me–putting all my energy into what's most important now. But it's unnecessary. My day does not need to be entirely focused on my next deadline. It only burns me out.
My writing life runs smoothly when it's balanced. I have more energy. I feel more accomplished.
I know it's possible to make time for all of my writing goals, and I can do it in a sustainable way. I've done it before. I just have to be willing to approach my day in a slightly different manner.
Life changes every year. Our schedules and the approach we take to them should change, too.
On New Year's day, I had some free time, so I headed to the comfy living room chair with my 2022 planner, the printout of the daily block schedule I used in 2021, along with a journal and pen. I spent some time thinking about what worked for me and what didn't last year.
I realized I was right back to where I was in the fall of 2018.
I'd abandoned my habit of leaving the house one morning a week to explore story ideas. (SAD!! I loved this time. Why did I let it go?? Oh, right. My default goes to you can't take a morning off! You have a book to finish! But, hello! I'll never have another book to finish if I DON'T EXPLORE IDEAS!!)
My nonfiction writing project had stalled. Writing projects collect dust when you never make time for them.
My days were starting later (I can linger over coffee for hours if left to my own devices), eating up precious morning writing time.
The final block of my workday had lost its purpose. I was supposed to be using that time for marketing, plotting, working on a side project, watching a webinar, or other writing-related tasks. However, it had become just more time to work on my current book.
Thankfully, back in 2018, I'd already learned how necessary it is for me to schedule bite-size sessions for lower priority projects.
I remembered the feeling I had all of 2019. I'd been excited about writing, mainly because I wasn't exhausting myself by pouring all of my energy into one thing. Since I track my progress on each manuscript, I can honestly say I got MORE done when I put less energy into that one thing. Funny how that works.
Back to New Year's Day… After writing down the things I wanted to make time for, I scrutinized my weekly schedule for ways to squeeze them in.
I restructured my mornings.
I have a set time when I get off the couch and do my workout. Since I love lingering over coffee, I'm getting up earlier. 🙂
I kept my "A Project" (high-priority) blocks the same. They work really well for me.
I blocked (4) thirty-minute sessions each week to work on my nonfiction project. When it's finished later this year, I will assign those sessions to another lower-priority writing project.
I have small marketing goals for each day. Last year I declared Monday afternoon marketing day. The idea was to create and schedule all of my Maintenance Marketing (I wrote a post on this–it's linked) tasks for the week. I was rarely able to meet my goals because I underestimated how long it takes me to write a blog post, create multiple graphics for social media, put a newsletter together, and so on. A little each day works MUCH better for me.
My "Block 3" (the last two hours of each workday) is now devoted solely to lower-priority tasks. Just because they don't have deadlines, doesn't mean they aren't important. One afternoon I might work on plotting a new series, the next I might draft a handout for a speaking engagement. I might watch a webinar or any of the other things I tend to put off.
Tweaking my weekly schedule to include bite-size sessions for lower priority projects has renewed my enthusiasm for work this year.
It's exciting to see the words add up little by little on my nonfiction project.
It's a relief to have solid story ideas coming together for my next Love Inspired series.
It's motivating to see my maintenance marketing plan working in a way that isn't exhausting me or making me feel guilty.
Best of all, I'm still meeting my high-priority deadlines.
Whether you work full-time, part-time, are raising small kids, have time-consuming volunteer commitments, drive your elderly parents to appointments, have health problems or, are like me and able to write full-time, these principles can work for you.
Try scheduling bite-size sessions to work on the project that's stalled. Thirty minutes here and there add up! Last week I totaled my word count on my nonfiction project. Four thirty-minute sessions added up to 2761 words. That's a lot!
One more thing. Keeping those thirty-minute sessions does not come naturally to me. I still tend to want to open my high-priority manuscript, but I made a deal with myself that I have to work on the nonfiction first. So don't get discouraged if you're "warring" with yourself, so to speak, about using your time differently. Try it for a month. You'll know by then if you're seeing progress or if it's not working for you. Change whatever isn't working.
Given your current schedule, what is one tweak you could make to work on the project that you can never find time for?
***
My new book, A COWBOY TO RELY ON, is in stores through the end of January!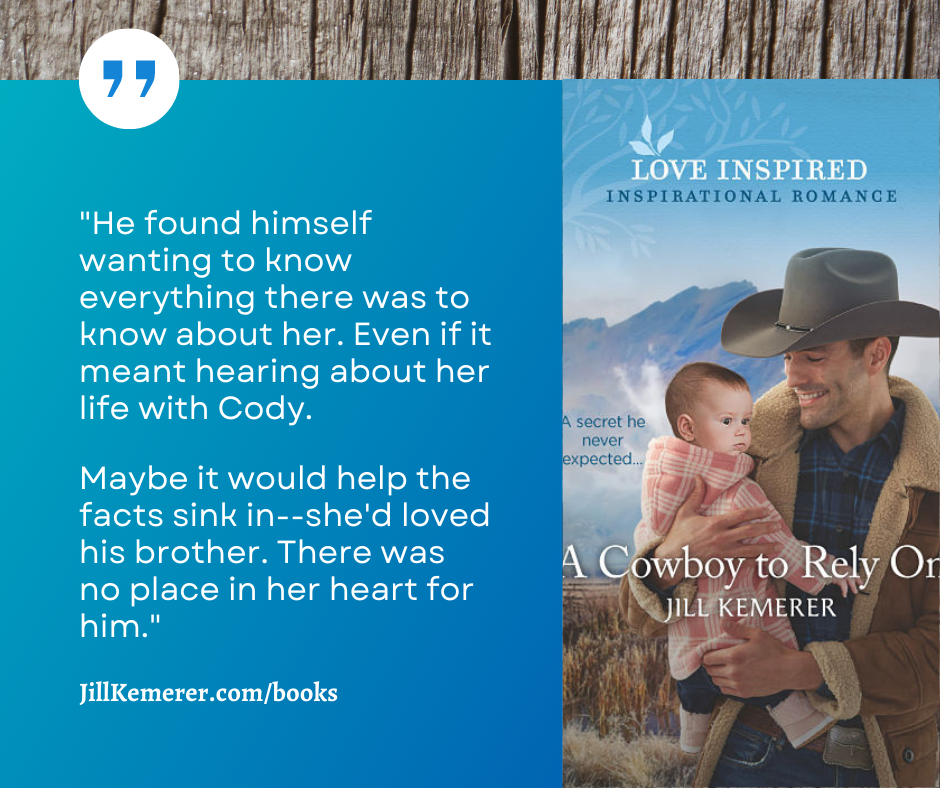 Click HERE for purchase links, Pinterest board, a reading sample and more!
Have a wonderful week!