Maintenance Marketing for Writers
Promotion and marketing are ongoing tasks for writers. What's the difference between them? I'm not a marketing major, but I've been doing my own marketing and promotion for years. I have my own way of defining them.
I promote my books. I market my author name/brand to build my platform.
For me, marketing is the overall strategy of building my platform. Promotion, on the other hand, is the overall strategy of selling a particular book.
There isn't anything technically accurate about this definition. It's just the way I separate the two in my mind.
There are things I do on a weekly, monthly, and yearly basis that I call maintenance marketing for writers.
The goal of these tasks is to provide content to my platform on a regular basis as well as attract new readers to find and follow me. Then, when I'm promoting a new book, the additional book-centric content is a natural continuation of what I'm already doing.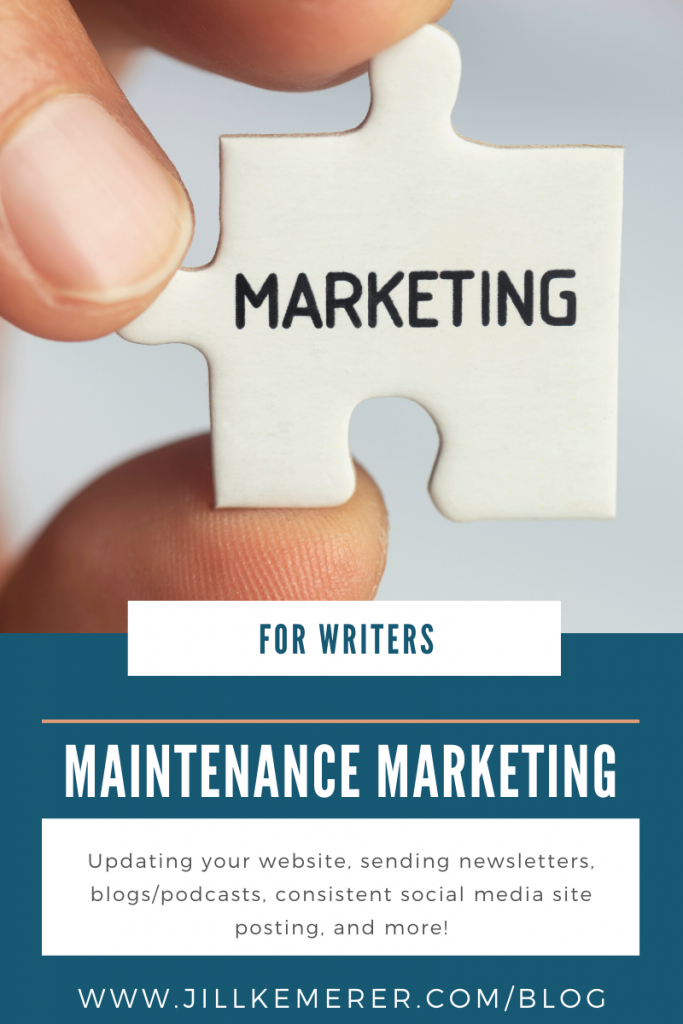 What does maintenance marketing for writers involve?
Updating your author website
Sending out newsletters on a regular basis
If blogging/podcasting, posting on a regular basis
Posting to social media sites consistently
Refreshing your author page information on sites like Amazon, Bookbub, Goodreads
Ordering bookmarks, business cards, etc…
Tracking platform numbers (optional)
This list by no means covers everything. You might have marketing strategies not listed here, and that's fine! I have no problem tweaking my personal strategy based on changing trends and my schedule.
Let's look at each bullet point above in more depth.
Updating Your Author Website
Your author website needs to be updated at least once a year. In addition to keeping the copyright date current, look over your site to make sure nothing is out of date, incorrect, or missing.
Does your Home page feature your latest book?
Are all of your books listed on a Books page and/or individual pages?
Do you need to add any books?
Have you received any awards or hit any milestones to add to your author bio?
Is your contact information still correct or do you need to add/delete anything?
Are there any simple changes you can make to keep your site looking fresh?
If you don't have a service that automatically performs backups, download a backup of your site at least quarterly.
Sending Newsletters
Part of maintenance marketing is sending newsletters on a regular basis. Unlike social media sites, you're in control of your mailing list. Maybe you only want to send a newsletter before a new book comes out. Maybe you'll send one quarterly. Or monthly. Or even weekly. It's entirely up to you, but don't neglect your mailing list.
Readers sign up for your newsletter to stay informed of your writing, and they especially want to know when your next book will be available. Alert them when you're hosting or participating in a giveaway, you have a cover reveal, or your new book just released.
I send out a monthly newsletter. This might change in the future, but it's working for me for now. Some months I share personal stories or photos. Other months are more book-centric.
I also recommend downloading your subscriber list every three months or so (it's easy to export a CSV file or Excel file directly from your newsletter provider). That way you'll always have your entire newsletter list in the event you need it.
Blogging/Podcasting
If you're a blogger, podcaster, or both, you might be tempted to post when the mood strikes you. Hey, I'll be the first to admit I don't post as much during the summer. However, a consistent posting schedule helps readers/listeners keep coming back for more.
If you only want to blog/podcast once a month, select the same day for consistency (ex: the first Friday at 10am). If you're doing it on a weekly basis, post at the same time and day each week. If you're on higher volume rotation, let readers/listeners know when to expect to get new content from you.
One of the reasons I blog is for SEO reasons. Every time I post, my author name is refreshed in search engines, which helps my website's visibility.
"Publishing new content regularly will give more reasons for search engine algorithms to keep indexing your website, which allows it to stay on their radar." ~ "How Blogging Helps SEO" by Thomas Gen at Digital Marketing News
Social Media Sites
If you're maintaining an author presence on Facebook, Instagram, Snapchat, TikTok, or whatever sites you prefer, post new content regularly.
Some writers will feel comfortable posting multiple times a day. Some will be happy posting once a day. Others, like me, typically post 2-3 times per week. As long as you're not abandoning a social media site for weeks on end or only posting when you have a new book or there's a sale, I'd say you're good.
Social media can easily suck up precious hours of your time, so use it wisely. Schedule content if you struggle to remember to post on your own. And check for comments in a timely manner. The point of social media is to be social, so interact with people who take the time to comment.
Author Pages
If you're a published author, you probably have an Author Page on Amazon, BookBub, Goodreads and other retailer sites. Every six months or so, review the information on there to make sure it's accurate. Also, look at it with a critical eye to see if there's anything you can do to improve it. Check other authors in your genre to see what they're doing. It might give you ideas on how to add more oomph to your page.
Bookmarks/Business Cards
If you mail out paperbacks as prizes, gifts, or ARCs, chances are you include bookmarks. I ran out of bookmarks a few months ago and STILL haven't ordered new. What can I say? It wasn't high on my priority list!
But having bookmarks and business cards on hand is a good business practice. They're simple ways to provide readers, peers, and publishing professionals a way to find you, whether it's your website address, social media site symbols, or an email address.
One of my marketing goals is to always lead people back to my website. From there, they can see my latest books, find me on social media sites, sign up for my newsletter, and email me via one of the forms. So, yeah, I'm designing new bookmarks this week!
Tracking Platform Numbers (Optional)
Every month I spend 20 minutes checking my numbers. I have two charts to track my numbers for Facebook followers, Instagram followers, Goodreads friends, BookBub followers, unique visitors to my website, overall pageviews on my website, and blog followers–one for the previous month and one for the current month. This helps me see if my numbers are dropping, staying the same, or increasing.
Most of the time I'm in maintenance marketing mode. My numbers either stay the same or increase slightly. The only times I see large increases in my numbers are when I'm participating in a group giveaway, hosting my own giveaway, or pushing a specific action (Sign up for my newsletter!).
It's good to keep track of numbers because it gives you concrete data to look back on as well as data to include in the marketing plan of a proposal. And if your numbers are low, you'll get excited to see them increase. A win-win!
Other Maintenance Marketing Tips?
I'm sure I've missed some tips. If you have an advice, please share it in the comments! And I'm happy to answer any questions you may have.
Do you have a maintenance marketing strategy? What does it involve?
Enjoy your week!