Digital Minimalism by Cal Newport
I've been eagerly anticipating Cal Newport's new book–Digital Minimalism: Choosing a Focused Life in a Noisy World. I finished reading it over the weekend, and it lived up to my expectations.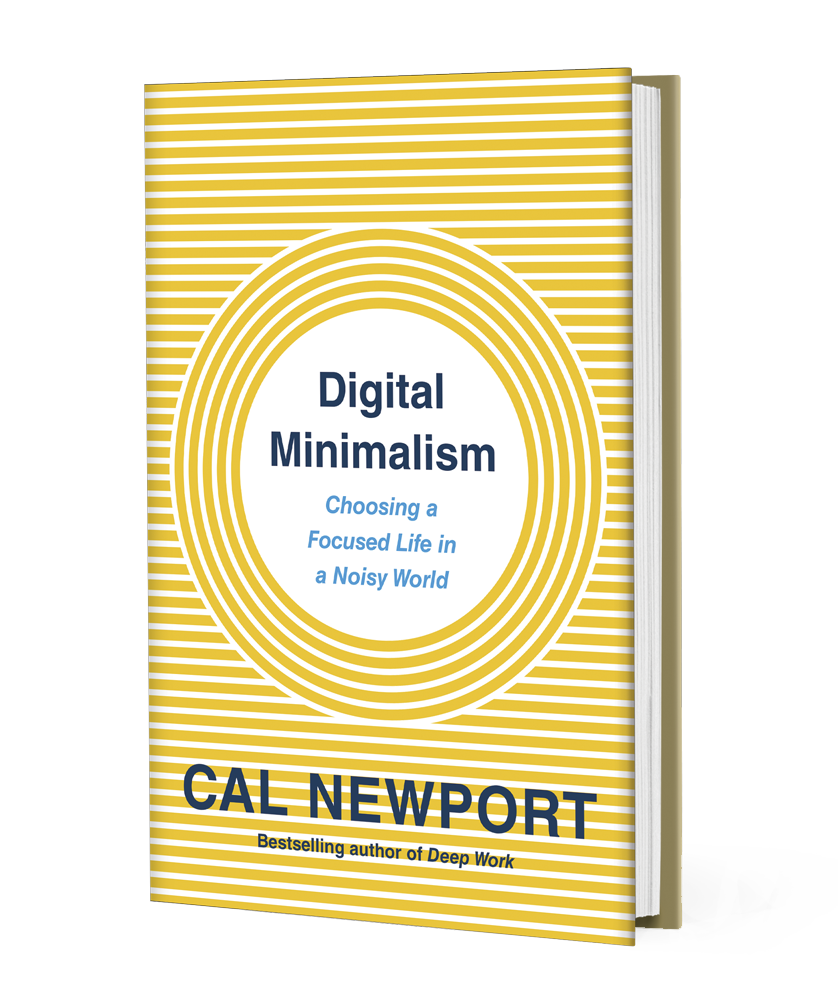 Basically, the book underscored what I already know to be true–social media, various phone apps, online browsing and being available 24/7 have decreased the quality of my life.
The instant I feel a twinge of boredom, I reach for my phone.
Scrolling through Facebook, Instagram, Pinterest, and various news sites often eat up precious evening hours. And I couldn't tell you what I've gotten out of all the mindless scrolling!
Another problem I have? If I'm working on my laptop and check in on Facebook, I feel anxiety over unanswered private messages (I don't use Facebook Messenger on my phone and only get private messages from my laptop). Ditto for unanswered emails–even if I get them at 10pm!
What happened to my free time? I willingly give it away and get nothing in return.
In chapter one, Cal Newport spells out how the technologies we rely on (texting, social media apps, online news sites, etc…) are designed to trigger our addictive behavior. Yes, he cites studies and sources. And it all makes sense. The longer we're "on" or using a site, the more ad-revenue the site can potentially make. These sites/apps are designed to keep us there.
Scrolling through Facebook or Snapchat or Instagram feels harmless, but it isn't. Our phones and apps have an addictive pull, keeping us from exerting the energy to do activities we deeply value and enjoy.
We signed up for these services and bought these devices for minor reasons–to look up friends' relationship statuses or eliminate the need to carry a separate iPod and phone–and then found ourselves, years later, increasingly dominated by their influence, allowing them to control more and more of how we spend our time, how we feel, and how we behave. – Cal Newport, Digital Minimalism
The book provides a solution, and it makes sense.
Basically, we can choose to minimize our digital life.
The first step is to do a 30-day digital detox where you cut out all non-essential apps/sites/services and set rules around the ones you consider essential.
At the end of the experiment, you decide which of these you want to keep and set rules for how you'll use them.
During the detox, you commit to aggressively fill your time with high-value activities. Think hands-on projects, actually being social (coffee dates, visiting friends), reading, returning to a hobby or starting a new one, even watching television or movies is fine as long as you're enjoying them and not just zoning out.
Why is this important?
We only have one life. Our time is valuable. Using technology to relieve boredom can drag us into an unsatisfying cycle where we no longer have the "time or energy" to do things that add meaning to our lives. When we invest in activities that are meaningful to us, we're less likely to feel unsatisfied with our lives.
What am I doing about it?
I haven't started the 30-day detox, yet. But I already set rules around my cell phone usage.
I deleted about half the apps on my phone–many of them were there by default anyhow.
I also set times (and limits) when I could check in on my favorite sites.
I have an auto-reply set up in Facebook Messenger to let people know I don't check my messages after 5pm or on weekends. They're welcome to email me, though.
I also jotted down a list of activities I can replace my scrolling with. This will be the hardest part for me–sticking to things that require more effort than a quick swipe of the phone. One particular chapter in the book really stood out to me, and it was about physical work. It's convinced me to add 30 minutes of cleaning, baking or organizing on weeknights. I hope I get the satisfaction promised!
If you're at all conflicted about your digital life, I urge you to buy the book. It's terrific and timely and needed.
Have you gotten sucked into the digital life? Are you conflicted about the way it's changed your free time?
By the way, the fourth novella in the RESORT TO ROMANCE SERIES launched yesterday!! Try Moonlight Match by Kristina Knight!
Our mega-giveaway is still going strong! If you haven't entered yet, go to my HOME page and scroll down for the easy entry options!