4 Tips to Start and End a Scene #WW
Scenes build stories. How you begin and end them can mean the difference between a reader finishing your novel or tossing it aside.
When you're writing, it's fine to put down whatever comes to mind so your brain can push through and get the draft on paper. But when you're revising, it's wise to analyze each scene's hook and ending to make sure they're pulling their weight.
Here are my "rules" for how to start and end a scene.
1. Don't bore the reader.
Madeline slathered butter on the bagel. Stan had really crossed a line.
Whoop-dee-doo. Does any reader care if Madeline has butter on her bagel or not? I don't think so. And while the second sentence gets more to the heart of the matter, the first sentence is what counts.
Try this:
She wanted to chuck her bagel at Stan's head. The nerve of him, treating her like a five-year-old in front of her boss.
2. Give transition details early in the scene.
Readers need to know how long it's been since the previous scene, whose point of view we're in, the location, and any other pertinent setting information. Don't make them guess!
She wanted to chuck her bagel at Stan's head. The nerve of him, treating her like a five-year-old in front of her boss. Madeline peeked out of the break room but saw no sign of him. Good. After this morning's humiliating meeting, she hoped he crawled back to corporate headquarters where he belonged.
3. Tease the reader at the end of a scene.
Stan handed her the report. "Verify your numbers with this."
Stimulating. I, for one, don't get excited over a hero handing a heroine a report and telling her to verify her numbers. YAWN…
How about:
"Verify your numbers with this." Stan's tone was as icy as his blue eyes. She snatched the report out of his hand.
 She'd verify them all right. And if he questioned her expertise again, she was taking the other job offer, even if it meant a cut in pay. No job was worth this.
4. Check scene hooks and endings.
A quick and easy way to make sure these openings and closings are doing their job is to copy/paste the first and last sentence in each scene in a separate file. When you have them pasted one after the other, it's easy to spot the duds. Try it! I always find a few that need punching up.
What are you tricks to start and end scenes? I'd love to hear them!
Have a great week!
*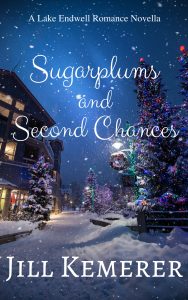 Are some mistakes beyond redemption?
When former NFL star, Chase McGill, invites Courtney Trudesta, the widow of his former teammate, to spend Christmas with him and his son in Lake Endwell, he simply wants to repay her for the weekly letters she sent while he was in prison. He didn't expect to fall for her.
Chase regrets his past and knows it will take more than sugarplums and wishful thinking to heal Courtney's lonely heart. But with a dose of small-town charm and plenty of Christmas cheer, they might have a second chance at happiness…with each other.
Sugarplums and Second Chances is only $0.99 on Kindle. Purchase HERE!