2016 ACFW Pre-Conference Mix and Mingle!
Laurie Tomlinson is hosting a pre-conference mix-and-mingle for the upcoming ACFW conference! Naturally, I'm 100% in for mixing and mingling. It's been a few years since I was able to attend the ACFW conference, so I'm extra excited to catch up with old friends and make some new ones.
Laurie created a list of questions for anyone going to ACFW to get to know each other better. I'm including them and my answers below. You're welcome to join the mix-and-mingle, too! Simply go to Laurie's blog (the link is at the bottom of this post), and follow her instructions.
By the way, Laurie is an extremely savvy author who recently sold her debut novel to Harlequin Heartwarming! Congratulations, Laurie! She offers a variety of services for writers, and she's a contributor to The Writer's Alley. Here's a little more about her:
Laurie Tomlinson is a wife and mom from Tulsa, Oklahoma, who enjoys stories of grace in the beautiful mess. She is a member of the American Christian Fiction Writers and regular contributor to TheWritersAlleyBlog.com. Her work is represented by Rachel Kent of Books & Such Literary, has won two Genesis Awards, and was runner-up in the 2015 RWA Lone Star Contest.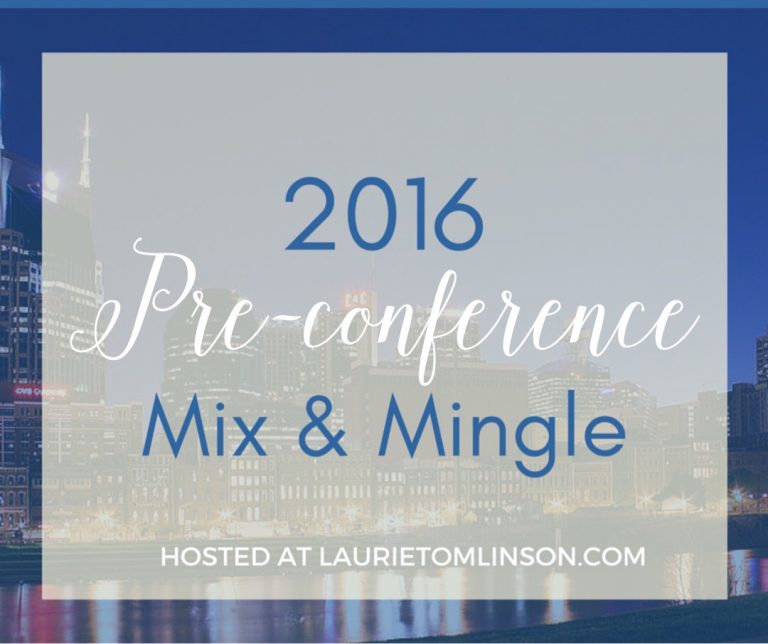 Mix-and-Mingle time!
Name: Jill Kemerer
Location: Toledo, Ohio
What you write/tagline/trademark: Christian contemporary romance with love, humor and faith.
Place in the book world: Multi-published author with Harlequin Love Inspired. Yuletide Redemption releases December 2016.
On a scale of hugger to 10-foot-pole, please rate your personal space: Hug-a-licious!
Something VERY serious: How do you take your Starbucks? Cappuccino, yum!
The unique talking points that will get you going for hours: Dallas Cowboys Cheerleaders: Making the Team, University of Michigan football (Go blue!), Day Planners, brainstorming plots, and recipes from The Pioneer Woman.
Loved ones at home you'll be missing: My husband, our son–a freshman in high school, our daughter–a freshman in college, and our mini-dachshund, Sophie.
Conference goals we can pray for? I get migraines very easily, so I'm praying for a migraine-free conference. I'm also praying for God to use me wherever He sees fit.
Anything we can celebrate with you? Sticking with my health plan? Haha! I'm honored to be on Rebecca Regnier's Full Plate, a local television program, next week. July 20 at 10:00am! You can check out her website, here: http://www.13abc.com/thisishome/fullplate
One or two ways we can help you build your platform? Stop by my page on  Facebook HERE and sign up for my newsletter HERE!
***
Be sure to head over to Laurie's blog (linked) to "meet" the other participants! 
http://www.laurietomlinson.com/2016-conference-mixer/
Here's how to play:
– Copy/paste the questions and fill out your own answers in a post on your own website and paste the URL to that specific post (not your homepage) using this handy link-up tool. Just click on the button below that says "Add your link". If you don't have a website, feel free to answer the questions in the comments below!
– Make sure to link back to this post after you fill out your answers so any of your readers who are conference attendees can participate, too! The more, the merrier.
– Click through the links below to get to know other conference attendees before Nashville!
***
What can we celebrate with YOU?
Enjoy your weekend!