Writer's Life: Pepper D. Basham
Welcome to another edition of Writer's Life, my interview series with authors of inspirational or sweet romance novels. Today I have the pleasure of hosting Pepper D. Basham! I met Pepper at an ACFW conference a few years ago, and I was instantly charmed by her down-to-earth personality. Her debut novel, The Thorn Bearer, just released! It looks amazing, and I love the cover! Congratulations, Pepper!
Let's get to it.
1. What about writing makes your heart sing?
Two things: The entire creative process of watching a story grow! That is always amazing to me. You know that phrase from Chariots of Fire where Eric Liddel says "When I run, I feel God's pleasure" – well, that's how I feel when I'm creating a story. When I write, I feel God's pleasure.
Second thing – I really enjoy watching the characters grow from beginning to end. I'm a happily-ever-after girl for sure, as seeing the struggles overcome, the insecurities calmed, and the fear braved in my characters reminds me of what God is doing in my life from start to finish.
2. What is the biggest hurdle you're facing right now as a writer?
Time! I've always had to etch out time to write, but now that I've added deadlines and marketing to my daily dose of writing time, it's really become more of a challenge to fit everything in. I work a full-time day job and then have my wonderful fam – so the added time crunch makes for a little more stress and whole lot more creativity in etching out the time I need to finish what's on my to-do list.
3. What do you do to fill your creative well?
I'm sure this is a common answer, but it's true for me. I pray and read the Word. I usually find verses that pertain, not only to me, but also my characters journeys as I read the Bible. I also find music inspiring, good movies, and re-reading some of my favorite novels. Add a nice, beautiful walk to the list and I have a perfect bag of creativity-inducing activities.
4. What are you working on now?
I'm working on two different novels right now. I have my first contemporary romance, A Twist of Faith, debuting in December 2015. I'm also furiously writing book 2 in the Penned in Time series, my historical romance. It's title is The Thorn Keeper and I'm really enjoying the characters in this novel.
***
You sound busy, busy, Pepper! I love the happy endings, too, that's why I read so many romance novels. If you have any creative time-crunch tips, we'd sure love to hear them. I'm not a multi-tasker! Your inspiration list makes me smile. Looks perfect to me. 🙂 Thanks so much for being my guest!
***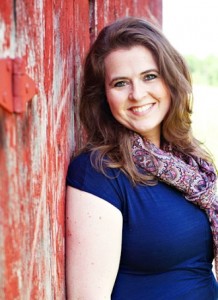 About Pepper D. Basham ~
Pepper Basham is an award-winning author who writes romance peppered with grace and humor. She's a native of the Blue Ridge Mountains, a mom of five, a speech-language pathologist, and a lover of chocolate. She enjoys sprinkling her native Appalachian culture into her fiction whenever she can. She currently resides in the lovely mountains of Asheville, NC where she works with kids with special needs, searches for unique hats, and plots new ways to annoy her wonderful friends at her writing blog, The Writer's Alley. She is represented by Julie Gwinn and her debut novel, The Thorn Bearer, released in April 2015. You can connect with Pepper on her website, Facebook  or Twitter.
***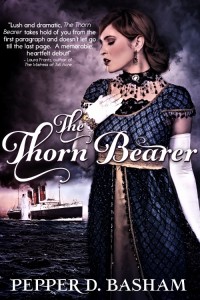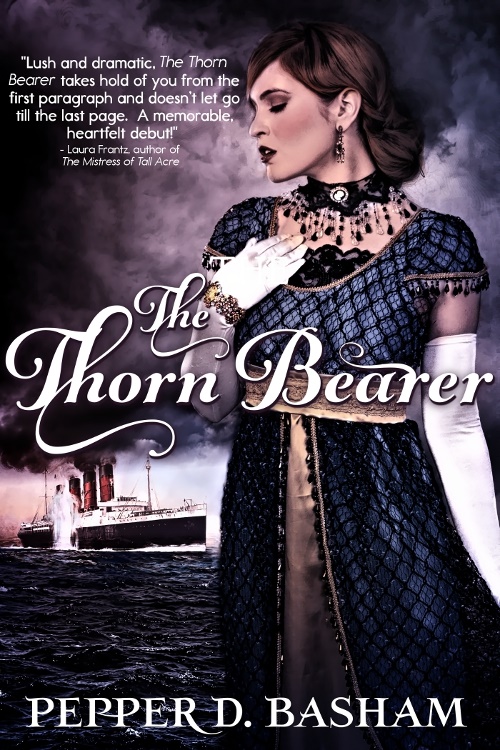 The Thorn Bearer
When Ashleigh Dougall's fiancé leaves her eight months before their wedding, the unexpected blow ignites a battalion of insecurities stemming from her father's intimate betrayal. Her worst fears are confirmed – who could ever love a soiled woman? In an attempt to escape the shame and disappointment of her past, Ashleigh boards the ill-fated Lusitania to cross the war-torn waters of Europe. Much to her dismay, she isn't traveling alone.
Sam Miller is always making up for his younger brother's mistakes. Determined to help his friend, Ashleigh, he offers his compassion and companionship as she ventures across a perilous sea. With the faint hope of renewing his lost love for Ashleigh's sister, Sam never expects to find the woman of his dreams in his best friend.
As they travel across the Atlantic, neither is prepared for the life-altering and heart-breaking journey of their friendship.
When the truth of Ashleigh's past explodes in the middle of the trenches of Europe and Sam rejects her, Ashleigh must decide if God is enough – or if the double weight of her betrayal and past will crush her life forever.
Interested in purchasing The Thorn Bearer? Amazon | Barnes and Noble
***
Confession: I've never watched Chariots of Fire. What famous movie have you never gotten around to seeing?
Have a terrific day!!