Giveaway! A Love Like Ours by Becky Wade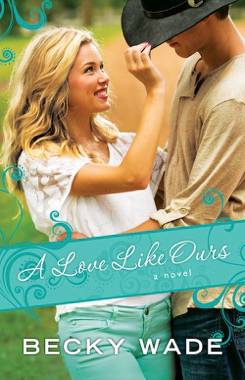 About a month ago, I received an ARC (advance copy) of Becky Wade's new contemporary Christian romance novel, A Love Like Ours. This is book #3 in the Porter Family Novel series. The book sat patiently on my end table until I finished writing my own book. Finally, last week I was able to dive into Jake Porter's story.
I read it in two days. I laughed. I cried. I sighed at the end, sad for it to be over but thrilled to have experienced it.
I've been a huge fan of Becky's novels since devouring My Stubborn Heart. Her books just hit every mark for me–fun characters, deep emotions, truly lovable heroes and heroines, gut-wrenching spiritual journeys and, most importantly, fan-yourself romance.
A Love Like Ours is her best yet. Lyndie is as sweet as can be, but she's so strong and determined, too. She does not let life drag her down. And Jake–oh, my!! Jake is so tortured and wonderful–I'm in love with him. Can't help myself!!
This is a five stars and then some for me!
***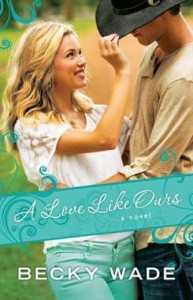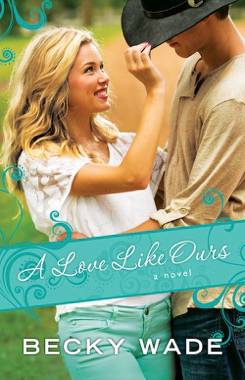 Former Marine Jake Porter has far deeper scars than the one that marks his face. He struggles with symptoms of PTSD, lives a solitary life, and avoids relationships.
When Lyndie James, Jake's childhood best friend, lands back in Holley, Texas, Jake cautiously hires her to exercise his Thoroughbreds. Lyndie is tender-hearted, fiercely determined, and afraid of nothing, just like she was as a child. Jake pairs her with Silver Leaf, a horse full of promise but lacking in results, hoping she can solve the mystery of the stallion's reluctance to run.
Though Jake and Lyndie have grown into very different adults, the bond that existed during their childhood still ties them together. Against Jake's will, Lyndie's sparkling, optimistic personality begins to tear down the walls he's built around his heart. A glimmer of the hope he'd thought he'd lost returns, but fears and regrets still plague him. Will Jake ever be able to love Lyndie like she deserves, or is his heart too shattered to mend?
***
Becky has graciously agreed to give away one autographed copy to one of my readers. The entry form is below (open to US residents 18 years and older). If you want to buy a copy, she's giving a percentage of her earnings to the Intrepid Fallen Heroes Fund on every copy of A Love Like Ours sold until May 17th. How cool is that?? Here's the link to her Book Page where you will find links to the major retailers.
Here's the entry form!
Thanks so much, Becky, for the great read and for the giveaway!
***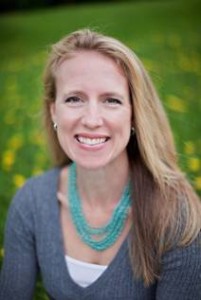 About Becky Wade ~
Becky's a California native who attended Baylor University, met and married a Texan, and settled in Dallas.  She published historical romances for the general market before putting her career on hold for several years to care for her three children.  When God called her back to writing, Becky knew He meant for her to turn her attention to Christian fiction.  She loves writing funny, modern, and inspirational contemporary romance!  She's the Carol Award and Inspirational Reader's Choice Award winning author of My Stubborn Heart, Undeniably Yours, Meant to Be Mine, and A Love Like Ours.
***
Do you love tortured heroes? Have you read Becky's books? If not, you are in for a treat!!
Have a fantastic weekend!