Writer's Life: Danica Favorite
Welcome to another edition of Writer's Life, my interview series with authors of sweet or inspirational romance novels. I'm thrilled to have Danica Favorite today! Danica and I met years ago at an RWA conference in Washington D.C. I knew her from the Harlequin forums, so I was especially happy to run into her in person. Since then, we've reconnected through ACFW, and I had the pleasure of a long, deep discussion with her over coffee in Dallas. I wish we lived closer to each other! Danica's second Love Inspired Historical, The Lawman's Redemption, released July 1! Yay!
Let's get to it.
1. What about writing makes your heart sing?
I just really love exploring people's stories and lives, so it's all about getting to know these people and have their stories come to life, ending on a happy note. Probably the happy note is the most important part. There's enough depressing stuff in this world going on, so I like to make sure the happy part really comes out.
2. What is the biggest hurdle you're facing right now as a writer?
Finding enough time to do it all. I work about 30 hours a week, have two busy kids, we just moved, and we're building on to our new house. Did I also mention that I have a book to write? So it's really interesting sometimes, finding a way to balance it all and finding time to fit everything in.
3. What do you do to fill your creative well?
Great question, because the answer is something I'm really passionate about. For writers, and pretty much anyone else, it's so important to keep that creative well filled. I've created a lot of exercises to help people engage creatively with the world. That's been the key to keeping my creative well full. I do a lot of art journaling, regular journaling, crafts, knitting, outdoor activities, prayer, meditation, creative movement, and a lot of other fun stuff. I think it's important to shake things up now and then, so I'm always trying something new. I have a page on my website dedicated to my creative practice, so stop by!
4. What are you working on now?
I'm in the middle of my third book, which is Emma Jane and Jasper's story. And wow! It is quite the ride. I'm at the place most people call the "sagging middle" but with the way bullets are about to start flying, this book is doing anything but! I'm also working on some fun creativity books that I hope will help writers (and regular people!) engage in a deeper creative process.
***
Danica, I love your art journal! My son and I took some of your tips and have added to our art journals here and there. You're so right about doing a variety of things to stay engaged. You inspire me!
***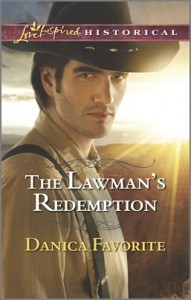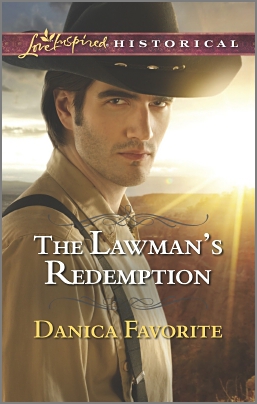 The Lawman's Redemption ~
Lawman on a Mission
Former deputy Will Lawson is fighting to regain his reputation—and Mary Stone is his only lead to the bandit who framed him. Now that he's tracked Mary to Leadville, Colorado, Will needs the proud beauty to reveal her past. Instead, his efforts spark a mighty inconvenient attraction…
Mary's only real crime is that she once believed an outlaw's lies. Still, she fears disclosing the truth to Will may land her in jail—and leave her young siblings without protection. Now she must choose between honesty and safeguarding her family. And if Will does clear his own name, can he convince the woman he loves to share it?
Buy The Lawman's Redemption now!
***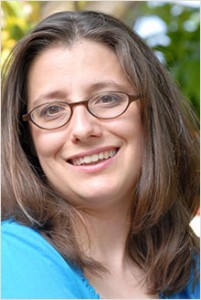 About Danica ~
A dedicated professional in the publishing world, Danica Favorite works as an online moderator for a major publisher where she connects readers and writers with new fiction releases. With four active kids, a devilishly handsome husband and insane dog, Danica's never short of inspiration when it comes to writing characters for her latest book. She and her family make their home in Denver, Colorado, where they enjoy the mountain lifestyle with the comforts of the city.
***
Have you tried art journaling? It's fun! Here's a link to Danica's Art Journal blog!
Have a great day!