What Are Your March 2018 Goals?
March is here! Yay! March is always cold here, but at least we're on the tail-end of winter. It's good for one thing–I get a lot of writing tasks accomplished!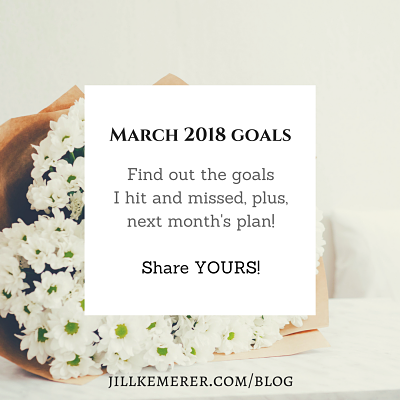 On the first Wednesday of each month, I share my monthly goals and encourage you to in the comments. Before I list my March 2018 goals, I'm reviewing last month's progress.
Last Month: Jill's February 2018 Goals
Finish drafting my work-in-progress.
Start content edits when the draft is complete.
Side writing project: meet weekly goals.
*Possible* Final edits for my third Wyoming Cowboy book might arrive this month. In that case, I would move #2 (content edits) to March.
Health: Exercise 4-5 days/week for 3o minutes, log calories in MyFitnessPal and stay withing calorie range most days (I don't mind going over my range one day a week).
How did I do?
Yes! Finished drafting my WIP! Check.
Yes, started content edits. Check.
Met 2 out of 3 goals on side writing project. Kind of check.
Yes, I received and completed final edits for Wyoming Christmas Quadruplets (releasing October 2018!). Check.
No. Just no. I had extra responsibilities this month, and I'm not proud of this, but my health goals were the first to go. NO check.
Next month: Jill's March 2018 Goals
Start putting promo together for June release.
Expand ideas for new series.
Expand synopsis for next proposal.
Health: Exercise 4-5 days/week and stay in calorie range most days by tracking food via MyFitnessPal.
***
February brought some exciting challenges, and I'm more than ready to take a brief breather and focus on different aspects of writing this month. Oh, and I need to get my momentum going again on my health!
*Party Time!! Join Jessica R. Patch, me, and several other authors on Thursday, March 8, 2018 to celebrate Jessica's new release, Secret Service Setup, with a Facebook Party!! The party runs from 7-9 pm Central time (that's 8-10 pm Eastern time!). We'd love to have you join us, and, yes, there will be prizes and giggling!
Click HERE for the party link. Just click the "Going" button and you'll be all set!
How did you do last month? What would you like to accomplish this month? I'd love to hear–share in the comments!