You know what season it is? Yes, football…duh. It's also conference season. Yay!
Writers attending conferences usually sign up for pitch sessions. *Just got a shiver down my spine.* Pitch sessions are basically "here's my project, you're going to love it," sessions. Writers are trying to woo an agent or editor into requesting a partial or full of their manuscript. Maybe woo is too strong a word. Perhaps entice is better.
Whatever you call it, you don't have much time to get to the meat of your book. Pitch sessions are typically short. Ten to fifteen minutes. Rambling is never a good thing.
Full disclosure: I've had lousy pitch sessions. I've gotten too cutesy. Focused on the this is why my book is unique aspect over the this is why readers will buy it and love it aspect. But I never let a bad pitch stop me. I took what I learned and got better. As a result, I've had awesome pitch sessions.
There is no magic formula for pitching, and I'm glad! Don't worry about doing it wrong. Agents and editors are there because they want to find new clients and books. That being said, you're not going to sell your book in a pitch session, and you're also not going to be offered representation. You're simply giving the agent/editor an overall impression of you and what you write. Best case scenario? They want to read your work. Worst case? They don't. Either way, you'll survive!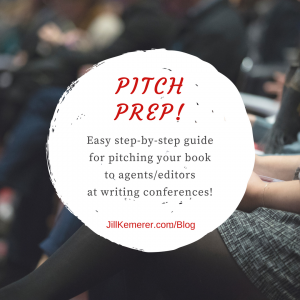 So how do you prepare for pitch sessions?
Practice!!
1. Introduce yourself, share what you write and any relevant experience you have.
Example: Hello, I'm Jill Kemerer. I write contemporary romance novels for the Christian market. I've been writing for several years, and the book I'm pitching is a finalist in X contest.
2. Chit chat if appropriate. If it feels uncomfortable, dive right into your pitch.
3. State the name of the book, the genre, how long it is and if it's finished. Also mention if it's part of a series.
Example: Chasing the Agent is book one in a three book series. It's an inspirational romantic suspense. It's 95,000 words and is complete.
4. Condense the story into 50-75 words.
This is like the back copy of a book. Include the main characters, what they want, why they want it and why can't they have it. Don't give everything away at this point. It's the teaser.
Example: Neil Delaware knows his book is destined to be a bestseller, but no agent will take a chance on him. Desperate, he flies to New York to convince top agent, Babs McCoy, to listen to his pitch. But when a deranged writer with one too many rejections holds Babs hostage, Neil must choose what is more important–his book or the life of the woman who captivates him.
5. Be prepared to mention your other books if asked.
At this point the agent or editor will either give a reason or two why the book doesn't work for them, or they will ask you for a partial/sample chapters/proposal or the full manuscript. If they're criticizing your idea, your heart may be pooling into a devastated puddle on the floor, but prop a smile on, thank them for their time, and later, ask yourself if they have a valid point. Maybe you focused on the wrong aspects of your story in an effort to stand out. Maybe they simply didn't connect with your idea. That's okay.
If they ask for a partial, send them the first fifty pages of your book along with a synopsis. Ditto with sample chapters. If they ask for a proposal, check their agency's website for further direction. At the least, a proposal includes a cover letter, sample chapters and a synopsis. It may also include a marketing plan, books for competition and a biography. If they ask for the full, send the synopsis with it.
6. Thank them for their time.
The publishing industry is a very small world. Be professional. Be friendly. Be courteous.
No matter how well you hit it off, you are not their new best friend. It's fine to be friendly throughout a conference, but be mindful of their time. They likely have meetings scheduled with their current clients. If you didn't hit it off at all, don't get a chip on your shoulder or spout off to the people around you what a jerk the agent or editor was. You might end up working with them someday.
The final step–and this is important–send whatever they requested!!
You'd be shocked at how many writers get cold feet about actually sending requested material. If agents or editors request your work, it means they actually want to see it. So send it already!
I really recommend practicing your pitch at home. Use the voice recorder on your phone or practice on a friend. This will give you a much needed boost of confidence when you sit down at your session. Jot down the important details and review it before your pitch, too.
And hang in there. It's not easy putting yourself and your work out there. It takes guts. I'm applauding you!!
Have you ever pitched your story to an agent or editor? Were you nervous? What tips do you have?
Have a terrific day!