Are You Picky About T-Shirts?
It's March, which means soon I'll be living in T-shirts again. For a few years I've struggled to find comfortable tees that fit me well and are reasonably priced. This means the majority of my tees have been worn out. They're destined for the trash bin.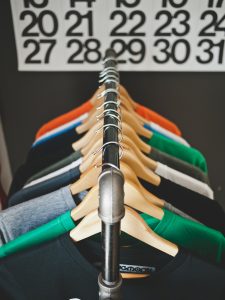 If a T-shirt is too baggy, it swallows me up and gives me no shape. If it's too form-fitting, I look like a stuffed sausage.  Some are too short–please, let me find some that don't expose skin at my waist. And I love soft material, but not if it's see-through! When I add my price limit, finding new shirts feels like mission impossible.
I can't resist T-shirts with cute sayings or references to cats, bunnies and mini-dachshunds–unless they're not in my price range. Then I sadly put them back on the rack with a sigh and tell myself they'll go on sale.
Where do you buy T-shirts? Are you as picky as I am? If you know of a good resource for shapely, not too short tees, please let me know!
Have a wonderful weekend!