Self-Discipline and Meeting Your Goals
Although I gave up New Year's resolutions years ago, when January rolls around I usually take some time to think about my life. What worked well the previous year? What didn't? In what areas have I slipped into poor habits? What habits are improving my life?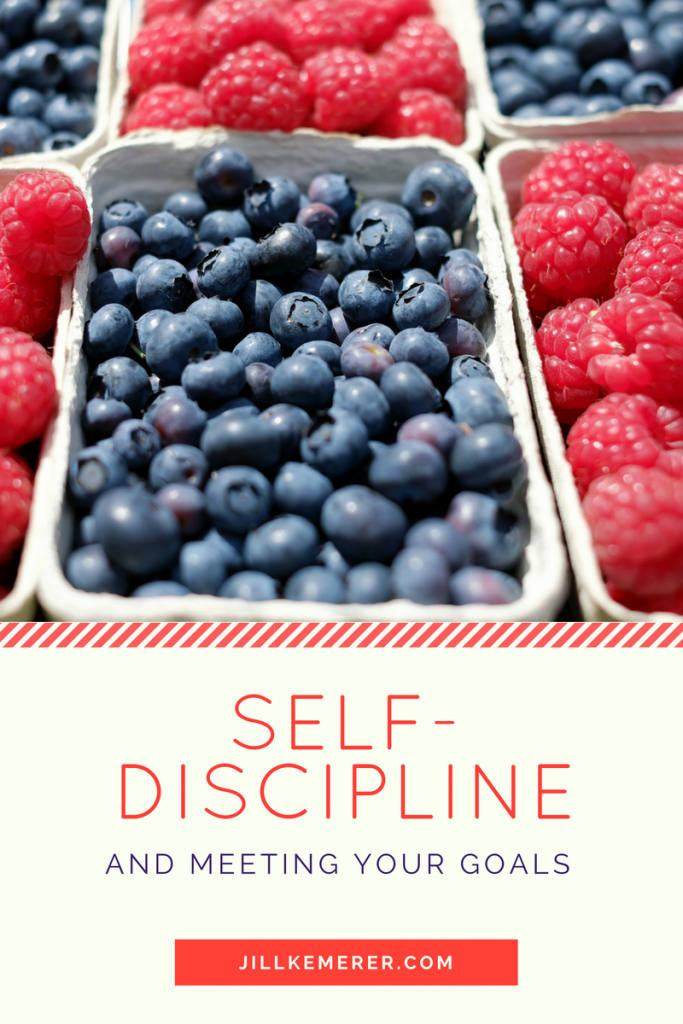 I also think about my goals, professionally and personally. Did I meet my goals? Exceed them? What allowed me to gain momentum? What halted my progress on goals I didn't meet? Is my current schedule supporting my goals? Am I wasting time? What needs to change?
If I hide away to a quiet place, this reflection period comes easily. I'm able to identify what habits are hurting me and which ones help me.  The solution to my weak areas is usually self-discipline.
When I consistently exercise and eat more fruits and vegetables, my clothes fit better and I don't have a lower backache. When I automate both–setting a time each weekday to exercise, and prepping my fruits and veggies ahead of time–taking care of my body suddenly becomes easy. I know this. I've done it in the past. So why do I slip out of the habit?
It's the same way with my writing tasks. When I take time each month to set weekly goals, then take a few minutes each week to set daily goals and review these goals each workday, I get a lot done, more than I think is possible. But when I leave each day up to chance, I tend to meet my goals, but I don't always feel great doing it. And there's never extra time to work on a pet project. I like pet projects. I must make time for them.
Self-discipline, for me, is a breath of relief. A sign I'm investing in myself. I trust I'll see results when I stick to a plan.
So why is it so easy to stray from the plan? One day without exercising becomes two, and by day four, I've completely forgotten how great I felt on day one! I no longer believe I'll achieve what I want. And for some crazy reason, I have this false idea that at some point the work ends while the results remain.
The work doesn't end. I will always have to consistently exercise and eat more produce if I want to fit in my clothes and avoid the lower back pain. I'll always have to carefully schedule my working time if I want to meet my professional goals.
You might be different. In fact, I'm sure you ARE different! We're all individuals with unique habits, schedules and demands. But if you want to improve an area of your life, you will need self-discipline, too.
The biggest problem I face with new routines is not sticking with them long enough for them to become a habit. Turns out, I'm not alone and there's a reason for it. In the Forbes.com article, "5 Proven Methods for Gaining Self-Discipline," Jennifer Cohen states, "When a behavior becomes habit, we stop using our decision-making skills and instead function on auto-pilot. Therefore, breaking a bad habit and building a new habit not only requires us to make active decisions, it will feel wrong. Your brain will resist the change in favor of what it has been programmed to do." This information is based on Charles Duhigg's book, The Power of Habit.
It makes sense. When I'm trying to establish a new exercise schedule, I find myself questioning if I want to do this workout or that one, which, sadly, sometimes resulted in me not doing any workout. But when I decide in advance what workout I am doing on certain days and set the time for these workouts, I no longer have to make the decision. I just have to show up. This tells me I need to avoid having to make decisions about a new habit. I take as much guesswork out of it as possible, because my brain is already resisting the change.
As for my health goals, I automated my workouts in mid-November, and it's working well for me. Sure, I skip a day here or there, but not having to think about when and what I'm doing each day has made a world of difference. And my writing? Scheduled well in advance. I've got this!
How do you approach new habits?
Have a terrific day!