Developing Ideas: Writer Wednesday
"I have an idea for you to write."
I've heard this many times, and my answer is always the same. "Thanks for thinking of me, but I already have a ton of my own ideas and not enough time to write them all."
Getting an idea is not the same as developing it into a book.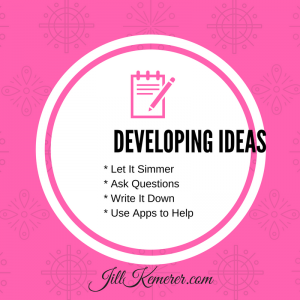 So how do writers develop ideas?
The tear-your-hair-out answer? There are countless ways.
I have friends who get the teeniest idea, and they sit down and start writing. I am not that person! My ideas always develop in my head long before I ever begin writing.
Here's how I develop ideas:
First, I have a kernel of an idea. It might be a possible plot. It might be a character. Either way I ask questions and spend a lot of time just thinking. Who is the main character? What does she want? Why does she want it? What will happen if she can't have it?
Once I have a few basics (by the way, many of you will recognize the above as Debra Dixon's classic GMC: Goal, Motivation, and Conflict–she's a genius), I expand the questions. Will anyone care about these characters? Can I raise the stakes? How does the story start? Do I know the ending yet?
I should be getting an idea of setting–where and when the story takes place–by this point. I wonder if a different setting would fit the idea better. If not, I research the setting.
I have enough now to spend a day plotting. I fill out a few worksheets to help me determine the story elements and plot development.
Research is a must. I do most of my research in the plotting stage and in the writing phase.
It's at this point I'll write a short synopsis.
And I'm ready to write. Yay!!
There is no right or wrong way to develop an idea. I use a variety of tools to expand my ideas. Sometimes, I'll record voice memos about the story. If I'm out of the house and get a great idea, I'll send myself a quick email on my phone. Pinterest is great for getting visuals, especially when trying to picture my hero and heroine. Occasionally, I brainstorm with a friend or two. It really depends on the project.
I'd love to hear how you develop ideas! Please share! And if you have any questions, I'll be happy to answer.
I'm thrilled to be Dani Pettrey's guest today! Please stop by her blog (Linked HERE) for my advice on being flexible when asked for revisions!
Have a terrific day!