80's Commercials Fun 2 with The Jills
I am so excited to have the fabulous other half of The Jills here today! Last year Jill Lynn joined me for a chat about International Coffee commercials. If you missed it, you can catch it at "Chatting with the Jills: Coffee Commercials." Since Jill Lynn is celebrating her new release (in stores NOW!!), Her Texas Family, we knew we had to go big for this one! We recently rated a few classic 80's commercials, "80's commercial fun with the Jills," over on her blog. Here is part 2!
Without further ado…
80's Commercial Fun Part 2
Burger King commercial
Jill K. – My review: Feel the heat! This commercial screams "summer" for so many reasons. The shirtless beefcake tanning on a street corner (who doesn't set their lawn chair on the sidewalk near a building?). The gaggle of bikini-clad ladies kicking amidst mist. The flashing, twirling street light that says so much more than "Walk" or "Don't Walk." The gals eating big bites of Whoppers and spraying their faces with a hose. Jill, I thought I was the only one who sprayed my face with a hose while eating a burger. Not so! Alas, I wish the lady with ketchup—or wait, is that lipstick?—all over her face would have used the hose, too. I had to deduct points for that, but overall a solid 8.3 on the cheese scale!
Jill L. – My review: I don't even know where to begin! I'm laughing. And a little confused. I feel like that's a theme with me and 80's commercials! What is up with my confusion? It could be the fast pace. The jerky camera motions. The fact that they flash from one scene to another so fast that I feel like I'm on a ride. Or, as Jill pointed out, the man trying to get his tan on (with so much frustration!) on the street corner. This feels more like a music video to me. And yet, I was kind of jamming to it. I agree with you, Jill, on the spraying themselves while eating a burger. It's a strange combination. And was there a man in the shower with a burger? That's craziness. Why would you mess with the possibility of ruining food?? I can tell you one thing, I wouldn't want to work at that drive through. That looks like a busy job. Overall, I was going to give this one a solid 8 on the cheese scale, but the kicking legs and general excitement it opened with has forced me up to an 8.5.
Sears commercial:

Jill K. – My review: Cheryl Tiegs!! Aaahhh! I always thought she would shop at Sears. And Cindy Crawford, too. But I digress… Okay, the girl got the BIG boombox! Woohoo! And dads with wigs can buy tools! Then the entire family swings through the store just in time for Grandma to almost have a stroke when the lamp turns on MERELY BY TOUCHING IT!! Yes, there IS more for your life at Sears! An 8.6!!
Jill L. – My review: Right away I know I want to be the woman in the opening. She's fab. (And I just found out from Jill she's Cheryl Tiegs.) How did they get Winnie the Pooh to star in this commercial?? That's impressive. The winner of this commercial has to be the Grandma with the lamp. Snort!! That was hilarious. And she's so pleased about the discovery of the touchable lamp! But the main question I have is, who is the boy whose hair she tousles in the opening? Does she just go around doing that to people? And he doesn't look too bothered by the whole thing. He almost looks like he's a character in High School Musical, about to spring into song and dance. The cheese factor is rocking on this one! I give it a 9!
Ben Gay commercial:

Jill K. – My review: Man, I feel bad that this lady has arthritis. The playground lulled me into a sense of security, but then, wait—is the box of Ben Gay glowing?? And the tube is too?? Don't do it, lady!! It's radioactive! You WILL be the cause of the zombie apocalypse. That "glorious warming power" will destroy the entire population! For the love!!! I have to give this a 5.2. It should come with a warning!
Jill L. – Oh, my word. This stuff GLOWS. Isn't anyone else concerned about this?? I see Jill is. I think people should listen to The Jills. The Jills care about you. We don't want your hand to start glowing neon yellow. Also, on another note, my kids do not kiss my cheek when I tie their shoe for them. I realize it's a grandma, but I definitely think that boy is an actor. This commercial should come with instructions like Jill said! This is a 6 for me.
***
Jill Lynn, how did they get Winnie the Pooh to star in the Sears commercial? Someone must have pulled some strings, that's for sure. And I have to admit, my kids never kissed my cheek when I tied their shoes either. Usually they ran away from me as fast as they could… Hmm… That might say something about my parenting! Haha!! Thanks for being my guest today, and congratulations on another terrific book!!
***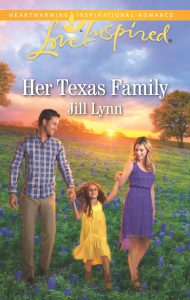 Her Texas Family:
Falling for the Single Dad
Moving to a small Texas town, Lucy Grayson is looking to live life on her own terms. When she agrees to take a job in Doctor Graham Redmond's office, the two instantly clash. The same can't be said for the widower's daughter. They quickly form a bond when Lucy begins teaching the little girl to dance. Graham soon realizes how good Lucy is for his daughter—and for him. Yet his late wife's parents don't agree. Their ultimatum to choose between them or Lucy fills Graham with despair. He can't let his daughter lose her grandparents…but he also can't lose the woman who could complete their family.
Her Texas Family is in stores now and available online.
Amazon: http://goo.gl/rtV4j5
Barnes & Noble: http://goo.gl/uZND5G
***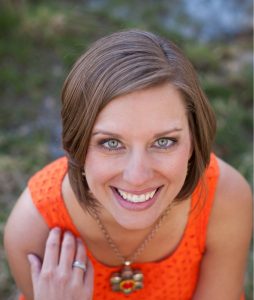 Jill Lynn Buteyn is a co-author of Just Show Up with Kara Tippetts, and an author of inspirational romance (as Jill Lynn). Her latest release, Her Texas Family, is in stores now. Jill lives near the beautiful Rocky Mountains with her husband and two children. She's a fan of laughter, thrift stores, boots and chocolate. Connect with her on Facebook, Twitter, Instagram, Pinterest, and at Jill-Lynn.com.
***
Okay, your turn! Rate the commercials on a cheese factor of 1-10!
Have a terrific day!