Welcome to another edition of Writer's Life, my interview series with authors of inspirational or sweet romance novels. I'm so excited to have Keli Gwyn on the blog today! Keli and I connected online years ago, and she was the first person to ever interview me. Since then, we've met in person and kept in touch. I love Keli's writing–her debut, A Bride Opens Shop in El Dorado, California, was one of my top picks when it released. Keli now writes for Love Inspired Historical, and Family of Her Dreams is out now! Keli is giving away a copy to one blessed commenter, instructions below!
Let's get to it!
1. What about writing makes your heart sing?
Those days when my characters are chatting away, the words are flowing freely and the story is coming together fill me with such joy that I feel like singing, even though my singing voice leaves a lot to be desired. Sometimes I sing anyway. It's a good thing my cats aren't music critics, although I have caught the fellows flinging their paws over their ears when I've had a good writing day and burst out with some goofy ditty I've composed on the spot.
2. What is the biggest hurdle you're facing right now as a writer?
I wage an ongoing battle with the Doubt Dragon. The pesky fellow loves to perch on my shoulder and whisper in my ear.
"What were you thinking? Surely you can do better than this?"
~or~
"Look at this dreck. And you call yourself a writer?"
~or~
"Egads! This is the best you can do? Why don't you just call it quits?"
I really need to invest in a muzzle and slap it on the noisy naysayer.
3. What do you do to fill your creative well?
I walk. Strolling past the stately Victorian houses in my historic town of Placerville, California can transport me back in time and get the ideas flowing. If I'm working out a gnarly plot issue, my husband and I will often hit our wonderful hiking trail and brainstorm solutions.
Gwynly confessed recently that he likes to get me talking about my stories when we're walking because I unconsciously up my pace when he taps into my passion for writing. Since he's a foot taller than I am and has a much longer stride, he likes it when I cover ground more quickly. I'm glad he let me in on his secret. Now I can walk and talk writing guilt free.
4. What are you working on now?
I'm preparing the first draft of another historical romance set right here in Placerville. The story takes place in 1872. My main characters are reunited after many years apart. Each has endured loss due to the War Between the State. They both harbor secrets that prevent them from pursuing anything more than friendship, forcing them to fight their growing feelings for one another.
Thank you for hosting me, Jill. I enjoyed answering your fun questions. I'd like to end by asking your blog's readers a question.
Do you enjoy singing, or are you hesitant to sing in front of others?
***
Keli, I fight the doubt dragon A LOT! I think it's awesome you sing when you write! I'm not a singer. Well, I do sing in the car, but it's not pretty. I would love to stroll past the Victorian homes you mentioned. How delightful! The architecture of yesteryear was gorgeous. Thanks so much for being my guest!
***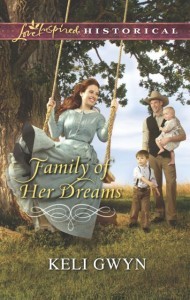 A Family to Cherish ~
Headstrong Tess Grimsby loves her new job caring for the children of a recently widowed man. But she never imagined that she'd fall for her handsome employer. Yet Spencer Abbott is as caring as he is attractive, and Tess can't help but feel for him and his family. Though, for the sake of her job, she'll keep any emotions about her boss to herself.
Between his stationmaster responsibilities in a gold-rush town and trying to put his family back together, Spencer has his hands full. He soon finds his new hire's kind personality warming his frosty exterior. But could he ever admit to seeing her as more than just an employee?
Copyright © 2015 by Harlequin Enterprises Limited
Cover and cover copy text used by arrangement with Harlequin Enterprises Limited.
® and ™ are trademarks owned by Harlequin Enterprises Limited
or its affiliated companies, used under license.
Visit Keli's Victorian-style cyber home (http://keligwyn.com/library/my-books), where you can find purchase links for Family of Her Dreams on many of the major booksellers' sites.
***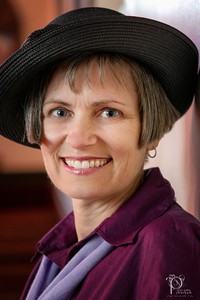 Keli Gwyn ~
Award-winning author Keli Gwyn, a native Californian, transports readers to the early days of the Golden State. She and her husband live in the heart of California's Gold Country. Her favorite places to visit are her fictional worlds, historical museums and other Gold Rush-era towns. Keli loves hearing from readers and invites you to visit her Victorian-style cyber home at www.keligwyn.com, where you'll find her contact information.
***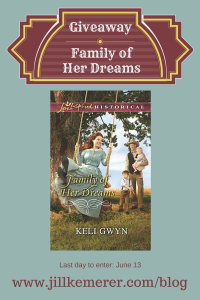 Keli is giving away a copy to one commenter! If you'd like to be entered, simply leave your email address in the comments below. The giveaway is open until midnight, June 13, 2015 and is open to U.S. residents eighteen years and older. I will select a random winner and contact the winner via email.
***
Back to Keli's question:
Do you enjoy singing, or are you hesitant to sing in front of others?
Have a terrific day!