Until The Harvest by Sarah Loudin Thomas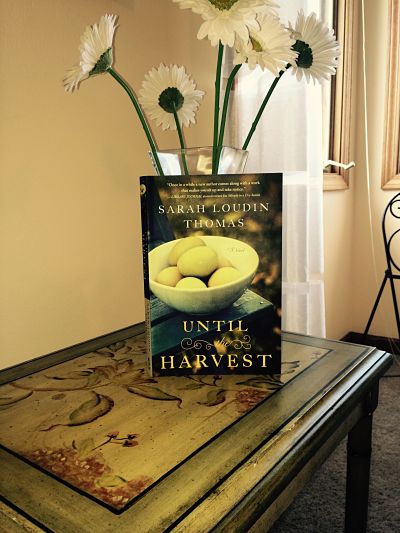 Don't you love it when you open a book and it alters your mood? Every time I pick up one of Sarah Loudin Thomas's books, I just relax and enjoy the story.
Until the Harvest is the second book in the Appalachian Blessings series. This one is set in West Virginia in 1975 and 1976, and it follows Henry Phillips (readers of Miracle in a Dry Season will enjoy recurring characters) and Margaret Hoffman as they deal with personal tragedies, tough choices and trying to figure out their lives.
Each of Sarah's books features a character who is blessed with some sort of healing power, and Margaret's younger sister Mayfair has the gift here. She was one of my favorite characters, but I admired Margaret the most. She's a hard worker, not terribly attractive, and as the story progresses, she explores what she wants out of life. It was refreshing to read about a heroine who doesn't want a flashy career but a life of purpose on a farm.
Full of conflict, grace, and examples of Christian love, Until the Harvest is a gem.
***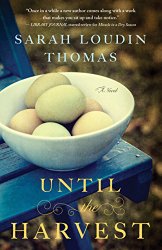 Until the Harvest ~
When family tragedy derails Henry Phillips's college studies, he's left unmoored and feeling abandoned. The only things that can tamp down his grief are the family farm, his fiddle, and an unexpected friendship with sweet but unusual preteen Mayfair Hoffman.
Unfortunately, Mayfair's older sister, Margaret, despite her spray of freckles and cute, turned-up nose, has a completely different effect. His grandmother's helper, she's always around, ready to push his buttons, and it seems at first that she doesn't care about his troubles.
Henry soon realizes, though, that Margaret's facing her own struggles. Mayfair's health and unique gift sit at the heart of those worries. Henry and Margaret soon find themselves relying on each other as potential tragedy collides with growing hope in a warm story of family bonds and the surprising ways healing finds us all.
***
My Review: 5 Stars!
Until the Harvest is the second book by Sarah Loudin Thomas (the first, Miracle in a Dry Season, was one of my favorites!), and it centers around Henry, the son of Casewell and Perla, and Margaret, a plain but hardworking girl who works for his grandmother. The plot was rich with characters, and the West Virginia setting came alive. I identified with Margaret and her practical outlook on life, but I struggled to care for Henry because he made so many poor decisions. However, Henry's growth and Margaret's journey made for a satisfying ending.
**I received an advance copy of this book with no obligation to review it. All opinions are my own.**
***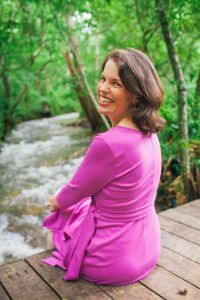 Sarah Loudin Thomas ~
Sarah Loudin Thomas grew up on a 100-acre farm in French Creek, WV, the seventh generation to live there. Her Christian fiction is set in West Virginia and celebrates the people, the land, and the heritage of Appalachia. Her first novel, Miracle in a Dry Season, released August 2014 through Bethany House. Book #2, Until the Harvest, released May 2015. Sarah is represented by Wendy Lawton of Books & Such Literary Agency.
A graduate of Coastal Carolina University in Conway, SC, Sarah once dreamed of being a marine scientist. But her love for words won out and she has spent much of her career in public relations and marketing. She currently oversees fundraising and communications for a Christian children's home in Black Mountain, NC.
Sarah and her husband Jim live in the mountains of Western North Carolina with Thistle–the canine equivalent to a personal trainer pushing them to hike, run, and throw sticks. Sarah is active in her local church and enjoys cooking and–you guessed it–reading.
***
What author do you turn to for a unique tone/voice?
Have a terrific day!