Writer's Life: Annette M. Irby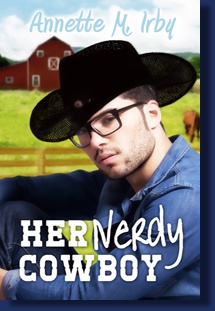 Welcome to another edition of Writer's Life, my interview series with inspirational romance authors. Today I have the pleasure of hosting Annette M. Irby. Annette and I met during a pitch session at the ACFW conference a few years ago. She and I hit it right off! She has a warm smile to match her big heart, and I LOVE the title of her new release. Her Nerdy Cowboy is available now, and readers can download a FREE copy through Lent!! Details below.
Let's get to it!
1. What about writing makes your heart sing?
Creating. Weaving a story. The rush of flowing words. Have you ever watched Chariots of Fire? Eric Liddell was an Olympic runner. Here's how he describes his passion and his calling at once: "I know God made me for a purpose—for China, yes. But He also made me fast. And when I run, I feel his pleasure." That's how I feel about writing, when it's working. Now, when it's not working I have to say that rush is far away. *wink
2. What is the biggest hurdle you're facing right now as a writer?
I'm in a rewrite stage and working on problem-solving. Sometimes the pieces come together quickly. Sometimes they don't. Hoping they will soon. *grin
3. What do you do to fill your creative well?
You know that question about whether a person prefers to live near (or have views of) mountains or water? I'm a water person, all the way, especially saltwater. So when I get a chance, I find a beach. There's something healing, inspiring, restoring about the smell of the ocean, the roar of the waves, the give of the sand, and sight of all that blue under sunny skies. Love that! When I can't get away, I garden. I'm a nature person, and color feeds my spirit.
4. What are you working on now?
I'm working on book one of a trilogy for my agent. It's set on the water. (Surprise!) I enjoy how I can write inspirational fiction (my calling) set near water (my passion). What a gift! Meanwhile, doing the research I learn more about the sea, which is just fun. I'm nerdy like that. This trilogy will center on different saltwater locales. And I'm sticking with inspirational romance, like Her Nerdy Cowboy. I may publish in women's fiction one day too.
***
Annette, I agree. The rush of pouring my best into a book is such an amazing feeling! But when it's not working? The worst! I love nature, too, and I fantasize about the beach often. The white sands of Lake Michigan always call me. So peaceful! Thanks so much for being my guest!
***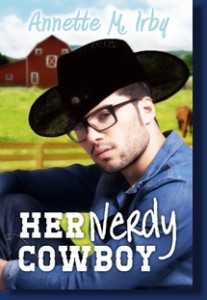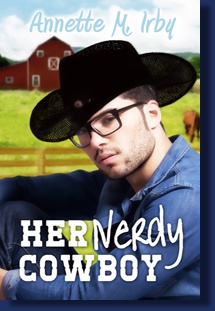 HER NERDY COWBOY ~
Whoever heard of a bookish cowboy? When Logan McDaniel's brother-in-law dies, he steps in to help his beloved sister run her ranch. But what does a city boy know of herding cattle?
Claire Langley loved her cousin. After he dies, she agrees to serve as a temporary nanny for two heartbroken children. Claire and Logan find they share a love of books, and Claire can't resist the nerdy uncle who is great with children and who reads to her of pirate romance, but Claire's ailing mother needs her in Seattle. Can she break away? And if she does, can there ever be a future for Logan and her?
BONUS: Readers can download Her Nerdy Cowboy for free through Lent at PELICAN GROUP (linked).
Her Nerdy Cowboy is also available for purchase at AMAZON (linked).
***

About Annette ~
Annette M. Irby loves reading, and she has enjoyed weaving stories since childhood. If she's not writing, she's reading for review, or editing. She is a freelance editor at AMI Editing. Together with several fellow writers, she co-hosts the popular blog, Seriously Write, where the team provides daily encouragement and tips for writers. Married twenty-three years, she lives with her husband and three children. Learn more at her website www.AnnetteMIrby.com and follow Annette on Twitter (@annettemirby).
***
Are you a fan of cowboys? I am!
Don't forget, all month I'm hosting a Gift Package Giveaway for Small-Town Bachelor! Go to my HOME page and scroll down for the easy entry options!!