How I Distribute Digital Review Copies
Distributing digital review copies–where to start? One of the many struggles authors face in today's publishing world is how to get advance copies of our ebooks to reviewers.
In the early days of having my street team, I would put out a call for anyone in the group willing to read/review my book. I would then gather their email addresses and send them a digital copy of the book. As the group grew, it became more difficult.
A street team is a group of readers who help promote your books by reading/reviewing ARCs, sharing book news/graphics with their social networks, or by generally getting the word out about your book.
An ARC is an advance review copy or can be referred to as an advance reader copy.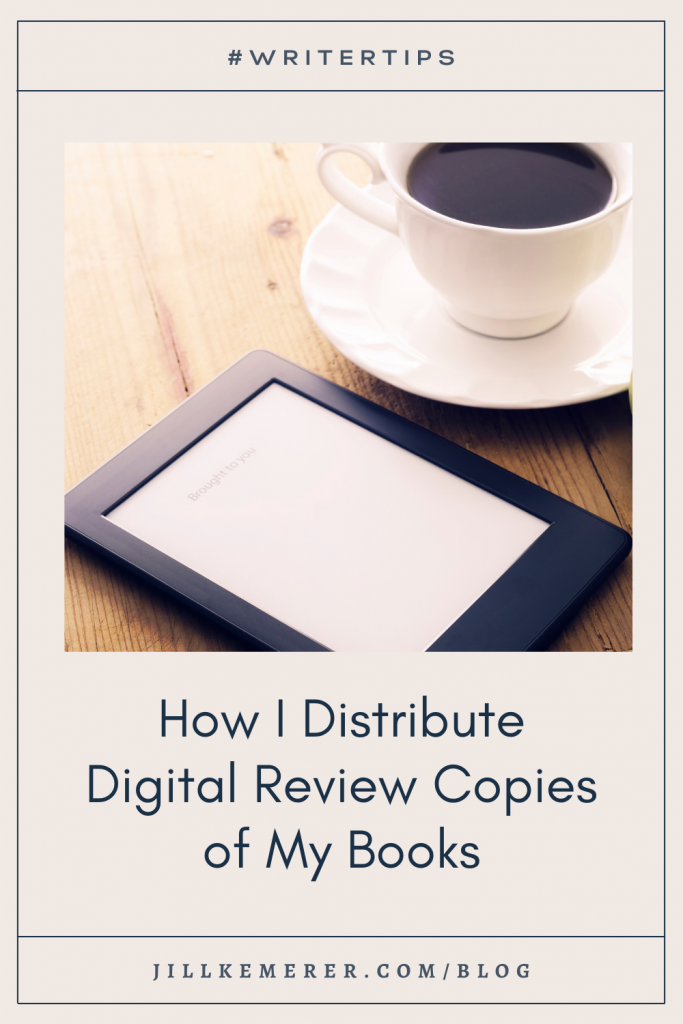 Problems with individual distribution of ARCs:
Time consuming to gather email addresses for each release. Also time consuming to send the digital copies individually.
After they downloaded the ebook, not everyone could access the file. It depended on the version of Kindle, Kindle App, Nook, iBooks, they were currently using.
Others followed the directions and successfully downloaded the file but couldn't find the book on their device. (It sometimes shows up in the Docs tab of Kindle/Kindle App.)
So I decided to streamline the process.
I asked everyone on my street team who was interested in reading/reviewing future books to sign up for a mailing list dedicated to those who wanted an advance review copy (ARC).
Members of my street team can then choose which (or all!) books they want to read/review. Since they are on the list, they'll be able to access all of my future books. If they want to skip a particular book for whatever reason, they can simply ignore the email with the ARC. And they can unsubscribe at any time.
Pros of using a mailing list for your street team:
Readers can sign up once and get ARCS of all future books.
I only have to create one newsletter and include a link to the digital book.
I can write the newsletter ahead of time and schedule it.
I can include review tips, links to sites where they can leave a review, and other information for my street team.
If a reader no longer wants to review my books, they can easily unsubscribe.
Honestly, I loved how much easier sending digital ARCs became when I switched to a mailing list. However, plenty of headaches remained.
I thought a mailing list would solve all my problems. It solved some of them, but it created new ones.
Cons of using a mailing list to get books to your street team:
My newsletter subscription service does not allow me to upload a digital file to distribute it. I had to "host" the ebook elsewhere. (I ended up using Google Drive for a few years. Other authors use DropBox.)
I had to create a new "group" in my newsletter service as well as a landing page just for my street team.
Newsletters sent from mailing lists often end up in subscribers' spam boxes or promotion boxes. This means they never see the email with the ARC.
Readers still had problems downloading and accessing the ebook. I added a troubleshooting guide every time I sent an ARC, but with the near constant software updates to phones, tablets, and such, new issues came up. The difficulties accessing the files was frustrating to me and the readers.
After several releases, I wasn't satisfied. The mailing list aspect was working well. The having to use a site to "host" the digital file and then the downloading of the ebook was problematic.
My last book release (HERS FOR THE SUMMER) was when I'd had enough. I'd sent a newsletter to my street team with a link to download the ebook, and I couldn't even get my book to open in the Kindle App on my phone!
I spent fifteen minutes trying to figure out the problem and finally got it to work, but when others on my street team had the same problem, I realized I needed a better method of distribution. RIGHT NOW.
I decided to sign up for the least expensive BookFunnel account they offer. I would have done this sooner, but I didn't realize authors could create landing pages for their books and share them through their own newsletters.
I had mistakenly believed all of my street team members would have to sign up for my books through BookFunnel, but they don't.
It took me about twenty minutes to create a lovely landing page for HERS FOR THE SUMMER in BookFunnel. The thing I like about the service is that the reader can select the version of the book they need based on their ereader. Plus, there's a troubleshooting link called Need Help in the upper corner of the landing page.
I could direct the readers to that Need Help link in my emails. No more wasted time trying to figure out why they weren't able to access my book.
Some of my readers created BookFunnel accounts to make it easier to download books in the future, but not everyone did. I'm glad they have the option. I really didn't want my street team to have to jump through even more hoops to access the ebooks.
Here is the basic flow of how I distribute digital review copies:
One time only: In my newsletter service, I set up a "group" specifically for my street team.
One time only: I created a landing page for my street team to sign up for the above mailing list.
Four to six weeks before each release: Create a landing page in BookFunnel for the book's ARC.
Four to six weeks before each release: Write a newsletter to street team with the book's information, the BookFunnel link for them to download the ebook, important info such as the release date and links to sites for them to leave reviews, and a reminder that if they have any difficulties accessing the book to click on the Need Help button in BookFunnel.
Release day: Send a reminder email to street team to spread the word about the book.
With each release, I make it clear to the members on my street team that they are not required to leave a review. I hope they will, but they don't have to. I also give them an example of a disclaimer so that anyone reading their review will know they received an advance copy but are not obligated to review it.
Want to skip the newsletter aspect of distributing ARCs?
The more expensive plans in BookFunnel allow you to collect the email addresses of your reviewers through BookFunnel. This would eliminate the need to create a separate group in your mailing list and have your street team sign up. They could simply sign up to receive ARCs directly from BookFunnel. It's something to consider if you want less hassles.
How do you distribute digital advance review copies of your books? Any questions? I'm happy to help!
Have a terrific week!