Free Online Read! Merry Christmas!
It's almost Christmas! Are you ready? I'm not–not yet, at least! But I have been enjoying a lot of great books lately, so that's a win. There's something about curling up with a good book this time of year that warms my soul.
Guess what? My publisher, Harlequin Love Inspired, has a FREE gift for you! They're releasing my novella, A Cowboy for Christmas, one chapter each day starting today! And did I mention it's free??
It's really easy to access this novella. Simply go to Harlequin.com/articlelist.html (linked), and click on A COWBOY FOR CHRISTMAS.You'll be asked to sign in or create an account if you don't already have one. The chapter will be there, and a new one is added each day. It will be available online indefinitely, so don't worry if you miss a day. You can catch up with the chapters at any time.
Read it straight from Harlequin on any device–no downloads or ereader required!
Go back every day until January 17, 2021 for a new chapter!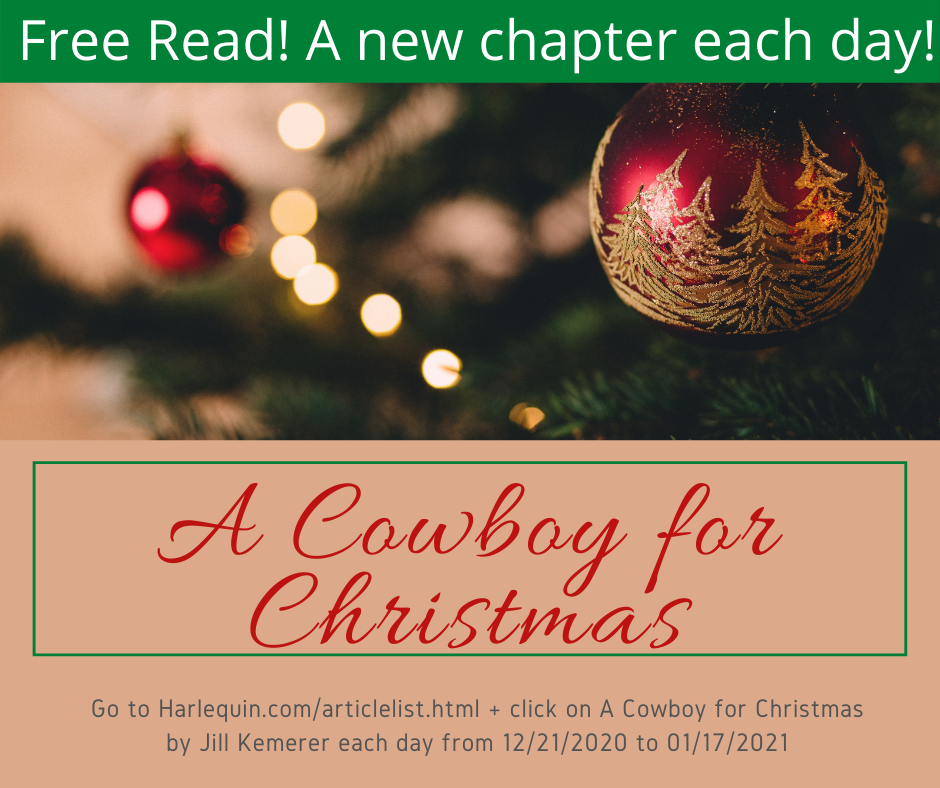 A COWBOY FOR CHRISTMAS
Morgan Stanfield shows up in Rendezvous, Wyoming, a few weeks before Christmas and begs Cash McCoy to be her fake boyfriend through the holidays. The gorgeous cowboy's Mr. Charming persona is perfect for her plan. Cash reluctantly agrees. He knows he's playing with fire fake-dating fun-loving Morgan.
As Cash and Morgan reconnect and attend events around town, everyone believes they're dating. But Morgan's plan backfires in a way she didn't anticipate, and Cash is forced to make a tough decision about the ranch. Will Christmas turn a fake relationship into something real?
Click HERE and scroll down to A COWBOY FOR CHRISTMAS by Jill Kemerer. Sign in to your Harlequin account (or create one with your email address and password) and read the chapter! A new chapter is added each day! December 21, 2020 through January 17, 2021. If you miss a day or two, no worries–all the released chapters will be online indefinitely.
Have a very MERRY CHRISTMAS!! God bless you!!