The 12 Days of Christmas Giveaway ~ Day 2
Welcome to Day 2 of the 12 Days of Christmas Giveaway!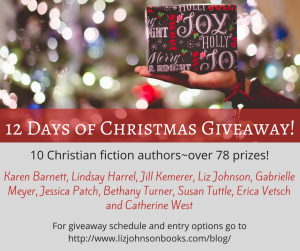 Ten authors of Christian fiction joined together to shower twelve winners with gifts. In true twelve days of Christmas style, the prizes accumulate as time progresses. Yesterday, Liz Johnson kicked things off by giving a copy of her new release, Christmas Captive. I'm a huge fan of Liz's Love Inspired Suspense novels–and every winner gets a copy! From today on, every winner will also receive a copy of my latest Love Inspired, The Rancher's Mistletoe Bride! It's the first book in my new Wyoming Cowboys series. Yay!
The prizes are building, and each day a different author will share the day's prizes, so keep stopping back! The entry is below–super easy options!
Enter in the Rafflecopter giveaway below by following some of your favorite authors on social media and signing up for their newsletters. We draw a new winner every day, and on December 12th, we'll give away a Kindle Fire HD 8.
Don't forget to stop by Gabrielle Meyer's blog tomorrow to see the new prize!
Where are you at on the Christmas shopping? I have not begun. *biting nails*
Have a terrific day!!
*Our best-selling novella collection, I'll Be Home for Christmas, is still available for a limited time for only 99 cents! Click HERE for more info and purchase link!*