Game On: The Christian Parents' Sports Survival Guide officially releases April 4, and I'm hosting a month-long giveaway to celebrate. Game On is my first nonfiction book, and I'm praying it blesses parents like myself who spend a big chunk of time, money, and emotional support on their kids' sports. I figured out how to keep sports in perspective when I asked myself a few key questions.
Why do I have my kids playing?
What kind of adults do I want them to become?
Whether you're new to youth sports or knee-deep in them, you most likely feel the pressure. It's easy to get caught up in the extreme competitiveness of other parents or be tempted to play politics to help your child. But I'm convinced this hurts our kids, and I share the reasons why as well as strategies to keep your composure.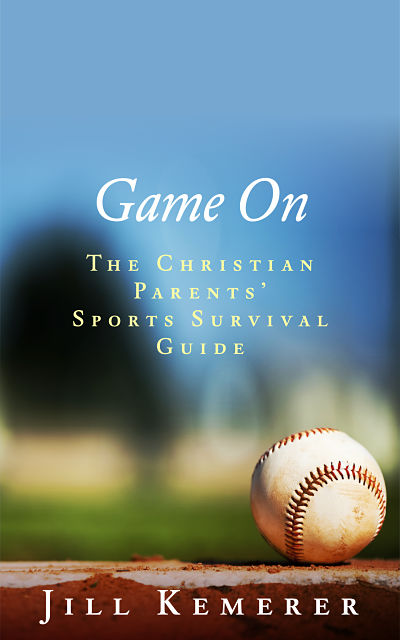 A GAME PLAN FOR CHRISTIAN PARENTS
For years I couldn't escape the anxiety that came with my children's sports. The competitive atmosphere prevalent among parents often left me anxious, upset—even  bitter. But all that changed when I defined why I wanted my kids playing. Instead of fretting about their performance, I saw opportunities for them to grow. Now I enjoy watching them play without letting politics, other parents, or my own unrealistic expectations get in the way.
Join me in exploring the realities of sports, the reasons parents get caught up in unhealthy competition, and strategies to keep the big picture in mind when we're too close to the game. We can be composed and confident while our kids are in sports.
*
April Giveaway!
Woohoo! Giveaway time! The prize package includes an autographed copy of Game On, an insulated bag for game day, a motivational plaque, and a tin of candies. You can enter below or on my Home page anytime between April 1 at 5:00am (EST) through April 30 at 9:00pm (EST). US residents 18+ only. See Terms and Conditions in giveaway.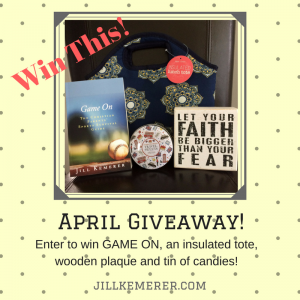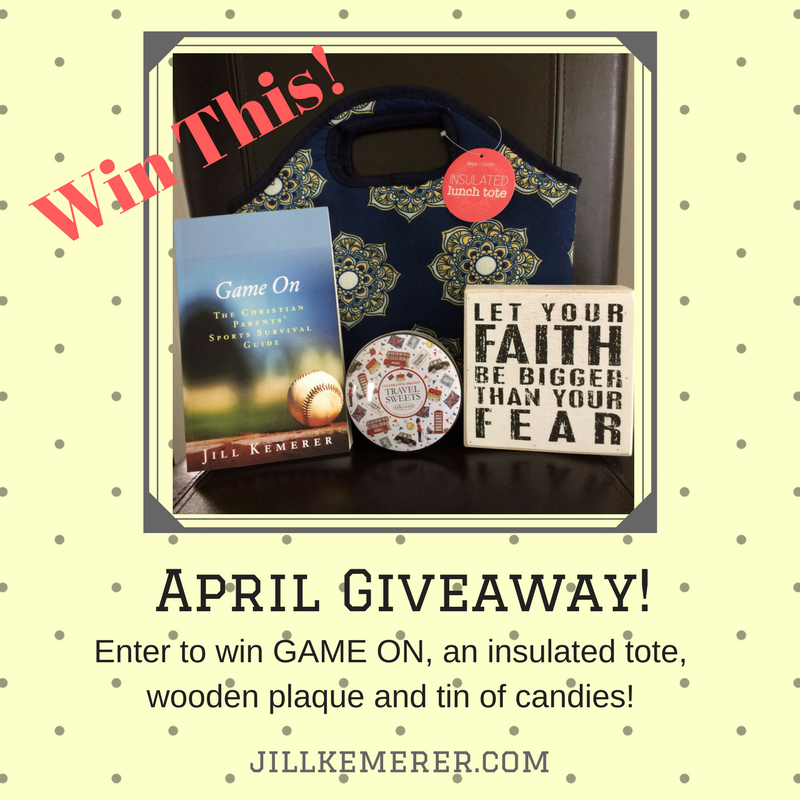 Thanks for celebrating with me! Please share this with your friends, and have a lovely weekend!