A Peek into My Non-Writing Life
I'm vocal about my love of chocolate, obsession with coffee, my fun family and, yes, my dumb-dumb dog. It's no secret I love University of Michigan football and the television show, Dallas Cowboy Cheerleaders: Making the Team. One thing I don't talk about much? My parents.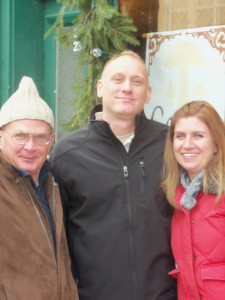 I visited them Thursday. I'm really close to Mom. She's a true role model for me. She's full of energy, never lets anyone push her around, and has a heart bigger than Lake Michigan. I love that woman! I also adore my dad, but his health has declined over the last few years. Due to Parkinson's disease and late stages of Alzheimer's, he is too sick to live at home, so he lives in a nursing home.
Dad's a sweetheart. The nursing staff and CENA's love him, and so do we. I'm really thankful he has such patient, goodhearted people caring for him. Yesterday, Mom and I sat with him during lunch, and some memories hit me of us eating around our dining room table when I was young. Those moments barb my heart, and I'll admit, I got a little teary.
See, Dad usually doesn't recognize me anymore, although he does recognize some people. It really depends on the day. If you told me two years ago this would be how it is, I would have fallen apart. But we've (including my sister) been with Dad throughout this journey, and I'm at peace with it.
I'm blessed. I still get to spend time with him. I look forward to it!
Whether he knows me or not, he likes me and enjoys it when I'm there. And every time I look at him, I see his beautiful blue eyes–the ones he gave to me–and I know we're going to have great conversations someday in Heaven. Do I wish he could enjoy his senior years without these diseases? Of course. In many ways I feel he and Mom were robbed of their golden years. But, hey, we know people who have it worse. We all lose loved ones–some violently, some to disease, some tragically, some slowly, some unexpectedly. Talk to anyone, and you'll hear a story of loss.
That's why my faith means so much to me. I know there is better. I know this life is a blip–an imperfect blip–and there is so much more ahead. God gets us through.
Anyhow, I live a few hours away from my parents, so I visit about once a month. The drive gives me time to think, and I am so thankful I get to spend a few hours with Mom and Dad. I just wish I lived closer so I could help more.
So that's a peek into my non-writing life. What's going on with you this week?
Release week of Unexpected Family has been fun! Thank you to everyone who has purchased the book and helped spread the word about it!
Have a terrific weekend!