August Gift Package Giveaway for Unexpected Family Starts Tomorrow!
Where has this summer gone?? My new Love Inspired romance, Unexpected Family, will start arriving in stores on August 18, and the ebook will be available September 1, 2015! I can't wait!
To celebrate, I'm hosting a gift package giveaway on the home page of my website starting at 1am August 1, 2015 and going through 9pm August 31, 2015.
Full terms and conditions are listed in the entry form. Open to US residents 18+.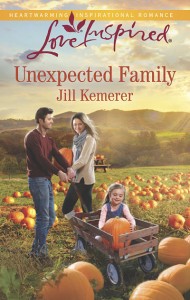 August Gift Package Giveaway:
One blessed reader will win signed copies of Unexpected Family and Small-Town Bachelor, Starbucks Instant Latte, Biscotti, a notepad and a cute mug! It runs between August 1-31, 2015. Beginning tomorrow, hop over to jillkemerer.com and scroll down to the Giveaway Tools form for the easy entry options.
August Goodreads Giveaway:
I'm also giving away (5) paperback copies of Unexpected Family on Goodreads. The entry form is in the sidebar of this blog (look to your right and scroll down). It opens August 1 and ends August 31!
***
It's been a writing-filled summer for me, so I'm unplugging this week to relax, read some books and enjoy a slice of summer. Expect a new blog post August 12, 2015.
What's the best book you've read lately?
I'm finishing up Is There Life After Football? Surviving the NFL by James A. Holstein, Richard S. Jones & George E. Koonce, Jr. I love research books with eye-popping statistics, and I'm a huge football fan, so this book is PERFECT for me!
Have a terrific weekend!!