12 Days of Christmas Giveaway~Day 8!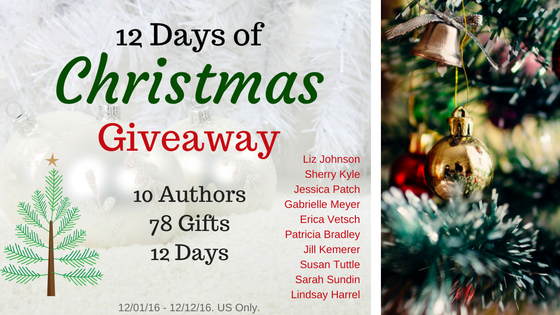 On the 8th day of Christmas, my true love gave to me…
It's Day 8 of the #12DaysofChristmas giveaway! If you haven't heard of it, ten inspirational authors joined forces to shower readers with gifts! Each day a new gift is added, which means the prizes are growing. Woohoo!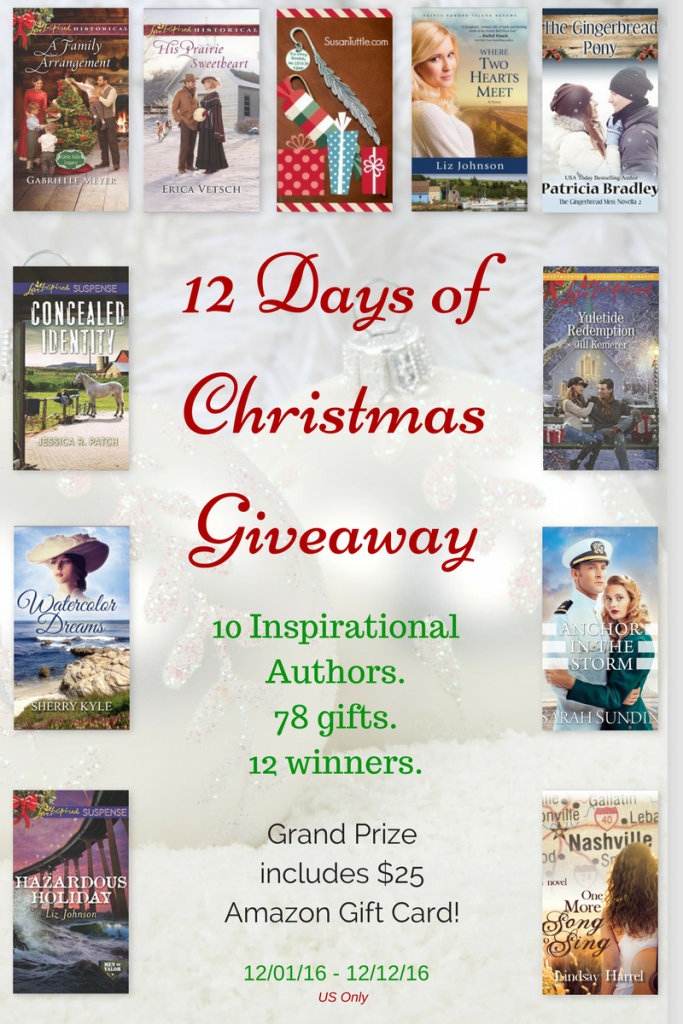 Each day the prize builds with another book or book-related goodie, AND the Rafflecopter entries roll over so every day you have a new chance to win!
The winner of Day 8 will receive: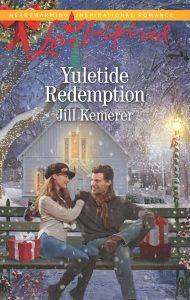 YULETIDE REDEMPTION:
A Mother's Christmas Wish 
After an accident leaves Celeste Monroe to raise her baby nephew, all she wants is to provide one-year-old Parker with a happy life. She hopes taking a job caring for injured Sam Sheffield will help fulfill that goal. But Sam's determination to avoid the world throws a wrench in her plans. Despite his best efforts, Sam can't take his eyes off the pretty caretaker. Her strength and her loving nature has him falling for her—and her baby. But he refuses to burden them with a man who's not whole. Can Celeste convince Sam he's daddy—and husband—material in time for them to celebrate Christmas together?
And that's not all! Day 8's winner will also receive:
The Gingerbread Pony by Patricia Bradley
Where Two Hearts Meet by Liz Johnson
His Prairie Sweetheart by Erica Vetsch
A Family Arrangement by Gabrielle Meyer
Concealed Identity by Jessica Patch
Watercolor Dreams audio book download by Sherry Kyle
Hazardous Holiday by Liz Johnson
Are you as excited as I am?? Wheee!!!
Enter the Rafflecopter giveaway below (US only) by following some of your favorite authors on social media and signing up for their newsletters. Every entry carries over–so the sooner you enter, the more chances you have to win. Here's the entry form!
a Rafflecopter giveaway
 Be sure to stop by Susan Tuttle's blog,
Steps
, tomorrow for Day 9's prizes! (FYI,
Steps
is one of my favorite devotional blogs. If you need a pick-me-up and some Bible truth, follow her blog!)
*
Chapter Five of A Cradle for Christmas released on Monday! If you've been following my FREE Christmas novella being released one chapter at a time on Harlequin's Online Reads page, you'll want to jump right in to the next installment! If not, you can catch up below. I have all the chapters linked! You don't need to download them or anything–you can read them right from Harlequin's website on your phone or tablet, or you can print them out!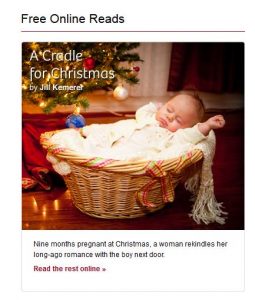 A CRADLE FOR CHRISTMAS
With just days to go until Christmas, Heather Springfield is nine months pregnant and all alone. So she escapes to her family's old cabin in Michigan. The happiest summers of her life were spent there…all until that last one that ruined everything. But she'll have to do her best to focus on her baby and avoid Mason Aldridge, the boy next door and the one who got away
Mason's never forgotten the sweet girl who once held his heart. So when Heather arrives one snowy night, her very pregnant belly triggers a fresh round of regrets. If things had been different, he might have been the man fortunate enough to call her and the baby his. But in the spirit of the season, forgiveness is in the air, and two old friends may just find their way to the best Christmas gift of all—a brand-new family.
*
Who is baking Christmas goodies? I haven't started, but I always find time to make Christmas cutouts!
I'm busy with a few deadlines, so I won't be posting on Friday, but have a delightful weekend!!