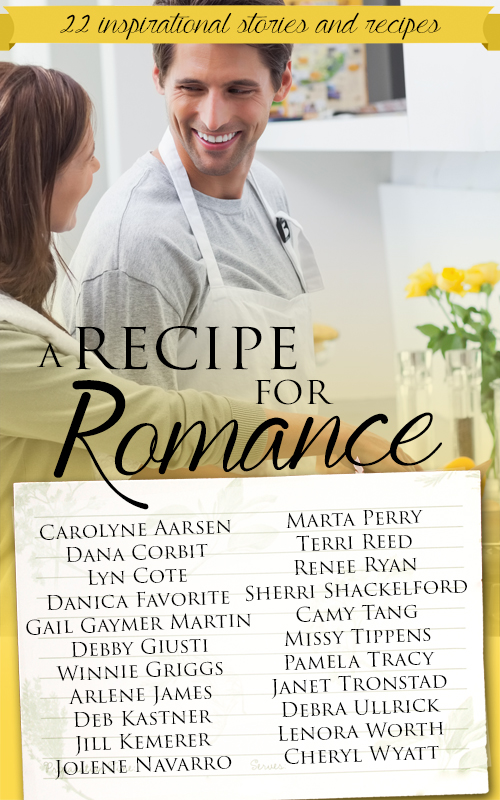 Book Information
ISBN: (Page number source) 1942505000
Release Date: November 29, 2014
Pulisher: Lacy Williams Books
Authors: Contributing authors Lenora Worth, Debra Ullrick, Janet Tronstad, Carolyne Aarsen, Dana Corbit, Lyn Cote, Debby Giusti, Winnie Griggs, Arlene James, Deb Kastner, Renee Ryan, Danica Favorite, Gail Gaymer Martin, Jill Kemerer, Jolene Navarro, Marta Perry, Terri Reed, Sherri Shackelford, Cami Tang, Missy Tippens, Pamela Tracy, and Cheryl Wyatt present an anthology of sweet and inspirational short stories and tasty recipes.
A RECIPE FOR ROMANCE: 22 Inspirational Stories and Recipes by Love Inspired authors
From our hearts to yours ~ 

 
A sampling of the stories you'll find inside:
— A young woman who uses Potato Salad to prove she's still in love with her long-lost miner beau,
— A new stepdad who builds Chopped Tree Casserole to bond with his stepson,
— An Amish mother who finds a way to reconnect with her husband over her Chicken Potpie,
— A bank teller who brings Tomato Basil Soup and new hope for a relationship to her coworker.
— And many more!
Divided into three sections, Salads/Sides/Soups, Main Dishes and Desserts/Treats, A RECIPE FOR ROMANCE features contemporary and historical stories as well as sweet tales with a touch of suspense. Each author shares her personal favorite recipe and a related story in a collection that focuses on happy stomachs and Happily Ever Afters.
All proceeds from the sale of this book will benefit children's charities.
Buy A Recipe for Romance Now!
Jill Kemerer is a participant in the Amazon Services LLC Associates Program, an affiliate advertising program designed to provide a means for sites to earn advertising fees by advertising and linking to amazon.com.
What readers are saying about A Recipe for Romance
"What an awesome group of talented authors…every story is unique in how they incorporate their favorite recipe in love. This is definitely a special collection!"
"These stories were short but delightful the recipes like gifts from the authors. It seems like a lot of family traditions revolve around food and timeless recipes. Like one story where the nana had never written down her recipes the same thing happened in our family for 2 generations. I have corrected this with my 7 grandchildren ages 18 months to 13 years each one will have a collection of recipes that my children loved."
Source: Amazon Reviewers
Did You Enjoy This Book?
Please consider leaving a review on Goodreads, Amazon or Barnes & Noble!
If you don't keep paperbacks after you read them, please pass it on to a friend, donate it to your church library or leave a copy in a nursing home.
Thank you very much!