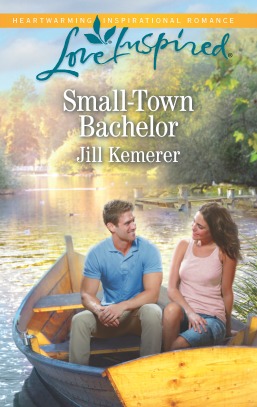 Book Information
ISBN: 978-0373879533
Publication Date: April 1, 2015
Publisher: Harlequin™ Love Inspired
Small-Town Bachelor (Lake Endwell #1)
A Place to Call Home ~
When Reed Hamilton arrives in Lake Endwell for a family wedding, he expects to do his part as best man then head back to the big city. But when a a tornado postpones the wedding, the town is in shambles and Reed is injured. Thankfully maid of honor Claire Sheffield offers him one of her cottages to recuperate in.
Dedicated to her family and her dream job at the zoo, Claire is all about roots. She's this city slicker's opposite, yet as they help the town rebuild, Reed is captivated by her stunning looks and caring ways. He can't ask Claire to leave the life she loves for him, but he also can't imagine ever leaving her behind…
Jill Kemerer is a participant in the Amazon Services LLC Associates Program, an affiliate advertising program designed to provide a means for sites to earn advertising fees by advertising and linking to amazon.com.
What Readers Are Saying
"Kemerer knows romance! I thoroughly enjoyed reading Small-Town Bachelor. I was quickly swept up in the story and I appreciated the depth of this novel." ~ Goodreads review
"Ms. Kemerer delivers a heartwarming story in a charming town that feels so real, I believe I could Google Map it and find it! I was especially drawn to Reed Hamilton, the sexy, but (somewhat) damaged male character. His backstory was compelling and cleverly integrated into the story so that I kept wanting to read to find out what made him tick. And I was drawn into the "world" of Lake Endwell, with its historic buildings, beautiful nature-setting and close-knit community. I'm an urban girl by heart, but really enjoyed reading about this place (that I'm sure does exist, right?). Even if I can't visit there in person, I'm hoping I'll be able to return for a virtual visit when Ms. Kemerer's next book releases." ~ Amazon review
"Flirty, fun romance! The dialogue is quick-paced and witty. I was laughing and smiling as I read, and I even teared up at the end. Kemerer penned a great romance and delightful characters." ~Amazon review
"Just a warning, the first chapter will leave your heart pounding. You'll need a reminder to breathe." ~Amazon review
Book Club Extras
Interested in reading Small-Town Bachelor at your next book club? Click on the downloadable Discussion Questions, and please contact me about availability to Skype with your group!
Did You Enjoy This Book?
Please consider leaving a review on Goodreads, Amazon or Barnes & Noble!
If you don't keep paperbacks after you read them, please pass it on to a friend, donate it to your church library or leave a copy in a nursing home.
Thank you very much!